Finding and Using Windows 7 Aero Themes for Vista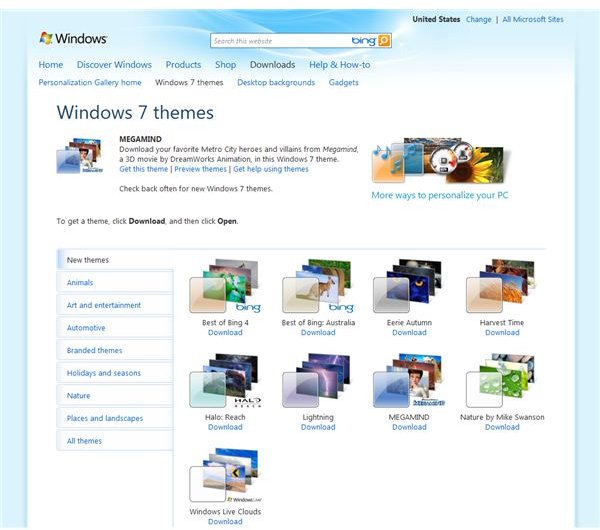 Can Windows 7 Themes Work on Vista?
Windows 7 features a superb range of themes that look great with the Aero user interface providing smooth edges and glass-like transparency in toolbars and application windows.
Desktop themes for different countries are built into Windows, or you can go online and download new themes to give your desktop a cool merry-go-round of a slideshow. You can also alter the opacity of the application windows manually or by applying "darker" themes. As a result, Windows 7 looks great, and its attractive UI is certainly something that has attracted users.
Yet Windows Vista uses Aero as well – so surely there should be similar themes for the previous operating system?
What You Will Need
You guessed right – there is a way to install Windows 7 themes on Vista, and in addition there is also a way in which you can add some of the desktop coolness that Windows 7 has to offer.
To get started with the themes, however, you will need to get a copy of 7-zip. This is a zipping utility that is capable of reading the files that you will be downloading, ending with the .themepack file extension.
7-zip is available from www.7-zip.org, and can be downloaded and installed in a matter of minutes.
In addition to 7-zip, you will require a selection of themes to choose from and download. I would recommend sticking to the official Microsoft themes available at windows.microsoft.com/themes as these are likely to work in the correct manner.
(Image via author)
How to Install Windows 7 Aero Themes on Vista
Once you have chosen your theme and downloaded it, you will need to open it with 7-zip. The best way of doing this is right-clicking the downloaded .themepack file and choosing Open With… and then choosing 7-zip from the list; you might need to browse for 7-zip the first time you do this.
With the component files now accessible, all you need to do is extract them to a new folder. Once this has been done, copy the folder to C:\Users\[username]\AppData\Local\Microsoft\Windows\Themes.
To install the theme, just open the folder and double-click the .theme file!
Get Your Vista Glass!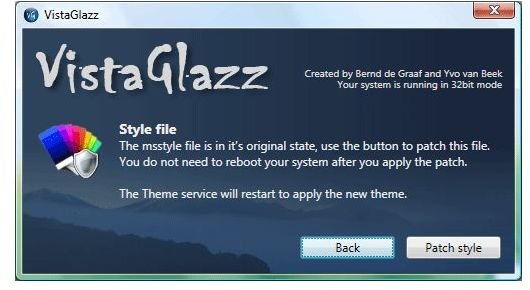 While Vista has the glass effect of the Aero user interface on standard-sized windows, the moment they are maximised the glass effect is disabled. This is in contrast to Windows 7 when the glass effect is available at all times on a suitably equipped system.
To get around this, you can patch styles in Vista to ensure they appear in the Windows 7 style thanks to VistaGlazz.
To download this tool, visit www.codegazer.com/vistaglazz. Once installed, all you need to do is run the application with your chosen them already applied, and click the color chart icon (the second icon from the left).
In the next window, click Patch Style – wait a few moments for the display to alter, at which point the screen may flicker – and you'll find that you have a nice new maximized glass-style window!
(Image via www.codegazer.com)