Windows Media Player for Windows 7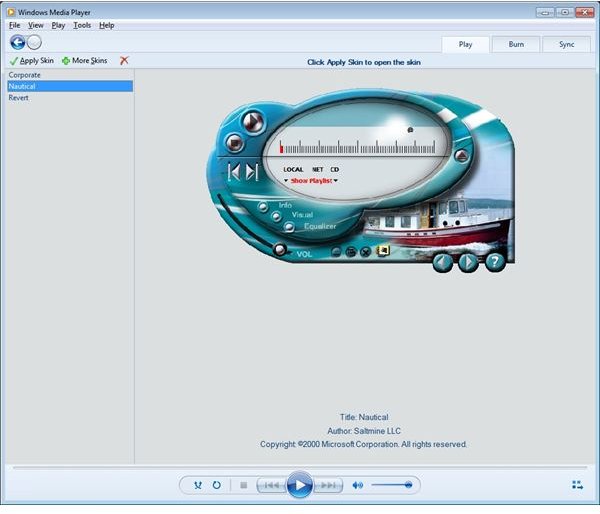 Windows Media Player on Windows 7
After years of ridicule for the Windows Media Player that shipped standard with Windows XP, Microsoft finally has a chance to show off a decent multimedia player for showing videos, listening to music, streaming movies, playing DVDs and CDs and even showing off digital photos in a slideshow. Ironically, the upgraded Media Players that showed up in Windows Updates from time to time were often accused of being big, slow, and bloated, and not with the features people wanted. In fact, many users rallied around an updated, but not upgraded, version of Windows Media Player that came to be known as Windows Media Player Classic.
Windows Media Player 12 on Windows 7 is different. It is not a small efficient video player like VLC Media Player, and it still doesn't have as wide of codec support as other video players. However, Windows Media Player 12, sometimes called WMP, is finally a powerful, user friendly multimedia player worth using.
Ironically, it is overshadowed by its newer cousin, Windows Media Center, which plays everything that Windows Media Player does, and then does a lot more. The good news is that by separating out WMP from WMC, Microsoft has a player that can proudly stand on its own when called upon, while the new "Media Center" can take on all of those newer features that some PC owners crave, but that others won't ever use.
Note: Some users confuse Windows Media Player and Windows Media Center. The Player is designed just to play the files on your computer. The Center is designed to organize everything, share it, play it, allow you to buy more and when properly connected integrate it all into your home media theater equipment.
If that's too complicated to remember, then just remember that Media Player is the smaller one.
Tips and Tricks for Windows 7 Media Player 12
After years of using other media players, or seeing them on friend's computers, the first thing many multimedia enthusiasts want to know is how to customize Windows Media Player 12 so that it is prettier, more fun, or cooler than it looks by default. Fortunately, Microsoft did not leave out the personalization options in Windows Media Player in Windows 7. Easy built-in features allow user to make a variety of upgrades or tweak Windows Media Player to be more to the user's liking. Personalizing Windows Media Player's look is done via Skins. Users wanting better options to play for visualizations can customize those as well. Finally, Windows Media Player plug-ins offer everyone a way to add-on Windows Media Player features missing from their idea of the perfect multimedia player.
Changing Media Player's skins is both an easy and satisfying way to change the look and feel of WMP 12. To change Skins, select the View menu and then Skin Chooser. (If you don't see a View menu, then the menu bar has been turned off. Right-click in an empty space next to where the Library menu is.) Click More Skins to open a browser where you can download skins directly from Microsoft. Choose Open or Run to install the skin and then use the skin chosen to activate it.
Do you love playing your tunes and seeing your customized visualizations, but really wish you could see the lyrics of the songs you are listening to? Download one of the lyrics plug-ins for Windows Media Player and learn all of the lyrics to your favorite songs, even those iffy words that sound a little uncertain.
Windows Media Player Background Image Customization Tip
Change the background image for WMP 12 by editing the HKEY_CURRENT_USER\Software\Microsoft\MediaPlayer\Preferences registry key. Change the DWORD value from 6 to any value between 0 and 6 to get a new background image.
Image courtesy of ArcticLlama Freelance Writing.
Fixes for Windows Media Player for Windows 7
The version number says it all. Windows Media Player has been updated, re-designed, fixed and patched so many times that it looks nothing like the original Windows Media Player for Windows XP released a decade ago. Unfortunately, while Microsoft chases the features of its multimedia application competitors, it introduces as many Windows Media Player bugs as it fixes. That combined with the company's insistence on pushing its own agenda when it comes to video, audio, movies and DVDs, can make using Windows Media Player 12 frustrating. Fortunately, many Media Player glitches can be fixed, or at least gotten around.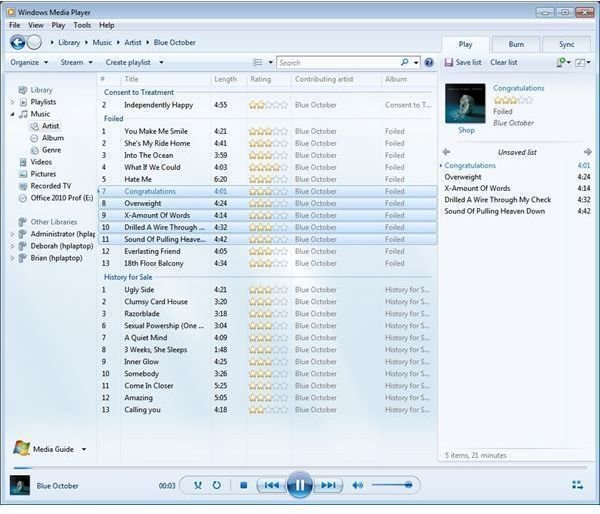 Unfortunately, the most common fix necessary for Windows Media Player 12 problems is to uninstall and re-install WMP12 on your computer. It seems that there are just too many registry keys, customizable values and configuration settings to not corrupt something sooner or later. However, there is a fix for Windows Media Player problems that sometimes avoids the need to uninstall and re-install the player.
Use a registry cleaner, like Glary Utilities or CCleaner, to check your registry for lost, orphaned or corrupted values. There is no guarantee that they'll be able to fix your WMP issue, but more than 50 percent of all problems with a suggested solution of re-installing Windows Media Player for Windows 7 can be fixed by doing a registry clean instead.
If you do have to uninstall WMP, make sure you don't make the mistake of just running the uninstall program or using the Control Panel to remove the program. The catch is that just uninstalling Windows Media Player the normal way ends up leaving behind so many files and settings that the corrupt one might be left as well. Use a power uninstaller tool, like Revo Uninstaller, to uninstall WMP and get all of those extra files.
Fixes For Burn To Disc Problems
Having trouble burning a CD from Windows Media Player? If you have checked all the settings and made sure that you are not trying to burn copy-protected files, first ensure that your CD is writable and try a new, never used, blank disc. If that doesn't work, adjust your burning speed. Sure, your CD writer is rated with a write speed of 32X, but that doesn't mean that going full speed will work on every computer system with every computer program. Try burning at 8x or even 4x speed. It's slower, but you'll make a lot less coasters.
If you have problems burning discs only occasionally, try turning on error correction. Inside Tools -> Options -> Devices select CD/DVD burner and click Advanced. Check the "Use error correction" box and see if that solves some of your problems. It seems that on some systems this little configuration change can make a big difference.
Corrupt or Missing DLLs or Other Files
Missing DLLs or corrupt files are a common error message displayed by WMP. When you run into this problem, use Microsoft's new Fixit tool. It will check to ensure that the required files are both in the right locations and are the right files. You don't even have to bother looking up what the error code number means first! While it isn't the best troubleshooting solution for all software problems, it seems to do a bang up job at fixing missing or corrupt DLLs and other files.
Image Courtesy ArcticLlama Freelance Writing