Windows 7 Home Premium Best Features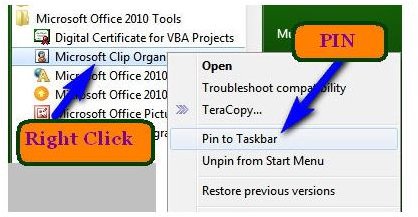 Useful Everyday Windows 7 Features
Windows 7 is a huge improvement over the disaster that was Windows Vista. At the same time, the interface is familiar enough to most users so that they often just start using Windows 7 like Windows XP. They only learn about new features as they are forced to because "the old way" from Windows XP is missing in Windows 7. That's unfortunate, because there are a lot of productivity-enhancing features included in Windows 7 that are easy to learn, quick to use, and powerful to work with.
While Microsoft has released multiple versions of Windows 7 for various target markets, Windows 7 Home Premium is the baseline operating system that most home users of Windows 7 will end up using. Even non-business users who end up with Windows 7 Professional will likely end up predominantly using the feature set of Home Premium even though those business class tools and features are installed.
Pin To Task Bar and Pin To Start Menu
One of the most useful Windows 7 Home Premium features is the ability to "pin" items to both the task bar and the Start Menu. Savvy computers users have long customized their Windows start menu by manually manipulating shortcuts and folders either by dragging existing items around an open Start menu or within Explorer. However, many users never discovered the ability to personalize their Start Menu, or they found such customizations too difficult. Fortunately, getting the right Start Menu for your everyday use on Windows 7 is much easier.
As has been the case since Windows XP, a lot of power is hidden beneath the right mouse button in Windows 7. If you are not right-clicking in Windows 7, you are not taking full advantage of all Windows 7 Home Premium offers. Right-clicking almost anything brings up a pop-up menu known as the context menu. This floating menu displays options directly related to the operation currently being performed. For example, right-clicking on a file in My Computer offers a multitude of file management-related options.
A new option shows up in most file- and program-related context menus–the option to pin a program or shortcut to either the taskbar or the start menu. The task bar is the bar at the bottom of the screen in a default Windows installation. It's all of that space between the Start button – which is now a circular Windows icon – and the tiny icons next to the clock, an area known as the QuickLaunch bar. Pinning something to either the Windows 7 Start Menu or the taskbar makes it a permanent object on the respective area. By pinning the programs they frequently use everyday to the Task Bar, users can work faster by launching programs with a single click. Pinning regularly the most used or hard-to-find programs to the Start Menu offers a fast way to start-up applications without cluttering up the main Window interface.
Windows 7 Libraries Favorites and Jump Lists
Of course, there is more to working smarter than just getting your applications started. Windows 7 Home Premium offers even more ways to tailor your Windows 7 installation to your specific usage needs.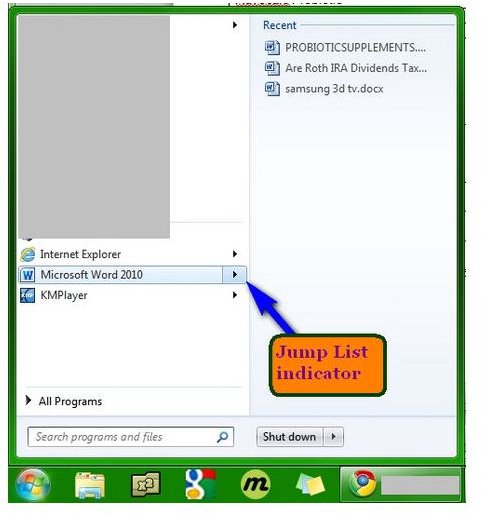 Launching an application efficiently is great, but what if you have different needs for that one application? Jump Lists provide a way to further specify how any common application, tool, or feature is started. Recently opened files, for example, are displayed in a sub-menu for the application which appears when highlighted. Start Menu Jump Lists are indicated by a triangle to the right of the item. Just click, or move your mouse to the right, and the Jump List menu appears. To view the Jump List from the Task Bar, right-click the icon. Is there an item in the Recent listing that you want to be a permanent part of the Jump List? Just click the thumbtack icon to pin it to the Jump List forever; that is, until you choose to un-pin it after right-clicking the item.
Finding and using all of your applications and programs in Windows 7 more easy and faster is good. Increasing productivity further with Windows 7 Home Premium requires being more efficient with your files, too.
The trouble with files is that they never stay in one place for long. Fortunately, getting the most out of Windows 7 Home Premium includes using new and improved file management and user interface tools.
Too many people only use Libraries as they come pre-installed by default in Window 7 Home Premium Edition. To really take advantage of all Windows 7 offers for finding, organizing, and using your files, you will need to–you guessed it–right-click.
Right-click on any Folder or existing Library and you'll get options for customizing your Libraries. Clicking on a Folder gives the ability to add that Folder to an existing Library quickly and easily. Right-clicking on Libraries in My Computer or Explorer, or on the empty background of an open Library window, gives the ability to create a new Library. Use Libraries to solve file organization problems that arise out of needing to group and sort files in different ways for different needs. For example, if you want to store all your family photos in My Pictures and date-based subdirectories, but want to store all of the photos you use for business in a Work folder with project-based subdirectories, you can still view all of them in one place by creating an All Photos library and adding both folder trees.
Finally, the Favorites made so popular in web browsers by bookmarking sites have been freed from Internet Explorer and let loose on the Windows 7 Home Premium desktop. Make any folder a Favorite, just by right-clicking and adding it to your favorites.
Please continue to Page 2 for more Windows 7 Home Premium Favorites
More Windows 7 Home Premium Features
These days, homes with more than one computer are very common, as is the desire to share things between those computers. Fortunately, getting the most out of Windows 7 Home Premium means that playing movies, looking at pictures on another computer, or sharing printers in Windows 7 is much easier and more secure.
The network security model in Windows XP was designed for business networks. When home users started shoehorning sharing and networking into wireless home networks, they encountered a lot of hassles. Windows dropping a wireless network at random could have numerous causes including having a single configuration issue in Windows sharing. Even when Windows wireless networks functioned properly, that was no guarantee that you could find and use the files or printers you thought you had shared between computers. There are big differences between Windows XP and Windows 7 networking.
Windows 7 Home Premium helps with improved wireless networking features and the HomeGroup. A HomeGroup takes the concepts of business networking and re-imagines them as they would apply to a home-based network. The result is much easier sharing with fewer network errors to troubleshoot, and less to worry about when configuring a wireless router for Windows 7. As an added bonus, most home networks will end up being much more secure than when frustrated home users moonlighting as the family's network admin turned off all Share passwords and other security measures just to get the darn thing to work.
Home users have special needs, and the Windows 7 Home Premium edition keeps those needs in mind. Sharing music from the hard drive of one computer to a laptop in the bedroom is much easier thanks to a combination of Windows HomeGroup and Windows Media Center. Users can easily copy media between computers, or even better, just stream a movie or song file transparently in the background with Windows Media Center.
Of course, there are many subtle improvements in Windows 7 features such as Windows 7 gadgets, advanced search in Windows 7 (but watch out for seaport.exe if you install Windows Live), integrated Windows 7 screensavers and themes, and Windows 7 snap, which allows you to precisely re-size or maximize windows with a single mouse gesture.
Missing Windows 7 Home Premium Functionality
The first question many users have is, Which edition of Windows 7 is right for me? What they really mean is, Do I need anything that is in those more expensive versions of Windows 7, or will Windows 7 Home Premium have everything I need?
For most users, Windows 7 Home Premium has everything a regular computer user needs. Non-business users have no need to join a domain, for example. Users with old programs or hardware may miss the much-touted Windows XP mode that is missing in Windows 7 Home Premium. And, users with security needs may lament the failure to include BitLocker in the Home Premium version of Windows 7. Fortunately, in that case, a solution like TrueCrypt offers everything BitLocker has for the home user.
While there is no need for non-techies to delve into 400-page manuals to learn every new feature in Windows 7, picking up a few of the newest power-user features of Windows 7 can pay big dividends in productivity and usability. Take what you have learned here to start getting the most out of Windows 7 Home Premium Edition. Then, just remember to right-click every once in a while. You might see a feature that you can use to get even more power out of Windows 7.
Image credits: All images courtesty of ArcticLlama.com Freelance Writing