How to Use the Windows 7 Voice Recognition Utility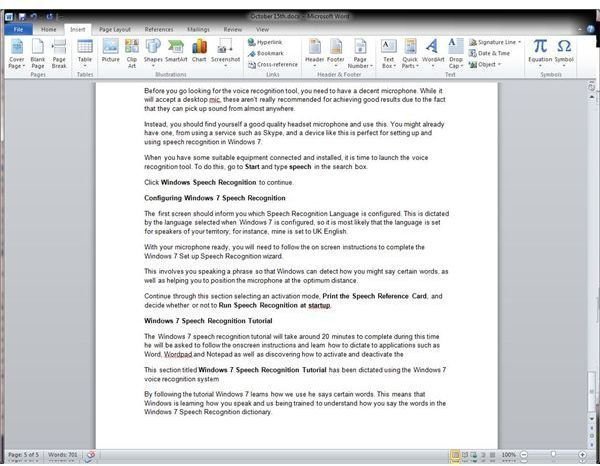 Dictate Your Novel!
Using voice recognition software is a great way to interact with your PC or laptop. You can configure dictation and even voice activated commands, meaning that you can not only instruct your PC to open software with a spoken command, but you can also tell it what to type.
I'll say that again – you can write emails without using the keyboard! The potential here for radically changing the way you use your computer is considerable.
Windows 7's voice recognition tool can be trained to understand and act upon your vocal commands – all you need are a good headset-mounted microphone and a clear voice!
Getting Started with Windows 7 Voice Recognition
Before you go looking for the voice recognition tool, you need to have a decent microphone. While it will accept a desktop mic, these aren't really recommended for achieving good results due to the fact that they can pick up sound from almost anywhere.
Instead, you should find yourself a good quality headset-mounted microphone. You might already have one from using a service such as Skype, and a device like this is perfect for setting up and using speech recognition in Windows 7.
When you have some suitable equipment connected and installed, it is time to launch the voice recognition tool. To do this, go to Start and type speech in the Search box.
Click Windows Speech Recognition to continue.
Configuring Windows 7 Speech Recognition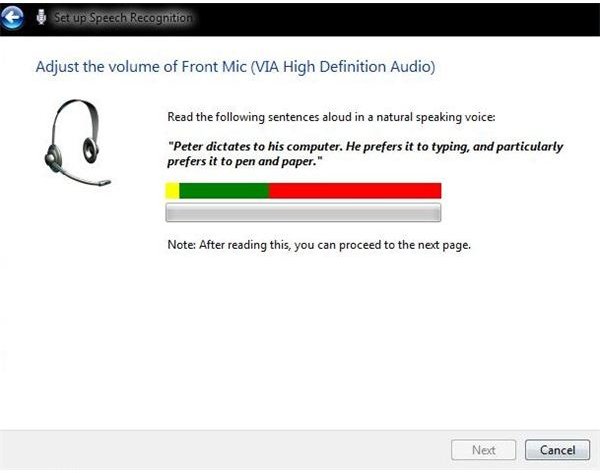 The first screen should inform you which Speech Recognition Language is configured. This is dictated by the language selected when Windows 7 is configured, so it is most likely that the language is set for speakers of your territory; for instance, mine is set to UK English.
With your microphone ready, you will need to follow the on screen instructions to complete the Windows 7 Set up Speech Recognition wizard.
This involves you speaking a phrase so that Windows can detect how you might say certain words, as well as helping you to position the microphone at the optimum distance.
Continue through this section selecting an activation mode, Print the Speech Reference Card, and decide whether or not to Run Speech Recognition at Startup.
Windows 7 Speech Recognition Tutorial
The Windows 7 speech recognition tutorial will take around 20 minutes to complete. During this time, you will be asked to follow the onscreen instructions in order to learn how to dictate to applications such as Word, Wordpad and Notepad as well as discovering how to activate and deactivate the speech recognition control. You can even use speech recognition to browse the Internet and your own PC!
The section you are reading now, titled "Windows 7 Speech Recognition Tutorial", has been dictated using the Windows 7 voice recognition system
By following the tutorial Windows 7 learns how you say certain words. This means that Windows is learning how you speak and is being trained to understand how you say the words in the Windows 7 Speech Recognition dictionary.
It is certainly worth spending some time on the tutorial in order to get the best out of this powerful accessibility and productivity tool - however if you can't quite get to grips with it, there are a number of free to use alternatives!