Finding A Windows 7 Aero Screensaver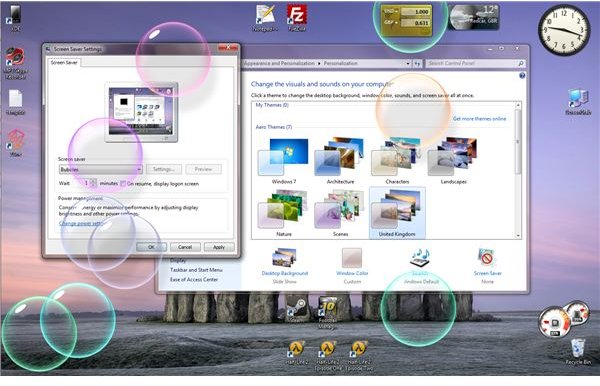 Amazing Windows 7 Aero Screensavers
Windows 7 features a small selection of screen savers – however along with the standard Windows screen savers, this selection includes the very impressive Bubbles option as well as the Ribbons choice. Bubbles make use of the Windows 7 Aero glass-like user interface and is particularly effective on high performance PCs.
Appearing as a selection of bubbles that emerge from the lower-left corner of the desktop, the Bubbles screen saver sees them floating across the screen. Here they are seen bouncing off each other and the edges of your monitor, as well as changing colour. It is one of the most visually impressive screen savers available – but surely there are other Windows 7 screensavers that use Aero?
How to Select the Bubbles Screen Saver
If you weren't already aware of the Bubbles screen saver, it can be easily previewed and activated.
To do this, right-click a blank area of your desktop, select Personalize, then find Screen Saver in the lower right corner. In the Screen Saver Settings window, you will see which screensavers are currently available. If one is selected it will be previewed in the window. To choose a different screen saver – such as Bubbles, use the drop down menu.
To get an impression of what it would look like in reality rather than as a small preview, click on the Preview button, and avoid touching your mouse for a few moments. You should then be able to enjoy a full screen preview of this Windows 7 Aero screensaver. When you've had enough, simply press a key on your keyboard or move your mouse.
Adjusting Settings on the Windows 7 Screen Saver
Oddly, Microsoft opted not to include any customization of these screen savers – clicking the Settings button simply results in a box telling you that no settings are available.
Luckily, one creative programmer has created a tool to get around this, allowing you to change the number, size and speed of the Bubbles screensaver, as well as options for the others included in Windows 7.
This tool can be downloaded from www.winreview.ru/download - note that this site is in Russian, so I have provided a link via Microsoft Translator.
Where to Find Windows 7 Aero Screen Savers
Amazingly, Bubbles is the only screen saver included that makes use of the Windows 7 Aero glass effect (although Ribbons is a perfectly good alternative). More amazingly is that there doesn't seem to be any others available online from Microsoft.
However various independent teams and lone coders have come up with some stunning screen saver effects that simply would not have been possible before Windows Vista and the introduction of the Aero UI.
One of these is available as part of a group of screen savers from windows7themes.net. Entitled "Amazing Bubble Screensaver", it resembles Bubbles features a background image. Other screensavers include a "Matrix"-style stream of green code and an "Underwater Screensaver" which turns your unattended desktop into a scene resembling "Finding Nemo".