Microsoft VM 5.5 - Virtualization On Windows with VMware 5.5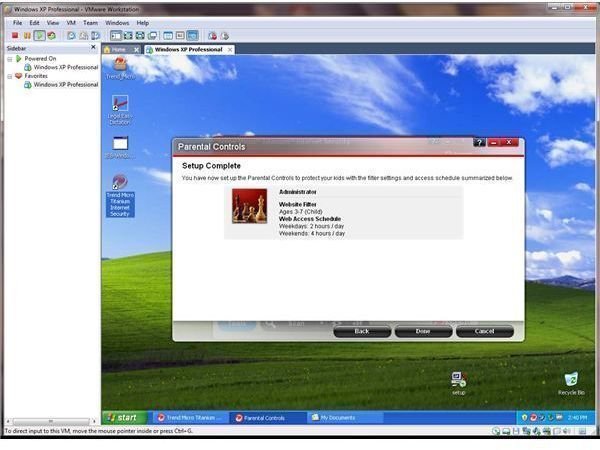 What Is Virtualization?
Virtualization is the future of computing – and it is here right now! As you browse the web today, you won't be able to tell the difference between a single web server and a virtual web server. A single web server distributes pages to your browser and that of every other visitor while a virtual web server has largely the same specs as the single server but many more operating systems running on it, each hosting one or more websites.
This is virtualization – and it isn't exclusive to web servers. Multi-core PCs are capable of running virtual machines like this, with companies such as Microsoft (Virtual PC, Virtual Server), Oracle (VM VirtualBox) and VMware (VMware Workstation, VMware Player, VMware Server) providing virtualization applications for Microsoft Windows PCs. Choosing which one to use can be difficult.
Whether your PC is powered by an Intel or an AMD processor, as long as it has multiple cores you will be able to take advantage of this powerful technology!
Requirements for Running VMware 5.5 on Windows
In order to set up virtualization on your PC with this system, you will need:
A multi-core CPU, such as one of Intel's Core i7 or another CPU from the same range.
A motherboard that supports virtualization.
Copy of VMware Workstation (this can be downloaded for free with a short trial).
A destination operating system – you might wish to install a virtual version of XP, or perhaps Linux Ubuntu.
A partition on your PC hard disk drive big enough to provide suitable space for whichever OS you intend to install.
Before starting, you will need to check your motherboard manual and/or the BIOS to check how to activate virtualization on your system.
After downloading VMware Workstation, you should install this to your PC. With it setup, you will be ready to install a new OS.
Install a Windows OS on VMware Workstation 5.5
We'll assume you're running VMware Workstation 5.5 under Microsoft Windows 7, and rather than take advantage of Microsoft's free virtual PC of Windows XP, you want to have your own configured installation in VMware.
First of all, launch the program; go to File > New > Virtual Machine and select Typical for the best set of options. The 'custom' selection offers advanced configuration options.
You can then choose to install the operating system straightaway, either by inserting an installer disc into your drive or pointing VMware Workstation 5.5 to an ISO file on your hard disk. Alternatively, you can choose to install the operating system later. In this case VMware Workstation 5.5 will provide you with a virtual machine with nothing on the hard drive.
Setting Up the OS
If you choose an OS disc or image, the next step will be to enter the product key and select which version of the chosen operating system will be installed. If you opted to set up the VM without the OS at this stage, then VMware Workstation 5.5 will ask you to choose which OS you will be installing, and prepare itself accordingly.
Proceeding from this stage will allow VMware Workstation 5.5 to install whichever operating system you have selected. This will take a short time, depending on OS and the media, but once complete, you will be presented with a virtual version of your chosen operating system running within your usual PC OS.
Which Operating Systems Can I Install?
Obvious choices for operating systems are ones that you probably wouldn't use under normal circumstances, or ones that you fancy using but don't want to go through the rigmarole of installing and then configuring a boot manager to dual boot your system.
For instance, I'm currently running VMware 5.5 with Windows XP and Windows Vista both installed, with the latest distro of Linux Ubuntu soon to be set up on it.
It is also possible to install and run a server OS such as Windows Server 2003, and there are even people who have successfully configured Mac OS X to run under this environment.