Guide To Finding And Using Free Genealogy Databases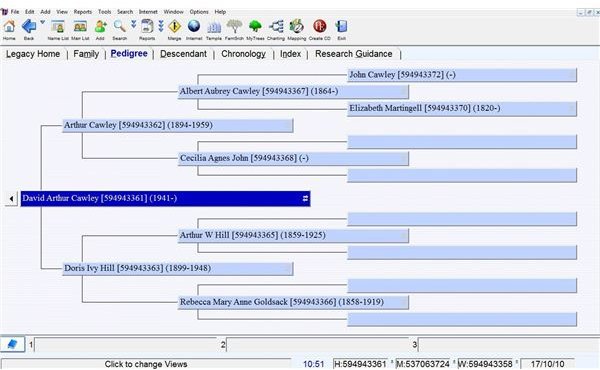 Finding Free Family Tree Facts and Figures
You get very little for free these days – and often what is free is only to entice you to spend money later.
A past time such as researching your family tree can be a huge expense with travel costs to distant relatives, churches and records offices, software costs, outlay on marriage, birth and death certificates, and many more things that can give your family tree that vital bit of information. An alternative to many of these outlays is to research online – but the costs that can be associated with this could outweigh those listed above.
Researching your family tree for free can be difficult – but the information is out there if you know where to look.
Free Family Tree Software
For conducting family tree research at home I would recommend taking advantage of free genealogy database software, whether you intend to publish your findings to the web or not.
The reason for this is simple – the processing power that such software brings to the task of research are considerable, and make the job of managing your data so much easier.
You may have already seen reference to our selection of free family tree software – Family Tree Builder 4.0 is a great choice and can be downloaded and installed in minutes.
Free Genealogy Databases
If you're looking for genealogy and historical information free of charge, your first step should be the internet. While there might be a vast selection of family tree websites all offering you the same data for premium rate access, there are also a good selection that offer user-submitted content.
Genealogywise.com is a genealogy social network a huge number of members. A great place for research as well as help and support
RootsWeb features many free to use genealogy databases (such as transcriptions of records, indexes of newspaper articles, etc), courtesy of the users, not to mention very useful message boards and surname-specific mailing lists.
Genforum.genealogy.com is a free part of a larger website (www.genealogy.com) and offers the chance to communicate with potential relatives in surname-specific forums.
Libraries and Record Offices
Don't rule out offline research, especially if you are situated close to an administrative center for your state, county or district.
Local libraries and record offices permit free research, meaning that you can drop in and take a look at their records which will be stored in book form, microfiche or even in digital format. Printing will cost a small amount of money, but your pencil and notebook will be much cheaper although taking notes might mean the job takes a bit longer!
Other Family Members
No research into your family tree should be attempted without speaking to an elderly relative or long-standing friend of the family. Vital information and stories can be gleaned from people like this, and they can start you on your way to some startling discoveries.
Always take a notebook and pen, or if they're happy to be recorded, a small digital recorder, and remember to ask questions about the people they mentioned; this can help to put the life of your ancestors into historical context as well as encourage your relative to keep to the point.
You should also check to find out if other relatives have been researching the family tree. While you might be from different branches of the same family, there might be some useful crossover in the research that you might both benefit from sharing.