Looking For A Microsoft Works Tutorial?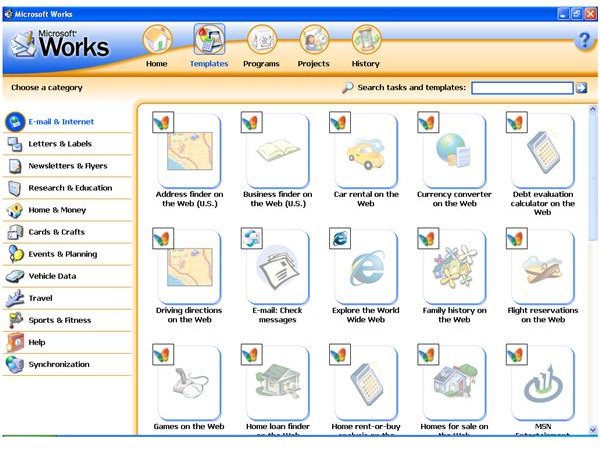 How Do I Use Microsoft Works?
Microsoft Works is the low-cost alternative to Microsoft Office. It includes a word processor, spreadsheet and database application, with some later versions also bundling in a calendar application.
In most cases it has been seen as an ideal cheap alternative to Microsoft Office; Microsoft Word alone costs more than Microsoft Works, and many of the functions included in Works suffice for the basic task of word processing, spreadsheet calculations, calendar tasks and database management.
We're going to focus on using Microsoft Works' most popular component application, the word processor, and how you might use it in a variety of document-processing scenarios.
(This tutorial refers to Works 8.5; other versions may have different menus but the application-specific instructions remain more or less constant across all releases.)
Microsoft Works Tutorial: Selecting and Using a Template
Using the Works launcher, you can create a document based on a pre-designed template – simply go to the Templates button in the launcher and you will see a big range of templates for use in the word processor and the spreadsheet applications. The templates are sorted by type along the left hand side, and allow you to quickly start writing letters, flyers, cards, journals and more. You'll also find other templates via the Programs option in the launcher.
Additional templates are available from office.microsoft.com.
Don't forget to save your documents once you have begun work on them!
New Document and Formatting
Creating a new document in Microsoft Works Word Processor is simple – after you have opened the Microsoft Works launcher, select the Works Word Processor option, and begin typing!
All of the same font and alignment options are available in Microsoft Works as they are in Word, and the process is the same – simply select the text or paragraph you wish to change, then use the text drop down on the toolbar to change the font face or the font size. Alterations to the paragraph formatting can be made by using the justification toolbar options or by selecting the paragraph(s) to be altered, right-clicking and choosing Paragraph…. This way you can alter text justification, line spacing and you can also add indentations to the start of paragraphs.
Spelling and Grammar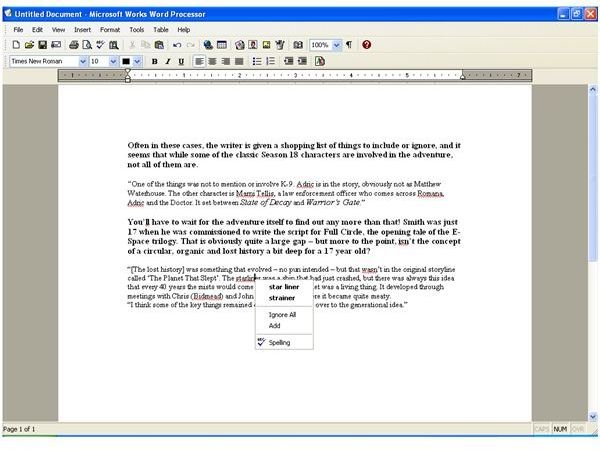 Remarkably, Microsoft Works Word Processor has a full spelling and grammar checking facility, meaning that you need not worry about getting your apostrophes mixed up again!
Simply pressing the F7 key will start the check, and if you're familiar with Microsoft Office Word then you will know that the spelling and grammar check cycles through every line and sentence in the document, checking spelling, phrase grammar and punctuation in order for you to create as polished a document as possible.
But why does such the budget version of Microsoft Word have such an impressive spell checker? The truth is, Microsoft Works is ideal for the majority of users, whereas Microsoft Office features tools those same uses would hardly ever use.
Saving and Converting Files
One of the more contentious aspects of Microsoft Works is its lack of compatibility with Microsoft Word and the other Office apps, notably Excel.
Different versions of Works have different compatibility levels with Word and Excel, which can result in problems sharing documents! By default, Works will save a word processed document with a .WPS extension. This can be opened in Word, but modern .DOCX files cannot be opened in Works Word Processor.
Since the release of Microsoft Word 2007, later versions of Works have included support for Microsoft's original .DOC format (and the same is true of the .XLS format in Excel) but the only way to open a .DOCX file in Works 8.5 and earlier is to first convert it.
The simple and free online tool docx-converter.com will allow you to do this, and convert your .DOCX format file into .DOC format which can then be opened in the Microsoft Works word processor software!
References
Author's own experience.
Screenshots by author.
DOCX-converter, https://docx-converter.com.
Microsoft Office Online, https://office.microsoft.com.