Remember Important Events with Sendible, the Free Online Email Scheduler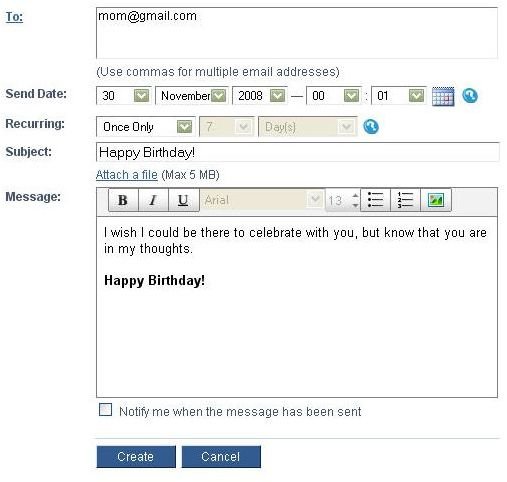 What is Sendible?
Do you have trouble remembering deadlines and appointments even with the help of online calendars? Would you like to be able to compose birthday and holiday messages in advance and have your email send those messages on the day of the event? These scheduling functions are included with many software email clients, but they're not so standard with web-based clients.
With Sendible, it doesn't matter what type of email client you currently use. This free online scheduling application allows you to compose email, SMS, and Social Networking messages and choose an exact date and time for their future delivery. You can even create posts for your Blogger site to be published at a later date.
The Sendible interface is very clean and easy to use. While I still prefer to use my email client for most of my email scheduling activities, I love Sendible's new ability to schedule future Facebook Wall posts. Plus, it's nice being able to store all my contact information from various email addresses and Social Networking sites in one place. Sendible even has the ability to access your entire friends list from Facebook and schedule birthday reminders for every single one with just one click of a button.
Is Sendible Completely Free?
A free account at Sendible allows you to schedule future email messages, notes to Social Networking boards, and posts to your Blogger accounts. In exchange for being able to perform these activities for free, Sendible will include a small advertisement at the end of any of these messages. If you don't want these ads to appear, you can upgrade to a Pro Account for $12 a year.
If you want to use Sendible to send SMS messages, you do have to purchase a block of credits. These credits become cheaper as the size of the block you buy increases, and the price can range anywhere from $0.07 to $0.10 a credit. Take a look at this chart for more detailed information about Sendible's SMS pricing structure.
Future Updates
Sendible is a rather new service that's only been around for a few months. As such, they are continually looking for ways to improve their product and new types of messaging services to add. New functions are added to Sendible on a fairly regular basis, and the user community can keep up with these additions by checking out the Sendible Blog.