Create Free 3D Models with Microsoft Photosynth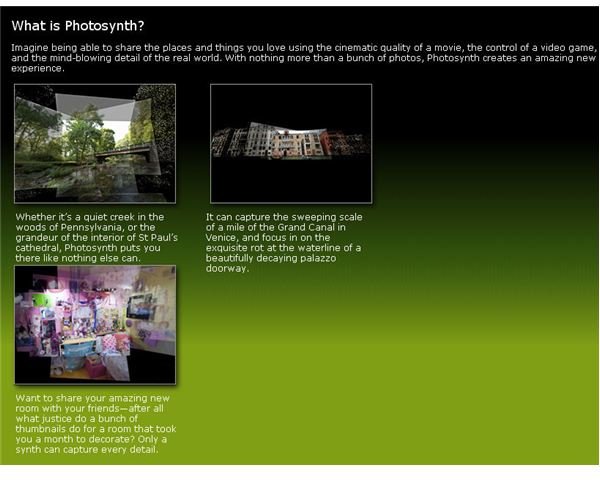 Photosynth versus Photomerge
There's plenty of software on the market that's capable of taking several "flat" photographs, identifying their common portions, and merging them into one larger photograph. The problem is that you still end up with a single "flat" photograph at the end. Sure, there are tips and tricks that can be applied to that final photograph of this photo merging process to give it a variety of 3D effects, but it's not a real three-dimensional representation. It's just a two-dimensional photograph with some fancy effects applied to it.
Microsoft Photosynth is something completely different. Instead of taking several two-dimensional photos and merging them into a larger, more-detailed two-dimensional photo, Photosynth combines several photographs taken from various angles, distances, and depths to build a realistic 3D model of the subject. This subject could be a person, landmark, landscape, living room, or anything else you want to reconstruct.
How Does Photosynth Work?
Microsoft Photosynth is the combination of two recently developed technologies. The first is a technique known as photo tourism that can combine large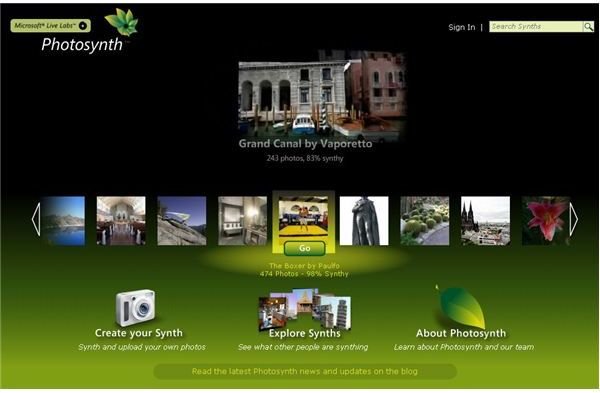 numbers of photographs, each taken from a different vantage point, into a three-dimensional representation of the photography's subject. The number of photos needed to develop a "good" representation is dependent upon several factors, but, obviously, the more pictures you have, the better.
This process alone wasn't enough, however. In order for this model to be viewed as a 3D entity, it had to allow for tilting, panning, and zooming. This means that you can't just simply merge all the photos together and be done. In addition to combining all of the photos together to form the model, each photo has to retain its own identity to allow for zooming and viewing from different angles.
Because of the need to retain the details of each individual photo, the data files for this type of reconstruction can get very big, very fast. That might be okay if you're working on a private mainframe or jazzed up PC, but it definitely was going to cause problems for the majority of us who work on average machines and want to share this type of information over the internet.
It's at this point that the second new technology steps into the project. Through the acquisition of Seadragon in 2006, Microsoft was able to get its hands on the knowledge of how to make these reconstructions containing such large amounts of data viewable in a smooth, predictable manner. The blend of these two innovations resulted in Photosynth.
Creating a Synth
At the current time, Microsoft Photosynth is completely free, and the only thing you need to access the application is a Windows Live ID (which is also free). All you have to do to get started is take your photos and upload them into Photosynth. The application does the rest.
If you're not sure about how many or what types of photos to take, Photosynth has created a photography guide that is also available as a free download. Although this 10-page PDF document goes into great detail with the tips and tricks it recommends, a single-page summary listing the highlights of the material forms the opening page of the document and acts as a Quick Start guide.
Before you run off to create your first synth, a word of warning: currently, there are no privacy options in Microsoft Photosynth. Anything you upload to create your synth will be viewable to anyone who cares to look. That's not necessarily a bad thing. In fact, it can be a great way to show off your work. However, it is something to keep in mind, especially if you plan on building your synth from photos taken in a public setting. The general Photosynth audience may love your work, but that uninvolved third-party that accidentally got caught in your shot may not appreciate it at all.