Top Freeware for Windows - Download Websites for Windows Utilities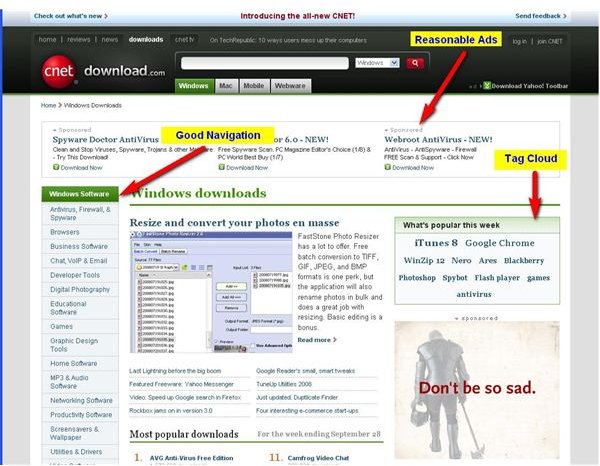 Getting Freeware
Microsoft Windows gains vast functionality through the thousands of products available to install and run on the versatile operating system. Microsoft itself makes dozens of products to which there are a number of competitors. In areas where Microsoft does not make software, there is sure to be a company filling the space with a solid software offering.
But, not all good software comes with a hefty price tag. In fact, some really great software comes with no price tag at all. In the Monthly Freeware Update we'll keep a watch on the pulse of the freeware scene, freeware sites, and, of course, freeware software and products.
This month we examine freeware distribution sites. Most freeware is readily available from its developer's website. Popular Windows system utility Glary Utilities, for example, is easily evaluated and downloaded via https://www.glaryutilities.com/. But, that only works if you already know what you are looking for. After all, there are dozens of other Windows system utilities packages out there. Plus, there is all manner of software and utilities available as freeware that you might not have even thought of.
Freeware Sites
The answer is freeware sites. Originally, freeware sites kept a pretty good handle on what freeware was coming out and made the good stuff available along with a review or recommendation. These days, the freeware community is enormous and thousands of software launches come down the pipe each month. So, the days of impartial reviews and recommendations on every piece of software on the site are over. Still, some handle things better than others. We'll take a look at what makes a good freeware distribution site and point you in the direction of some of the best.
Do a Google search for "freeware downloads" and you'll notice around 3.4 million sites. One of the most well known is Download.com which is a part of CNet which is a part of ZDNet. If you know computers, you know one of these sites.
Download.com
Download.com is a good place for a newbie to start. Because it is part of a big corporate empire, you can be pretty sure there isn't too much sneakiness going in the way of tracking cookies, invasive ads, or even viruses inside the software. It also has good navigation, and a nice tag cloud to give you ideas of what you might be interested in.
The thing about download.com is that is just really big. That means finding a good freeware solution can involve a lot of guessing, particularly since so many programs seem to get good ratings. The saving grace comes in its ability to narrow your results and sort in meaningful ways. Want to know what everyone else is using? Sort by downloads. Want the product with the highest Editor Rating? You can sort that too. The catch is that with this kind of volume, few products even have an editor rating, and those that do might have old ratings.
FileHippo.com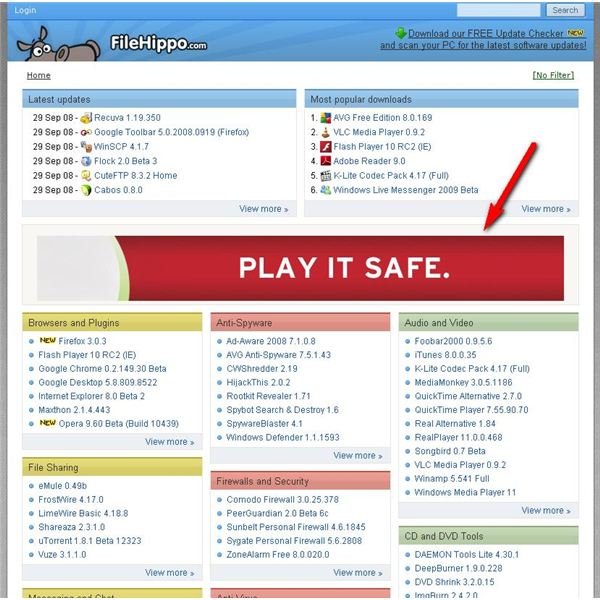 On the other end of the spectrum is a site like FileHippo.com. Here you are taking a bit more of a leap of faith. There is nothing to say that the site owner isn't a savvy hacker, but, of course, there isn't anything to say that he is.
Again, a very reasonable amount of ads on the site is a big plus. Navigation is a little less clean, but very readable. In fact, it might be considered better since a glance allows you to see the kind of products inside the category without clicking. That way, you might know which category will best serve your needs.

What is nice about FileHippo is its size. The Imaging category here brings up just one page of applications. Unfortunately, there is no way to separate the Freeware from the demos or shareware, but with this size list, doing it by hand is very manageable. This size also means that your list is a who's who of applications in the category. On the one hand this is nice because you aren't getting some half-baked app, but, on the other hand, you won't be finding that diamond in the rough that is tweaked to exactly match your needs.
We'll keep an eye on other good sites for finding freeware in our monthly updates as well as some of the top of the heap applications out there.
If you have any ideas or products you think we should take a look at, email me.