IE9 Vs Chrome - Comparing the UI - Things You May Have Missed In IE9

User Interface Basics
When you first open it, IE9 looks like Chrome. However, as you start typing the address or URL of any website, you start noticing the differences. Chrome has Tabs placed on the top of the Address bar, making it two bars. IE9, on the contrary, has combined the Address bar and Tabs into a single bar thereby saving space. While Chrome already had the Address bar and Search bar integrated, IE9 too (unlike its predecessors) integrated the Search bar into the Address bar, saving space which is allotted to the IE tabs.
By default, you won't get the Favorites bar and Status bar in IE9. The traditional menu is also missing. The main reason behind this, says the IE team, is to offer more space to the website instead of wasting precious display space on unwanted browser features. Microsoft seem to finally acknowledge that browsers are for viewing websites and not the browser interface.
One can get the Status bar and Favorites bar (the two bars that seem necessary for all) by right clicking on any empty space of the Address bar and by selecting them in the context menu. Similarly, you can get the Traditional menu bar in Internet Explorer 9 beta by pressing ALT key. It vanishes once you click elsewhere in the browser.
Another interesting aspect worth comparing is the placement of Favorites. The concept seems to be borrowed from Chrome. In the IE9 interface, you can see the Favorites icon on the right side of address bar. It expands into a full menu when you click on the star. In Chrome also, you can find the bookmarks icon on the right, but on the bookmarks bar.
IE9 replaces the Tools menu into a Tools icon that is also placed next to the Favorites icon on the same Address bar. In short, comparing IE9 and Chrome, IE9 offers more of the canvass space for websites as compared to Chrome – by integrating every important browser component into a single bar. The image in this section shows a comparison - IE9 vs Chrome – Basic User Interface.
The New Tab Page
Finally, let us look at the new tab page. Though both exist in Google Chrome and IE9, the one in IE9 is more interesting. It shows the recent webpages you visited with an activity bar. The bar is colored according to the website color and shows how active you have been on the page. The only drawback is that you cannot "Pin" a thumbnail as in Chrome/IE8 so that you do not lose it when you next open the New Tab page.
Another interesting feature to note in Chrome vs IE9 is that Chrome offers only eight website thumbnails in the new tab page. IE9 offers 10 thumbnails. You can also tweak IE9 to get up to 5 rows, meaning up to 50 thumbnails on the new tab page!
Tip: If you are using a shared machine and are concerned about your privacy, you can set IE9 to Delete Temporary Files on Exit (Internet Options -> General Tab). This way, once you restart the browser, the new tab page in IE9 shows empty thumbnails. Chrome does not have this facility as of now.
Speed and Website Rendering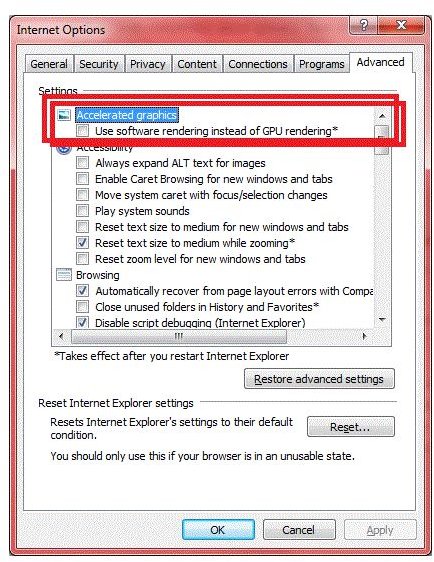 Until the beta release of IE9, Chrome was supposed to be the fastest browser. However, IE9 seems to take a huge step in the history of browsers by employing hardware acceleration instead of the traditional software acceleration. Though Chrome is also capable of using partial hardware acceleration, IE9 has now set a trend that each browser will have to follow - the trend of using GPU for webpage rendering. Usage of hardware not only speeds up the browser, it also reduces the consumption of high CPU usage like in IE8 and other browsers.
To further facilitate proper website rendering, IE9 employs backward compatibility for websites that still use older codes. The feature is present in IE8 also. There is no such option in Google Chrome, not at least that the users can control. It is a different matter that Chrome is somehow able to manage rendering for almost all websites. It may be a built-in component that makes easy, the website rendering in Chrome.
Please note that the GPU rendering in IE9 is good only for newer computers that have compatible graphic cards. If you are experiencing slow IE9, just open Internet Options -> Advanced Page. The first option is Use Software Rendering. If the option is grayed out, your computer does not have a compatible graphics card or you need to update the graphic card drivers (see image).
Other Features
In its attempt to reduce the clutter, IE9 now has a transparent notification bar that pops up at the bottom of the window when you install add-ons or when you download something. Comparing Chrome and IE9, the notifications in Chrome appear as a dialog box, which may be irritating sometimes. Though I found the IE9's notification bar easier on browsing experience, sometimes users may miss out the bar due to the transparency and the fact that it does not play any kind of sound so that users can see it when they are busy browsing. While comparing IE9 and Chrome, I also found that Chrome's notification bar for saving passwords appears on the top of the window, which is more visible and attracts the attention of users.
Another factor that I came across when comparing IE9 and Chrome is that IE9 offers more options to control the way you wish to use the browser. There is a hoard of options that helps you customize the way you wish to browse - including how the websites should behave while you are using IE9. Some examples are setting up sites into rated categories, content advisor, behavior of cookies, etc. Chrome too offers options but they are far less than IE9, which means less customization of browser.
With IE9, you can also use SmartScreen filter that shows you if a site is malicious. This is a built-in feature of IE that you can enable per your wish. On the contrary, if you are using Chrome, you need to install a third party verification engine to see if a page is malicious.
To wind up, I feel that the IE9 is basically designed for Windows 7 and later operating systems. It goes extremely well with Windows 7 and also offers the facility of using Websites as icons on your taskbar and in Start Menu. These icons help you load the website without having to open the browser. Chrome does not have this feature. To know more about pinning websites on Taskbar and Start Menu, please read our article, "How to Pin Websites to Windows Taskbar".
This comparison of IE9 vs Chrome is based on my own research of the features. Your views on Chrome and IE9 may be different. If you think I left out anything or if you wish to add anything to this comparison, please feel free to contribute using the comments section.