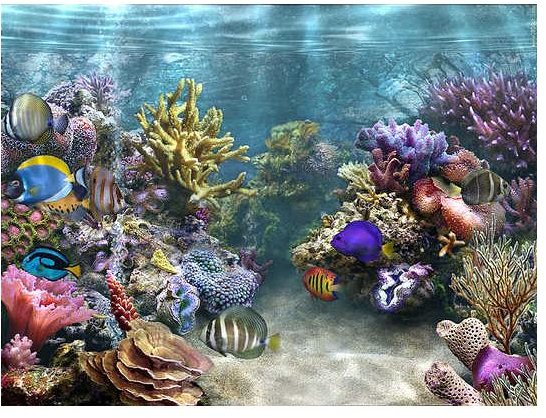 Windows 7 comes with enough screensavers installed by default to get the job done. In fact, with modern LCD monitors and standard power saving features, screensavers are unnecessary in almost all situations. They don't count as an advanced Windows 7 feature, but, what is necessary never trumps tricking out your computer for maximum fun. These Top 10 Windows 7 Screensavers bring the fun before your monitor decides it has had enough and powers down into sleep mode.
You can find most of these screensavers at your favorite software download website. Consider cnet's download.com screensaver listing if you don't have one.
Top 10 Windows 7 Screensavers
Slideshow Screensaver - There are a million of these out there and they all do the same thing - display your own pictures on the screen one at a time. How can a common type of screen saver with an idea that has been around since the early Windows XP days be the #1 screensaver for Windows 7? Because, it shows YOUR pictures. Sure, there are other fancier ideas out there and some of them are pretty cool, but nothing personalizes your computer like your own hand-picked pictures, whether family snapshots or super awesome pictures you found somewhere on the Internet.

The Matrix Screensaver - Ok, this one isn't new either, but admit it, when you think of your computer, you like to think of it as a part of the Matrix, for good or for bad. On those bad days when it feels like you are chained to the PC, it embodies all that is bad about computers and the Internet taking over more and more of our world. On good days, when your computer seems like your passport to world domination, it feels like YOUR computer runs the Matrix and everyone else are the suckers who don't know it.

Digital Talking Parrot - These days screensavers should come with sound, and this one does. This isn't cheesy electronic music, either, this is a talking parrot. He flaps his wings, says things like a parrot does, and even learns new words. Just record another word and your parrot "learns" it and starts saying it too.

Arctic Bear 3D Advanced - Actually, this screensaver deserves a higher spot on this list, but it is starting to look a little dated. Still, this bear sits on a piece of ice hanging out, drinking beers (and un-environmentally throwing them into the water behind him), while dancing to music that plays through your computer's speakers. You'll watch it, your kids will watch it, and you will have fun.

**

SimAquarium** - Ok, the fish aquarium thing is old news. It has been around forever, but there is a reason for that. It is one of the few "realistic" ways to enjoy your screen saver. Face it, your PC screen is about the size and shape of some fish tanks. The fish in the screen saver are about the size of fish in real life. In fact, the better the graphics an the more processor power you let a fish screensaver use, the closer it gets to looking like real lift. SimAquarium is one of the best with realistic fish, lighting, and the ability to switch tanks so it doesn't get TOO old.

BioHazard Screen Saver - It's a biohazard symbol. It sits there. It rotates. Maybe it's my old biochemistry days bleeding through to the present, maybe it's that the nuclear radiation symbol has been neutered by overuse, but the biohazard symbol is creepy and powerful and it deserves a spot on your computer screen.

Fireworks Screensaver - I tell my daughter that people who don't still watch fireworks are already dead inside. Don't be that guy. The fireworks screensaver will help you get through that dry period between fan appreciation day at the end of baseball season through to next year's 4th of July fireworks.

3D Realistic Hourglass - You are going to die. No, not today. This isn't some cheesy, the Internet kills you movie, but you will die some day. If you want to be reminded of that fact, use this hourglass screensaver.

3D Dancing Skeleton - Ironically, this screensaver does not remind you that you will die someday. Instead, it is campy fun, just what a screensaver should be.

Starfield - I don't care how old it is, nothing says screen saver like a bunch of white dots simulating hyperspace flying by on your computer screen. If you can't find another screensaver that makes you smile, use this one.
Image courtesy of SimAquarium