What is the Best Windows 7 Registry Cleaner?

Windows 7 and Registry Cleaner Program
Windows 7 is the newest operating system by Microsoft and like the old versions of Windows, the registry in Windows requires cleaning. Not everyone recommends using a registry cleaner program unless you really need to, such as when you want to check if the systems' registry is full of junk, invalid entries, obsolete items or errors. No one can tell if a registry requires cleaning unless a trusted registry cleaning program or service has checked and provided a report on the status of the registry in Windows.
The registry structure of Windows 7 has no difference over Windows XP's registry simply because both are using a Windows NT-based operating system. Microsoft continues to use the same registry structure and the only difference is the user profile settings where you'll find Local Settings\Application Data\ in XP while Vista and Windows 7 has its user profile in AppData\Local.
Looking back at old article by Windows Expert and Microsoft employee, Mark Russinovich said:
"Registry junk is a Windows fact of life and that Registry cleaners will continue to have a place in the anal-sysadmin's tool chest, at least until we're all running .NET applications that store their per-user settings in XML files – and then of course we'll need XML cleaners."
Like him, I recommend not using a registry cleaner but the fact is that sometimes the Windows registry can contain stuff that is no longer necessary. Another thing is that the Windows software was not made using the same settings and developmental tools.
Note that a registry cleaner program or service is not created to boost the performance of a computer but rather a tool to clean some unnecessary or remnants of already removed software. It's not necessary to use a registry cleaner in Windows and it's recommended only if you know what you're doing. The registry is the heart of Windows and the computer can become unstable if the program you use in cleaning the registry is buggy or not from trusted sources.
On the plus side, registry cleaners can help remove obsolete registry entries added by malware if your antivirus software has removed a malware but failed to remove traces of the malware in the registry.
PowerTools Lite and CCleaner
PowerTools Lite and EasyCleaner are freeware registry cleaning programs. The test machine we used is running Windows 7 but it is not a clean or fresh install. The registry has junk and invalid entries since I've removed and installed plenty of software. I allowed the programs in this article to scan the registry in Windows 7 and then checked if any detections were incorrect.
PowerTools Lite has found invalid entries or errors which are correct and when I checked the junk items it detected, all were correct. Again, this is not a clean install of Windows 7 and there should be at least some errors or junk registry entries.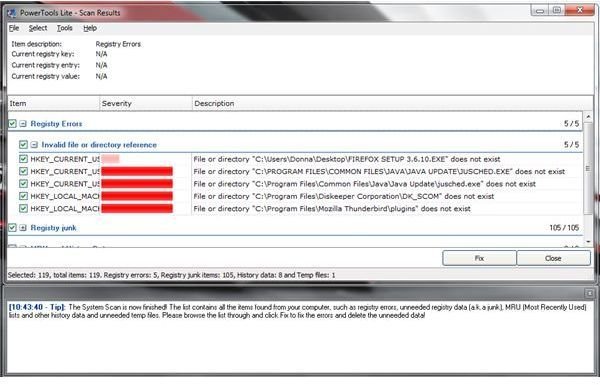 CCleaner has found many items and it's also correct in finding the invalid entries and it did show a critical entry in the registry that might put the system into a fail state.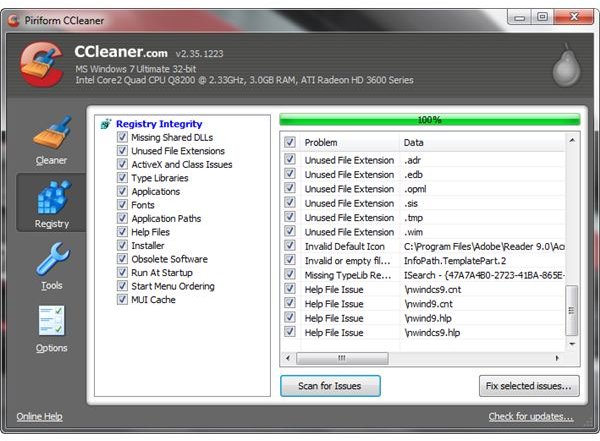 Windows Live OneCare Safety Scanner and EasyCleaner
Microsoft, the vendor of Windows operating system recommends using a registry cleaner once a month. They stated in their website, "The Windows Registry is the place on your PC where Windows stores information it might need to retrieve later–for example, when you open an application or change a system setting. The registry contains profiles for each user, the applications installed on the computer and the types of documents they create, what hardware exists on the system, and the ports being used. Over time, the Windows Registry can begin to contain information that's no longer valid. Maybe you uninstalled an application without using the Add or Remove Programs function in the Control Panel, or perhaps an object or file in the registry got moved. Eventually this orphaned or misplaced information accumulates and begins to clog your registry, potentially slowing down your PC and causing error messages and system crashes. You might also notice that your PC's startup process is slower than it used to be. Cleaning your registry once a month via the Windows Live OneCare safety scanner is the easiest way to help avoid these common problems."
This is why they continue to provide Windows Live OneCare Safety Scanner with its registry cleaning feature for Vista and Windows 7. I let Windows Live OneCare Safety Scanner detect or scan errors in the registry of Windows 7 and I must say it did a good job, too. The detections were correct and it did not detect something that will put the system into an unstable state.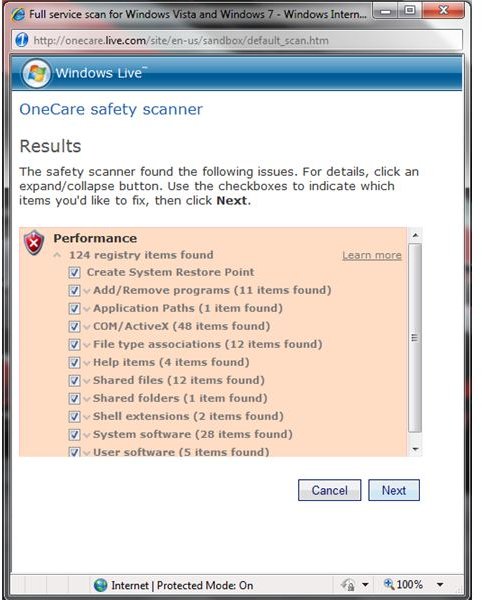 EasyCleaner is another free registry cleaner program for Windows and it runs on Windows 7. The only issue I encountered is that it does not run without an admin account. Windows 7 users of EasyCleaner should always run it as "administrator" by right-clicking on the program's executable or configuring the executable of EasyClaener to always run as admin. The detections by EasyCleaner were correct also and its not going to delete anything that it should not: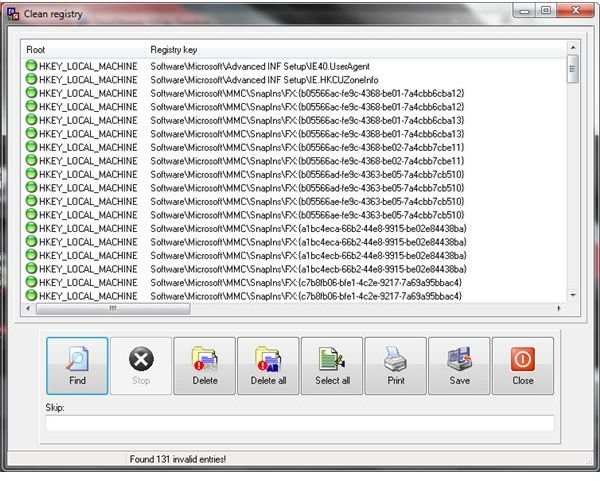 Other Registry Cleaners for Windows 7
I have another published article about registry cleaners but I tested it in a clean-install of XP system. Check the article called Choosing the Best Free Registry Cleaner for Windows.
Norton Utilities includes a registry cleaner and monitor which you might want to try, but it's not freeware. Stay away from Comodo System Cleaner, Eusing and RegCure as they have detected false or incorrect registry entries.