How to Add Music from a CD to PowerPoint Presentations

Music in PowerPoint
In Part 1 of this series, we discussed how to use audio files present on your computer to play music in a Microsoft PowerPoint presentation. While this is generally the easiest option since it allows you to map directly to the sound file you want to use, it's not always the best way to handle the process.
There are many times when it is more advantageous to add music directly from a CD to your presentation. In particular, if you plan on presenting your presentation to a large audience in a corporate conference room, chances are that you're not going to be using your own laptop.
While it's perfectly fine to distribute your own PowerPoint presentation files as you please, things can get sticky in the legal department when dealing with the distribution of other types of files, especially music, that weren't originally created by you. To avoid these issues, it's often best to carry your music files on a CD rather than transfer them to an unknown, third-party computer. Even with this, it's best to double check and make sure that the CD's terms of use don't prevent you from playing it in a formalized public gathering.
Adding Music from a CD
After opening your presentation, pull up the slide to which you would like to add a music selection. If you haven't done so already, insert the CD you plan to use in the CD drive of your computer. If a Windows pop-up appears, asking for instructions on how to handle the CD, select the Close or Cancel option.
Click on the Insert tab, and expand the Sound drop-down menu.
From this list, choose the Play CD Audio Track option. This will bring up the Insert CD Audio dialog box, allowing you to specify which music tracks to play.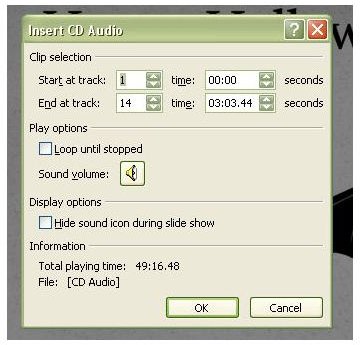 You can even choose to only play a portion of a single music track on the CD by specifying the Start and End time of the selection. If you want to take some time and play around with these settings, you can check what your resulting output will be at any time by clicking the Preview button.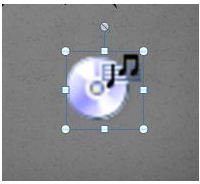 Once you've entered the necessary information in the Insert CD Audio dialog box, click OK to continue. From here on out, the steps are exactly the same as they would be if you chose to insert an audio file from your computer's hard drive. For more details on that process, see Part 1 of this series.
Looking for more PowerPoint tutorials and user guides? Be sure to browse through the other items in Bright Hub's collection of PowerPoint tips and tricks. New and updated articles are added on a regular basis, so bookmark us and check back often.
This post is part of the series: Using Music and Videos in PowerPoint Presentations
Adding music and videos to a slide show can definitely take your Microsoft PowerPoint presentations to the next level. In this series, we'll take a closer look at how to incorporate music and embed videos into your presentation.