Where Does Firefox Store Bookmarks? Find Out about the Firefox Bookmark File and How to Backup your Firefox Bookmarks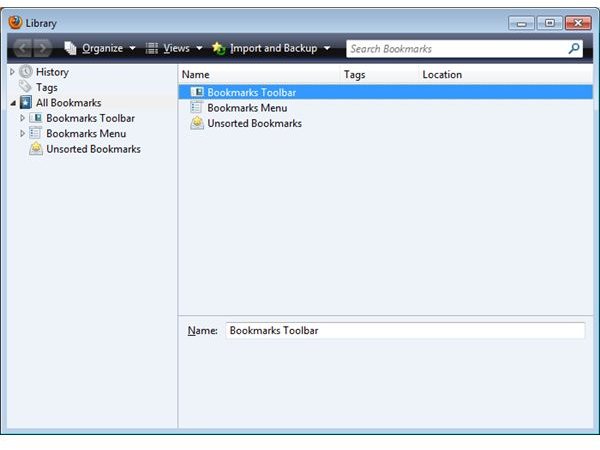 About Bookmarks
Bookmarks are an important feature in modern web browsers. They allow users to save links to web sites, or specific web pages, for future visitation. Bookmarks can usually be organized in folders, or placed on a toolbar for quick access.
Since bookmarks are stored on a computer's hard drive, it is important to know how to backup and restore bookmarks when you are moving to a new computer. Also, if you plan on switching web browsers, backing up your bookmarks will sometimes allow you to import those into another browser.
Luckily, Firefox has a built-in way of saving and restoring bookmarks. However, since there may be an occasion where Firefox is not working properly, it is also helpful to know where Firefox stores bookmarks so that they can be retrieved anytime.
Backup and Restore the Firefox Way
Firefox has a tool to handle the job of backing up and restoring bookmarks. In the Firefox window, simply click on Organize Bookmarks under the Bookmarks menu. This will open the Library window, where you can organize all of your current bookmarks, as well as save and restore bookmark files.
Backup Bookmarks
To backup or save your current bookmarks, simply click on Backup under the Backup and Restore menu in the Library window. This will open a Save As dialog box. Be sure to select a location on your hard drive, or on an external device such as a USB thumb drive, that you will be able to remember later. The bookmark file will be saved with the extension JSON. A name is provided that includes today's date, however, you can change the name of the file if you wish.
Restore Bookmarks
Restoring bookmarks is as easy as saving them. In Firefox, navigate to the Library window as described above. Click on Restore, Choose File from the Backup and Restore menu. If you are restoring a Firefox backup file, leave the extension as the default, JSON. Navigate to the backup location and select the file. Firefox will warn you that it will replace all current bookmarks with those contained in the backup file. Click OK to continue.
Finding the Firefox Bookmark File
If something has happened and Firefox does not work, how can you go about finding your bookmark file?
Unfortunately, in Firefox 3 (the latest version), bookmarks are saved in a file that cannot be directly restored into Firefox. Earlier versions of Firefox store bookmarks in a file called bookmarks.html in your Firefox profile folder. Typically, this folder is located at C:\Documents and Settings\(User Name)\Application Data\Mozilla\Firefox\ (in Windows XP) or C:\Users\(User Name)\AppData\Roaming\Mozilla\Firefox (Windows Vista and Windows 7). This file can be restored into Firefox.
It is possible to restore your bookmarks file through another web browser even if you are unable to find it on your own. As always, however, it is recommended that you keep backups of your bookmarks so that you can be prepared to restore them if necessary.
For more information, check out this great article to learn more about organizing bookmarks in Firefox.