Problems Running Musicmatch Jukebox 10 And Windows 7 Together?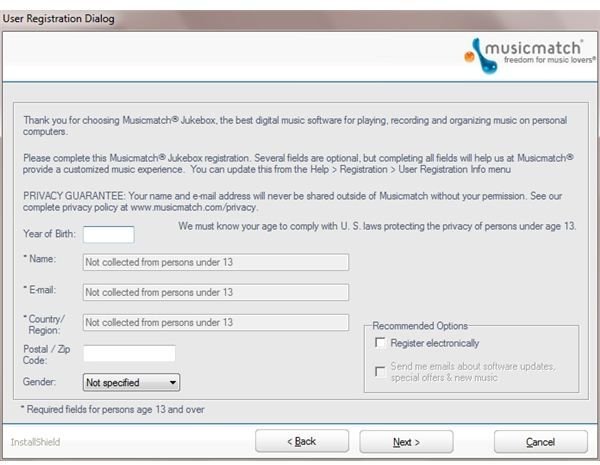 Musicmatch Jukebox 10
Musicmatch Jukebox, previously known as Yahoo Musicmatch Jukebox, is a great way to listen to MP3s and other audio files on your PC.
Over the years it has been a popular choice for Windows users, but with the release of Windows 7 many users have discovered problems running Musicmatch c10 on the new operating system.
There are several reasons for this complication. For instance, MusicMatch Jukebox 10 was designed to be used on older 32-bit operating systems like Windows XP. Anyone trying to run the application on a 64-bit Windows 7 system may run into trouble.
Note that MusicMatch Jukebox 10 is also no longer being developed, so it is unlikely that these problems will be resolved in future.
However, there are workarounds…
Finding a One-Size Fix
Since this article was first published in September 2010, it has become apparent that there are various problems running Musicmatch Jukebox 10 on Windows 7 that go beyond the steps outlined here.
Put simply, it seems that the software can only run reliably with particular builds of the operating system, and listing which builds can be used could prove to be quite an intensive task.
However, licensed copies of Windows 7 have the perfect solution ready to be used - Microsoft Virtual PC. This is a solution from Microsoft that installs a free to use version of Windows XP in a virtual machine on your Windows 7 computer, allowing you to run legacy applications such as Musicmatch Jukebox 10 on your Windows 7 PC or laptop.
This isn't an ideal solution, but it is the only one-size fix for Windows 7 users. Full details on running Microsoft Virtual PC can be found in Lamar Stonecypher's article Download and Install XP Mode for Windows 7.
History of Musicmatch Jukebox
Musicmatch Jukebox was originally developed by Musicmatch and dates back to 1997. With versions such as Musicmatch Radio, Musicmatch Music Store, and Musicmatch On Demand, the software was originally intended for Windows 95 and Windows 98 PCs, with later versions designed for use with Windows 2000 and XP.
Following their purchase by Yahoo! in 2004, version 10.1 and all later versions featured the branding of the web portal and search service. After the official retiring of Musicmatch Jukebox in favour of Yahoo! Music Jukebox, long-term users sadly became disillusioned. This is understandable given the effort many had put into organising collections and taking advantage of the advanced tagging system.
Cleaning Up Your System
Before proceeding with installation of Musicmatch Jukebox 10, you need to look on your Windows 7 PC for any previous versions of Musicmatch Jukebox. If you've already tried installing version 8, for example (which you have no chance of getting to work properly) then you need to run a complete uninstall, not to mention a good clean up of the registry.
A tool like TweakNow RegCleaner 5.2 (available for download at Cnet.com) is perfect for this job and will remove irrelevant registry entries and keys in a matter of minutes. Once you have done this, or if you had no earlier versions of Musicmatch Jukebox installed, you will need to download and install the only suitable version.
Download and Install Musicmatch Jukebox 10 on Windows 7
If your system is now tidy and you're ready to install Musicmatch Jukebox, go over to www.oldapps.com, where you can find the version of the app with the most universal compatibility.
Once downloaded, right-click the installer file and select Run as Administrator. Next, you will need to OK the first of many warnings that the file is incompatible with this version of Windows.
Proceed through the installer, clicking Next at each option.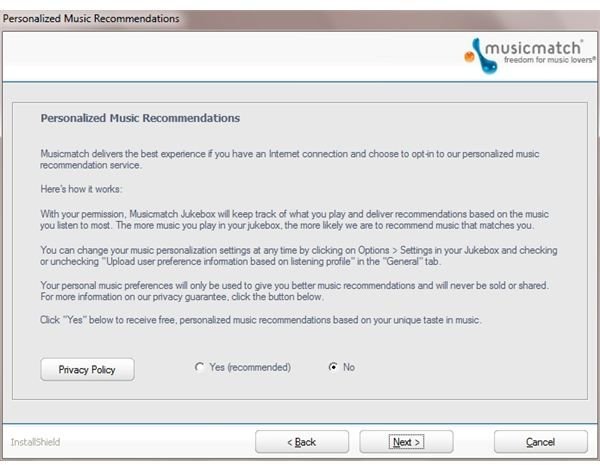 When you come to the registration page, click the option to not register and also claim to be under 13. This to prevent the app from attempting to register its usage, which it is not allowed to do if you are 13 or under. There is no longer a server at Yahoo! listening for messages from Musicmatch Jukebox. The software will not install without fooling the installer in this way.
Continuing Installation of Musicmatch Jukebox 10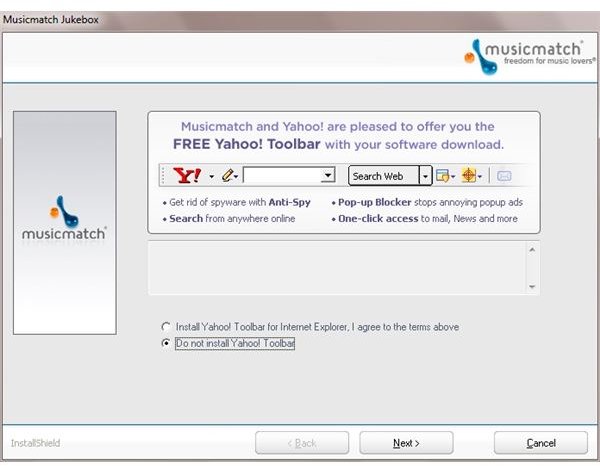 Click Next to complete more steps of the installation, changing the location required for your Music folder if necessary. Musicmatch Jukebox 10 will add files and playlists to this location.
As the installer finishes, you will be prompted to install the Yahoo! toolbar. You will need to deselect this.
A successful installation should result in more incompatibility warnings. Ignore these, but agree to reboot your PC. Upon restarting, you will find that Musicmatch Jukebox 10 and Windows 7 work together!
References
Author's own experience.
Screenshots provided by author.