Understanding And Using Internet Explorer Parental Controls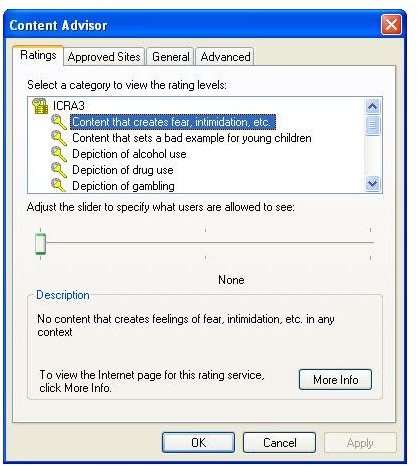 Why Do I Need Parental Controls?
When you're free and single, you can browse websites to your heart's content, safe in the knowledge that you'll click the "back" button when you stumble upon something unsavoury.
Children aren't as likely to do this – and can easily stumble across something unsuitable for young eyes if left to browse alone. Various parental control applications are available, with Net Nanny 6.0 regarded as the best solution for Windows XP and Vista
Taking control of your browser is vital if you have a family where the children are clever enough to switch on a PC. Internet Explorer's parental controls can be used to prevent access to certain types of websites and even restrict access to an approved selection of website.
Let's see how this can be done.
Overview of Internet Explorer Parental Controls
Internet Explorer 8 comes equipped with some excellent options for restricting access to websites that you might consider unsuitable for minors.
Such websites might include those on the subject of:
• Banking
• Gambling
• Adult content
• Violent
• File sharing
You'll probably be able to come up with many more websites types.
Using Internet Explorer's parental controls, you can approve or block websites based on their content rating, as well as select a bunch of websites that are always accessible.
For instance, here in the UK, you might block Google, but make the BBC website always accessible, as it provides access to a vast number of pages on many subjects. Similarly, you might approve access to Wikipedia, but block Amazon in order to allow your offspring access to an online encyclopedia and prevent them from accidentally buying one with your Amazon account!
Setting Up Parental Controls in Internet Explorer
To use Internet Explorer's Parental Controls, open the browser, then go to Tools > Internet Options. From here, select the Content tab - in the Content Advisor section, click Enable… to open the Content Advisor.
A list of categories is displayed, based on the ICRA3 ratings system, covering things like "Depiction of alcohol use" and "Violence." Using the slider below the categories, you can specify what users can see. For instance, for the "Language" category, the following four settings are available:
None - No abusive or vulgar terms, no profanity or swearing, no mild expletives in any context
Limited - No abusive or vulgar terms in any context. Profanity, swearing, or mild expletives only in artistic, medical, educational, sports or news context
Some - Abusive or vulgar terms only in artistic, medical, educational, sports or news context. Crude words, profanity or mild expletives in any context
Unrestricted - Abusive or vulgar terms, profanity, swearing, or mild expletives in any context, although this does not include sexual language, which is described separately
Make your selections based on what you would allow your children to see, and click to Apply the changes.
Approve and Disapprove Websites in Internet Explorer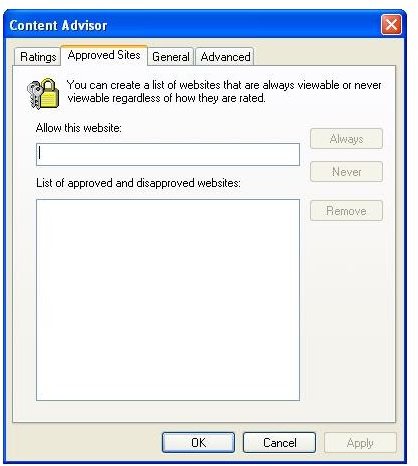 In the Internet Explorer Content Advisor, you can prevent or allow access to specific websites. To access this, go to Tools > Internet Options > Content and select Enable… to open the Content Advisor. Next, go to the Approved Sites tab – here you can add websites that you consider safe or sites that you consider offensive or distasteful.
This is a simple process – for instance, to add www.brighthub.com to your list of acceptable websites, enter the URL in the field labeled Allow this website:.
Press the Always button to permit access at all times – otherwise, click Never to block the website. A list of approved and disapproved websites is also listed in this window, and sites can be removed from this list by selecting a suitable site and clicking Remove.
When an attempt is made to access a blocked website, Internet Explorer will display a message explaining that the site is blocked. This useful feature works to reassure whoever is using the computer that the site is potentially dangerous, and that they should visit a different online destination.
Other Internet Explorer Parental Control Settings
Having all of these websites blocked and approved is one thing – however, they could easily be by-passed if the Content Advisor is disabled.
Luckily, Microsoft has included a "supervisor password" function, which is set for the first time when you make any changes in order to Enable the Content Advisor.
On the General tab of the Content Advisor, you will see the section labeled Supervisor password – the password can be changed here after the initial setup of the parental controls. The User options section meanwhile can be used to allow a supervisor to enter the password to allow anyone using Internet Explorer to view restricted content, as well as approve websites that have no rating; this last option is not recommended, however.
Try these options today – they can provide you and your family with safe and acceptable browsing content, with Internet Explorer parental control displaying a helpful message when a website is blocked.