How To Resolve Flickering And Flashing Problem Microsoft Powerpoint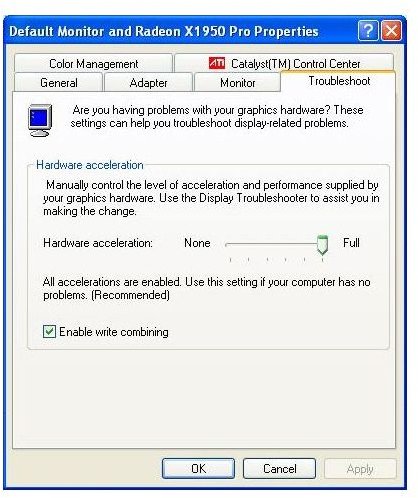 Different Types of Presentations
Presentations created in Microsoft PowerPoint can be sedate, conservative affairs with slide after slide of brief text and informative images, or they can be fanciful, slick affairs that take advantage of many of the software's interesting functions.
You might want to bring your text onto the slide in a spiral, for instance, or drive bullet points onto the screen from the right, complete with automobile sound effects.
With all of this interesting media content appearing on screen, it isn't unheard of for a presentation to beginning flickering – but just how do you stop this flashing problem in Microsoft PowerPoint?
Flickering and Flashing Problems in Microsoft PowerPoint
Typically such a problem will occur not in the displayed presentation but in the Edit mode. In this state, a presentation can be edited – slides, text, images and other additional enhancements can all be altered, added and removed.
An interesting fact about the Edit mode is that the main window is in a different resolution to the full presentation. This is why display anomalies such as flickering and flashing are discovered only when viewing the finished presentation. Using additional media sparingly can help in avoiding problems of this kind, as can other tips and tricks.
There are a couple of ways to resolve the flickering and flashing problem in Microsoft PowerPoint.
Resolving Flashing Problems in Microsoft PowerPoint
To get started with fixing this problem, the first thing to check is the hardware acceleration on your PC or laptop.
Access this screen in Windows XP by right-clicking on an empty portion of your Windows Desktop and selecting Properties. Next, go to the Troubleshoot tab.
In Vista, right-click on the Desktop and select Personalize. Next, go to Display Settings > Advanced Settings > Troubleshoot > Change Settings. In most cases the Vista User Account Control dialogue box will be displayed; click Continue.
Here you will see the Hardware acceleration section – move the slider one step to the left, then click OK. You might need to OK out of the previous screens. Once you have done this, go back to PowerPoint and see if the issue has resolved. If not, repeat the above steps until the problem is gone.
Altering Display Settings in PowerPoint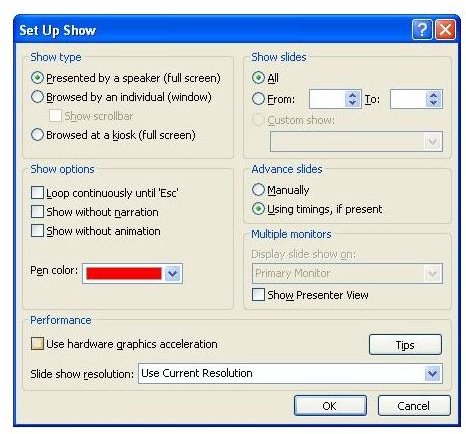 Usually the flashing and flickering problem in Microsoft PowerPoint only happens in Edit mode – but if it happens when playing back a slideshow, there is a setting you can use in the application.
Whilst viewing the presentation (in PowerPoint 2003), go to Slideshow > Set-Up Show and clear the check beside Use hardware graphics acceleration. In PowerPoint 2007, go to Slideshow and in the Set Up group select Set Up Slide Show. In the Performance section you will see the Use hardware graphics acceleration option.
(Note that this screen is not available in PowerPoint 2010.)
Finally, if altering your hardware acceleration settings has resolved this problem, the chances are you will need to update the drivers for your display adaptor. To do this, visit the website (probably either www.nvidia.com or www.ati.com) and download suitable new drivers based on your display adaptor/graphic card type, using these guidelines to assist you.