Is Your Windows Explorer Slow to Respond?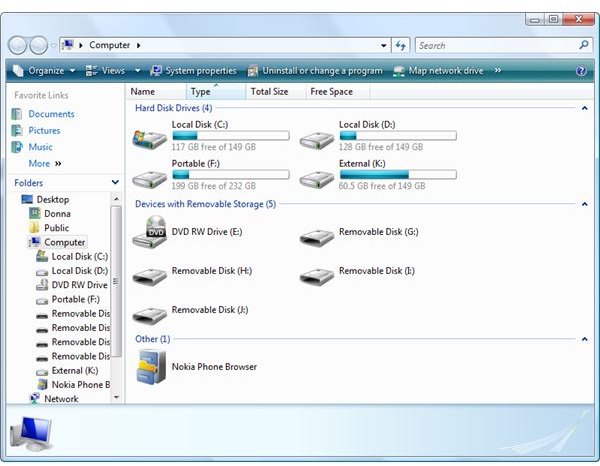 The File Manager in Windows
The built-in file manager in Windows is called Windows Explorer. It's where you browse, preview or manage the files or folders in Windows operating system. Windows Explorer can also be used to search or transfer files from or to another partition, external drive or another computer in the network or in remote location. The Windows Explorer can preview images or thumbnails of images and you can use it to publish or download files using FTP commands. In some cases, you may notice Windows Explorer slow to respond. Below are some tweaks and tips to possibly solve the problem in using Windows Explorer.
Windows Explorer Slow to Respond Due to Spyware, Adware, Virus or Malware Infection
Make sure that your computer is free from any infection by spyware, adware, potentially unwanted software (PUPs), viruses, Trojans, worms, rootkits, and any type of malware. Scan the computer using reputable anti-malware or antivirus software. Note that some antivirus or anti-malware programs do not detect all types of infection e.g. spyware or adware because of the difference of the rating levels by software vendors on any software. Also, if your antivirus program have the option to scan and protect the system from potentially unwanted software, configure it by selecting the said option.
You should consider running an on-demand scan or online scanner to assist the antivirus protection in detecting unwanted files or programs in Windows that may be causing Windows Explorer to respond slowly:
If any of the above anti-malware scanner found no infection but Windows Explorer continue to be slow in responding, proceed to run a maintenance or tune-up on the computer:
Clean-up and defrag the hard-drive - It's recommended to clean-up and defragment the hard-disk so that Windows will not become slow in responding, including Windows Explorer. Use the disk cleanup and defrag tools in Windows or if you rather use a third-party software, try using CCleaner and Defraggler.
Check the system files for errors - Ensure that the system files are error free by running the System File Checker in Windows: Start > Run > type cmd.exe > in command prompt, type SFC /scannow and then hit enter key on the keyboard. Note that you need to run the command utility in Windows using administrator, if you have Windows 7 or Vista.
Scan the computer for Windows Updates - Microsoft provides product fixes for Windows via Windows Update service. Run a scan using Windows Update in Vista or Windows 7 or visit Windows Update website for XP. Install the critical, recommended or important fixes for Windows. If you are not using the latest service pack for Windows XP, Vista or Windows 7, it's best to upgrade the current system by installing the currently available service pack. Do not forget to create a backup or restore point before installing a service pack.
How to Solve Windows Explorer's Slow Response?
If Windows Explorer is slow to respond, try using the following tweaks or settings before you look for an alternative or third-party file manager for Windows:
Change the startup type for Windows Image Acquisition service - The Windows Image Acquisition service allows the plugged-in scanner, printer or camera to work with Windows Explorer. Try changing the startup type by opening the Services Console: Click on the Start button, click on the run box, type services.msc, and then hit OK or enter key on the keyboard. Locate Windows Image Acquisition service and then double-click to open the properties. Click the stop button and change the startup type from Automatic to Manual.
Update the software and driver of your scanner, printer or camera - Windows Update provides updates for detected drivers in Windows. Try updating by visiting Windows Update and select "Optional" software updates. If there is no available update for the drivers of your devices, visit the manufacturers' website to download any updated software and drivers that should have fixes on how it works in Windows.
Remove the shortcut to "Network" in the Start Menu - If you seldom browse the files in the network (home or office network), remove the shortcut to Network in the Start Menu: Right-click the taskbar, click the properties and then click on the Start Menu tab to customize the start menu icons. Uncheck the box before "Network".
Configure the folder options to not cache thumbnails - This setting is unchecked by default but you should verify that "Do not cache thumbnails" in XP's folder options is unchecked.
Move the compressed files in another location - If you have compressed files (file extensions: zip or rar) in the root directory of Windows (C:\), move it to another location e.g. My Documents folder or in another partition or location in your computer. Always keep your personal files in another location in Windows instead of storing it in the root directory.
Advanced Tweaks for a Windows Explorer Slow to Respond Problem
If any of previous work-arounds did not help to solve a slow response in using Windows Explorer, you might want to edit the registry in Windows for the following registry keys:
Important Note: You must not use the following steps if you are not comfortable with using the registry editor in Windows. Backup the Windows Registry using ERUNT or manually backup the registry before modifying any registry keys or value.
Navigate to HKEY_LOCAL_MACHINE\SYSTEM\CurrentControlSet\Services\stisvc. In the details or right pane, change the value of "Start" to 4.

Create a new policy for Windows Explorer with a registry value, NoSaveSettings in HKEY_CURRENT_USER\Software\Microsoft\Windows\CurrentVersion\Policies with 0 dword value data.

Create a new value, NoNetCrawling in HKEY_CURRENT_USER\Software\Microsoft\Windows\CurrentVersion\Explorer\Advanced registry key with 1 as dword value data.

Create a new value, NoRemoteRecursiveEvents in HKEY_LOCAL_MACHINE\SOFTWARE\Microsoft\Windows\CurrentVersion\Policies\Explorer with 1 as dword value data.

Close the Windows Registry editor and then reboot your computer to try using Windows Explorer again.
Image credit: Screenshot taken by the author.