Internet Explorer 8 Reviews IE8 Features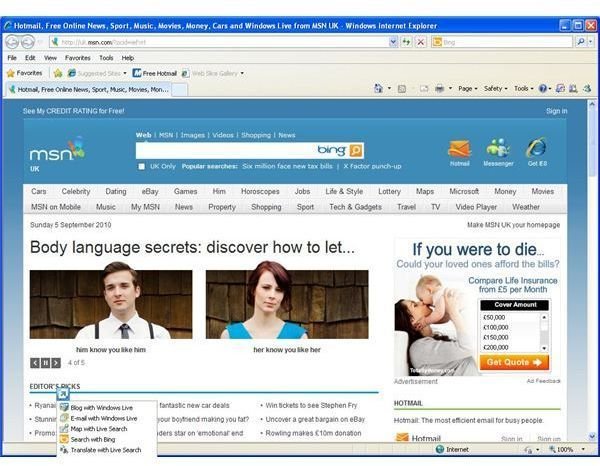 Internet Explorer 8 Reviewed
It is the most commonly used browser in the world, if not the most popular. However you consider Internet Explorer's reputation, you cannot get away from the fact that Microsoft has released increasingly improved versions of their browser since the web standards disaster of Internet Explorer 6.
With Windows 7 comes Internet Explorer 8, a new version of Microsoft's browser that improves upon Internet Explorer 7 in all areas – browsing, accessibility, usability, security and parental control.
While Internet Explorer will take a long time to recover from the large portion of its market share that have migrated to Mozilla Firefox, Google Chrome, Opera or Apple Safari over the past few years, this solid new version is a step in the right direction. Let's take a look at how some of its features have been improved since the last release.
Internet Explorer 8 - Compatibility Reviewed and Rated
Internet Explorer 8 requires at least a Windows XP computer running Service Pack 1 (SP1) or above, equipped with a 233 MHz processor, 64 MB of RAM and 70 MB hard disk drive space.
Any desktop or laptop system with these minimum specs should have no problem running the latest version of the browser, although you should note that the same rules may not apply to netbooks.
No Internet Explorer 8 review would be complete without reference to web standards. The latest browser from Microsoft continues its predeccesor's adherence to stricter (but not that strict!) web standards, also offering a "Compatibility Mode" that it uses to reinterpret older websites so that they can still be viewed in this new browser. Find out more in our list of Pros and Cons to Internet Explorer 8.
Add Ons
While older versions of Internet Explorer have had a small selection of add-ons available, with Internet Explorer 7 Microsoft standardized the system, allowing an impressive new selection of add-ons to be made available. You might wish to use a different search engine provider, or get direct access to your Windows Live inbox, for instance –the add-ons can facilitate this.
Internet Explorer 8 continues this trend, and lets the user enjoy the benefits of such enhancements as the Delicious toolbar. Among the available add-ons are the Internet Explorer "Accelerators", enhancements to the Accelerator system that makes finding information online so much quicker.
New Features – Accelerators and Web Slices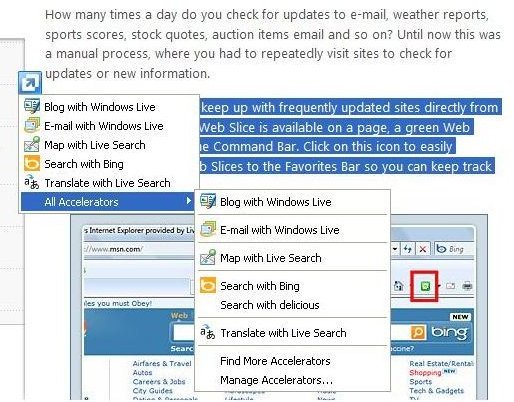 A couple of key new additions to Internet Explorer in version 8 are the Accelerators and Web Slices.
Web Slices allow you to keep upto date with the websites on your Favourites bar – for instance, the MSN website. Sites that use Web Slices will display content that can be updated with a green icon beside it – this icon can be clicked in order to add the content to IE 8, and the browser will alert you when the content has been updated!
Meanwhile, Accelerators remove the need to copy and paste regularly accessed information, such as URLs and addresses by providing a context menu with a set of useful links to various Windows Live services, and Bing search.
Internet Explorer 8 - Still the King of the Browsers (5 out of 5)
While Chrome and Firefox might have the open source and web standards users al tied up, Internet Explorer remains the browser of choice for everyone else. Whether it arrives on your PC by default, you're a European user who has chosen Internet Explorer 8 over the alternatives, or you've simply downloaded it to use in Windows XP or Vista, you'll find a browser that has taken the best aspects of the Windows UI, its own history as a browser, and cherry picked the better elements of its competitors to present a superior browsing experience. IE8 might be a little slow when opening a new tab or installing add-ons, but overall it remains the browser to beat.