Undelete Explorer Windows Tips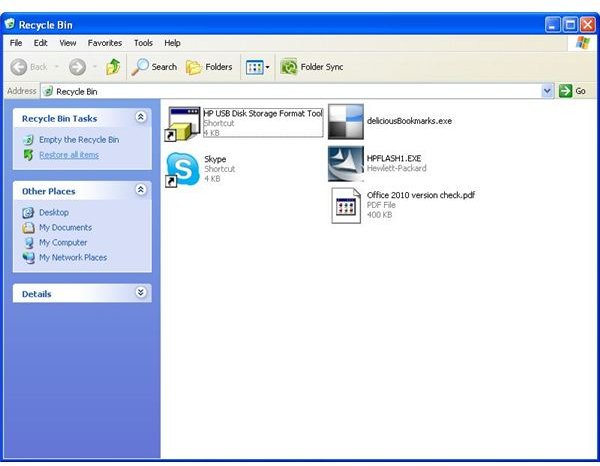 What is Undelete?
Wouldn't it be great to be able to undo any crazy or accidental deletions you might have made? While Windows features a System Restore tool (see Windows XP System Restore Points) for taking the operating system back to a previous state, this doesn't help with undeleting files that you might have lost in Windows Explorer.
In fact, short of checking your Recycle Bin, there is very little scope to undo such accidents. However it isn't impossible – there are several opportunities to undelete Explorer files that you might have deleted, moved or copied in error.
Getting the most from Windows Explorer means understanding how it works. As it is more than just a means of browsing your files and folders – it is a fully featured file organizer that will allow you to format, and rename files, not to mention radically alter the way you use Windows – mastering the undelete/undo function is a step in the right direction.
The Recycle Bin
There are two ways to delete a file in Windows – the standard delete and the full delete.
To use the full delete, you need to be sure that you absolutely want to lose the file, as you will not get the opportunity to undelete it without the help of a file restore tool (find these via my list of the Top 5 Free Hard Drive Recovery Tools). This can be performed by selecting files and pressing the SHIFT + DELETE keys on your keyboard, or selecting and right-clicking the files, holding down SHIFT and selecting Delete from the menu.
Using these instructions, you will not be able to recover the files – they're gone.
Undelete Explorer Files
However if you use the more common right-click > Delete or simply select a file in Windows Explorer and tap the Delete key on your keyboard, the file will be moved to the Recycle Bin, as indicated by the dialogue "Are you sure you want to send FILENAME to the Recycle Bin?".
Available on your Windows desktop, the Recycle Bin is a repository of files that you have deleted in the standard way, and they're retained here. You can retrieve files from the Recycle Bin at the point of deletion by using the CTRL+Z keyboard combination or by going to Edit > Undo in Windows Explorer.
Undo Accidental File Copy/Move
It isn't unheard of to accidentally delete files, just as it isn't difficult to rename files incorrectly. Accidentally dragging files and folders into new folders or performing an accidental copy of a large group of folders is also common.
For instance, you might select two or more files and attempt to drag them into a new folder, only to find that you let go of the left mouse button. The files haven't been dragged into a new folder – instead, copies have been made in the same folder. You'll be able to identify these as they will have been given a new name by Windows. For instance "myletter.doc" would be copied as "Copy of myletter.doc".
Simple pressing CTRL+Z or going to Edit > Undo will delete Explorer files that have been copied incorrectly.