Internet Explorer Tips: Find And Download The Delicious Add On For IE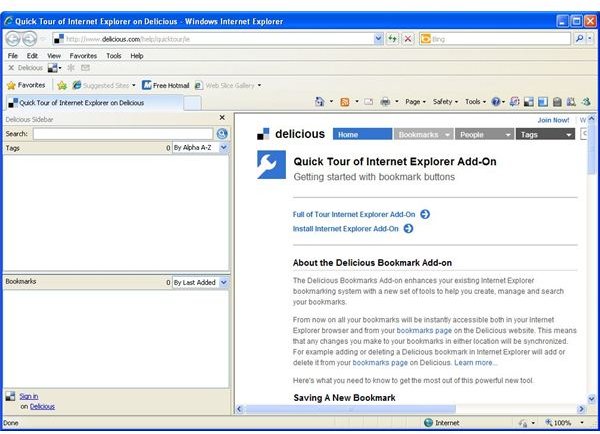 What is Delicious?
Delicious – often seen online as del.icio.us – is a social bookmarking service founded in 2003. At one point owned by Yahoo!, the service has been taken over by AVOS and relaunced in 2011. The service is used to store, share and discover websites.
Most commonly, this is done by clicking a button on a web page – if signed into Delicious at the time, your recommendation is sent to the main site and added to your list of bookmarks. Websites with Delicious buttons will display a counter of how often they have been clicked in order to give an impression of how well the article has been received.
However, not all web pages feature a Delicious button. If you're keen to add pages to your Delicious account and embrace social bookmarking, then you will need something like the Delicious add-on for Internet Explorer.
(If you're a Mac user, you might like to consider Delibar - see our review of this Mac OS X application for more information.)
Where to Download the Delicious Add-on for IE
In order to take advantage of vociferous Delicious users, the website has provided a useful add on for Internet Explorer which allows any site to be added to your index of social bookmarks.
This is a small file which adds the required buttons to Internet Explorer; these can be enabled or disabled at any time, and removed completely when you reset IE. Here's one place where you can download the add-on: https://download.cnet.com/Del-icio-us-Bookmarks-for-Internet-Explorer/3000-12512_4-10906997.html
There are versions for other browsers – Mozilla Firefox and Google Chrome users can also take advantage of a Delicious add-on.
Installing the Delicious Add-on for IE
Once you have downloaded the add-on to a location you will remember, close your copy of Internet Explorer.
Next, browse to the downloaded file and double-click to run. It is an executable file that will require you to follow the instructions displayed in the on-screen installer wizard.
Choose the installation location, and let the wizard do the rest – once complete, the installer will launch Internet Explorer, and give you the chance to start adding bookmarks straight away!
Using the Delicious Add-on in Internet Explorer
As Internet Explorer opens, you will see two key differences – a new Delicious toolbar complete with a drop-down button, and a Delicious Sidebar, which you can use to search, sort and tag the social bookmarks that you have collected to date.
The drop-down button on the Delicious toolbar gives you a wealth of options, such as a various views and an Import function, and you can also sign-in to your Delciious account from here. The sidebar also presents a sign-in option, while the Command Bar on Internet Explorer 7 and Internet Explorer 8 provides buttons to toggle the sidebar, tag posts and take you directly to www.delicious.com.
Delicious is a powerful and popular social bookmarking service – using the Delicious add on for IE affords you greater control over your bookmark choices.