All In One Desktop Computers - Windows 7 Choices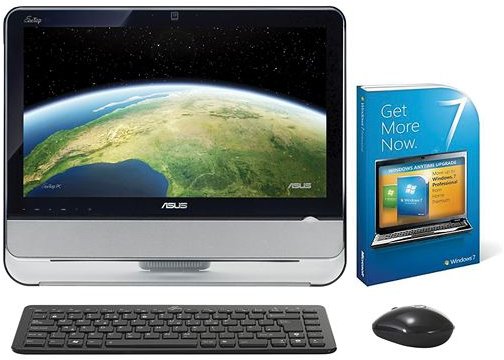 Looking for All-in-One Desktop Computers with Windows 7
All-in-one desktop computers powered by Windows 7 are the result of electronics manufacturers trying to replicate the success of the Apple iMac desktops, and create a fully featured Windows PC that is effectively housed in the monitor.
Many of the top names in domestic electronics – MSI, Sony, HP, Gateway and Asus – have all-in-one desktops, some with the standard keyboard and mouse interface, others with the much more impressive multi-touch displays.
To round off these PCs which are just as suitable as media centers as they are for word processing, they ship with decent quality integrated graphics in order to provide the best DVD or Blu-ray playback.
We've pulled together a selection of the top all-in-one desktop computers powered by Windows 7 – let us know what you think!
ASUS EeeTop PC ET2203
First off, there is this rather smashing all-in-one from ASUS which comes complete with Windows 7 Professional.
Powered by a 2.2GHz Intel Core 2 Duo T660 and with a perfect 4GB of RAM, the ASUS EeeTop PC ET2203 is also equipped with a generous ATI Radeon HD 4750 graphics processor and includes a camera and microphone integrated into the 21.6" 16: widescreen display.
DesktopReview.com gave this all in one desktop 4 stars, noting its "…conservative but mostly elegant style and average build quality with respectable performance and pretty nice power usage."
Buyers on Amazon have awarded the device a similar rating – you can pick up the ASUS EeeTop PC ET2203 all in one Windows 7 desktop there for $729.99.
HP All-in-One - 200-5020
Achieving a 4 and a half stars rating on Google Product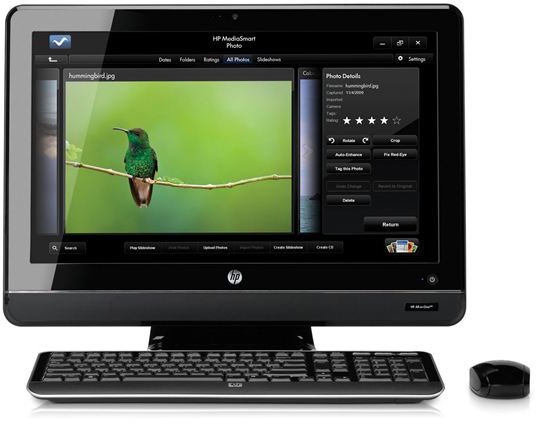 s, the HP All-in-One - 200-5020 is a 64 bit Windows 7 all-in-one desktop monolith with some impressive specifications. This is hardly a surprise, as HP have been pushing their all-in-ones for a while now, with the TouchSmart IQ816 a particular favorite.
With a 2.27GHz Intel Pentium Dual Core E5400 running the show, a 500GB hard disk drive, Intel GMA X4500HD graphics processor and built in DVD RW and card readers, there is plenty in the HP All-in-One - 200-5020 to suit all sorts of purposes – it is a great example of a versatile Windows 7 all-in-one.
With the all-in-one desktops, one of the key requirements is that they're ready out of the box – and the HP All-in-One - 200-5020 is a particularly good example of this. One reviewer on Amazon stated: "Everything was very easy to set up. It took me longer to dismantle my old computer equipment than it did to set this new one up!"
You can check a vast selection of reviews on Google Products, as well as compare prices from a range of retailers.
Sony VAIO JS-Series All-In-One PC - VGC-JS450F/S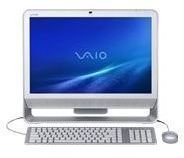 Unusually for a Sony VAIO, this all-in-one desktop powered by Windows 7 has been getting mixed reviews. The likely reason for this is that ASUS, HP and others have joined a game that previously was entirely dominated by Sony as far as Windows users were concerned.
That isn't to say that the Sony VAIO VGC-JS450F/S is a bad machine – it simply doesn't match the specification-per-price that the others in this list achieve.
With this particular system, you get a 64-bit Windows 7 Home Premium powered by a 2.7GHz Intel Pentium E5400 Processor, 4GB DDR2 800MHz Memory with 500GB Serial ATA Hard Drive, a Blu-ray Drive (the only all in one desktop so far to be thus equipped), and an impressive 20.1" (1680x1050) widescreen display with NVIDIA GeForce 9300M GT Graphics processor.
Ranging from $700-£1200, the Sony VAIO VGC-JS450F/S is probably more suited to Sony aficionados than anyone looking for a decent all-in-one desktop PC at an affordable price. However if you're looking for a more high-spec device, see our review of the Sony VAIO VPC-L116FX/B.
Gateway One ZX4800-27 20-Inch All-in-One Desktop with Windows 7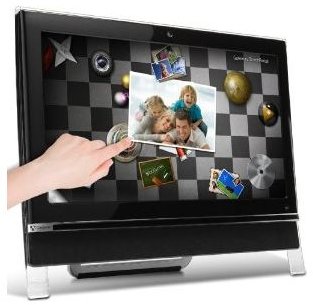 You'll like this one – the Gateway One ZX4800-27 comes with pretty much the same spec as the others listed here. So, the 2.3GHz T4500 dual core CPU, 4GB DDR2 RAM and 500GB SATA hard disk drive are all pretty standard on any new PC. But in addition to the card reader, DVD RW drive and built in camera and microphone, this Windows 7 all-in-one also features a touchscreen display!
That's right – the 20" widescreen display is touchscreen, enabling you to take advantage of multi-touch technology to browse the web, photographs and organise files and folders. The Intel Graphics Media Accelerator X4500HD is a good quality high definition graphics processor that provides a rich media experience and the kit is finished off with wireless keyboard, mouse and a copy of Windows 7 Home Premium.
Reviews on CNET indicate that this all in one is easy to setup and use, but there may be niggling issues – such as the lack of a caps lock light!
Available from various sites online, Amazon has the Gateway One ZX4800-27 listed at $799.99.
MSI AE2220-69SUS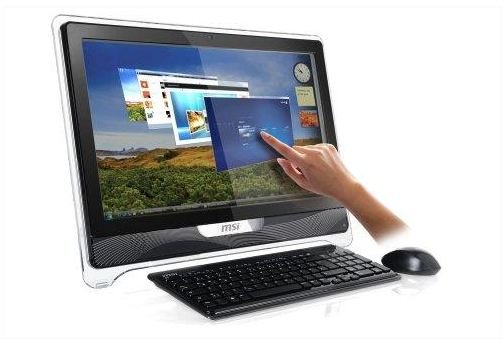 Another all-in-one desktop powered by Windows 7 Home Premium, the MSI AE2220-69SUS features a generally similar spec to the PC's in this list, with a 2.1GHz Intel Pentium Dual Core processor, 4GB DDR2 RAM, 500GB SATA hard disk drive and NVIDIA® GeForce 9300 Integrated Graphics.
As with the Gateway One ZX4800-27, the MSI all-in-one has a multitouch widescreen, with the 21.5" LCD display also housing a 1.3MP webcam and microphone.
Reviews for this $799.99 Windows 7 Premium desktop are very favourable, with it achieving 5 stars so far on Amazon; elsewhere, as a relatively new device, the MSI AE2220-69SUS is yet to be fully reviewed.