Find a Free Internet Explorer Virus Scan for Windows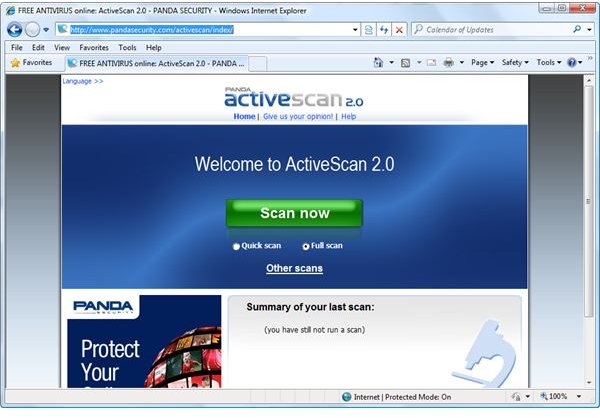 Free IE Online Virus Scan
Some antivirus vendors are offering free online scanning for a computer, using quick, single-file, custom or full system scans. It helps you
identify malware in critical areas or active malware in Windows. However, not all antivirus online scans provide a malware removal tool as well..
The advantages of using a free Internet Explorer virus scan are as follows:
To verify the system does not have a virus or malware infection that the resident antivirus protection may have missed.
To check whether the detection by an antivirus program on the computer is not a false detection.
Another use of an online scan is to allow removal of malware that your antivirus program fails to remove. This is possible if the malware is a variant and the antivirus program is does not have a new detection signature for the variant but the online scanner by another vendor does, and detects or removes it.
Please note that an online scanner works by using a web browser and add-ons. An ActiveX or Java plug-in may be required to use a free Internet Explorer virus scan. Also, some online virus scanners require you to temporary disable the Protected Mode feature in IE, or by using the browser with elevated privileges, run as administrator allowing the scanner to find malware that is running in memory.
Free Computer Online Scanner with Removal Options
The best free online virus scan with removal options are provided by the following security vendors. Check out the system requirements prior to use.
Free Internet Explorer Virus Scan with No Removal Option
The following antivirus vendors are only offering free Internet Explorer virus scans. These online virus scanning services are not as highly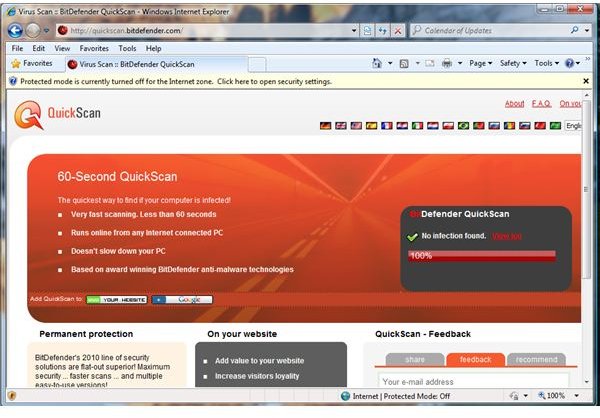 recommended as Eset, ActiveScan, Housecall and OneCare safety scanners, because there's no removal option. However, it's safe to use if you only want to verify the status of your computer for any malware infection.
BitDefender QuickScan – this free online scan provides a cloud-based detection, which means you are not going to download virus signatures. It will only look for malware that is actively running in Windows. If you are using Vista or Windows 7, you may also run QuickScan as Windows add-ons; e.g. as a gadget for Windows sidebar or by using another browser such as Firefox and Chrome in addition to IE.
McAfee FreeScan – the online virus scanner by McAfee only runs in Internet Explorer. The scanner requires elevated privileges to run. Like BitDefender and Norton's online virus scan, the removal of detected threats is not an option.
Norton Free Online Virus Scan – you can run the full system online scanner by Symantec using Internet Explorer. A vulnerability check in addition to virus scan is also available. Firefox users may run the online scanner but are limited to only running a vulnerability scan.
Other online virus scans that can be used with IE or another browser are the single-file online virus scanner from Kaspersky, and VirusTotal online scanners.
Image credit: Screenshot taken by the author.