Locating and Installing HP Drivers for Windows 7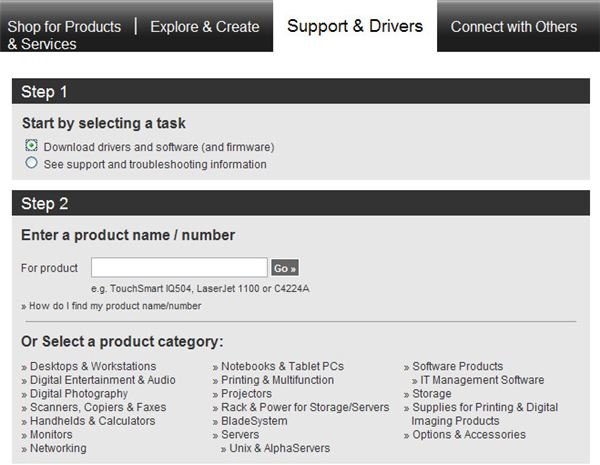 HP Windows 7 Drivers
HP's website (www.hp.com) is loaded with information on the products they sell, services they provide, support and driver downloads, and even HP corporate information. Sometimes searching for your product or driver can be a daunting task. Windows Vista and Windows 7 reinvented the need for quality drivers and the demand for them outpaced the output for those drivers. If you are in need of a driver for an HP device such as a printer, notebook, desktop or other piece of hardware, HP's website is the place to start.
Navigating the HP Website
When you first get to HP's site and you want to start looking for HP drivers, start with the support and download option. This option is located towards the top, center of the page and is labeled "Support & Drivers". Now you will be provided with a series of questions designed to assist with the process of locating the right driver for you.
In Step 1 your are asked to choose between downloading drivers or finding support information. Choose the first option for downloading drivers.
Now enter in your product information or you can select a product category.
Go through the menu options until you reach the page for your product. Now you can choose your operating system. This is where the steps can get tricky. Most of the newer PC's and Notebooks have drivers for Windows Vista and Windows 7. However, if your computer is more than a year old it may be more challenging to find a Windows Vista / 7 driver.
If you have trouble finding drivers for Windows 7 for your HP device here is another option from the HP Website. Enter in your product information and select "next. This will bring you to a page for the product. The first thing to look for is an "alerts" section. This will provide any important information such as compatibility, upgrade information, how to order restore disks and if you can upgrade to Windows Vista or Windows 7.
If you see that there are Windows Vista drivers available for your HP computer but are not able to find a Windows 7 driver then often you can choose to use the appropriate (32 or 64 bit) Vista drivers on your device. This often works but make sure to backup your data and set a restore point just as a precaution.
(Image credit: HP.com)
Troubleshooting Driver Installation
Sometimes a Windows 7 driver is located for an HP Printer or HP computer and the driver setup files or auto run will not install or update. This can be frustrating. First try right-clicking on the "setup" file and choose "run as administrator". Windows 7 will often times make you run files and installations in an elevated rights mode so running as administrator is the first step to try.
If running as administrator does not work you can try this method.
Insert the setup disk in your CD/DVD drive. Choose to view the files in Explorer. Scroll down to the "Setup" file.
Right-click on the file and choose "Properties", select the "Compatibility" tab at the top of the window.
Place a check next to "Run this program in compatibility mode" and choose "Windows Vista" from the pop-up menu.
ALSO check "Run this program as administrator" at the bottom of the window.
Press "Apply," then "OK."
Now try to double-click the "Setup" file and run the installation program.
HP Driver Downloads
Drivers in any operating system are very important pieces of software. It is important to have the correct drivers and check for updates when necessary. They can improve the overall performance of your Computer or printer, provide all the functionality that is available. Sometimes the wrong driver can degrade performance or not offer some of the functionality you are looking for. With this in mind, try these steps to locate and install the right drivers for your device and operating system to get the most out of both.