Microsoft OneNote is a notebook style program designed for note taking. It is touted as a replacement for the traditional notebook that one would use for meetings or class, but the functions of the program - allowing website links, video, pictures, and other media make it ideal for keeping track of different types of notes for a variety of settings.
OneNote was first introduced as part of the student package for Microsoft Office 2003. With more and more students utilizing laptops and other devices within classes, OneNote was designed like a traditional notebook, complete with tabs and different sections for different classes. This allows for a more organized notebook; with the features of OneNote, a user can also import tables, pictures, and other media in order to help their notes or presentation.
As with other Microsoft Office products, OneNote allows for links from other Office programs, like Excel, Word, and PowerPoint.
Features of OneNote
Just like a regular notebook, OneNote is arranged just like a physical notebook. When first opening the product, there will be a tutorial notebook that can walk you through how to use the product and the ways in which it can be used. The top portion has a variety of different tabs and a user is able to add or delete tabs as they see fit.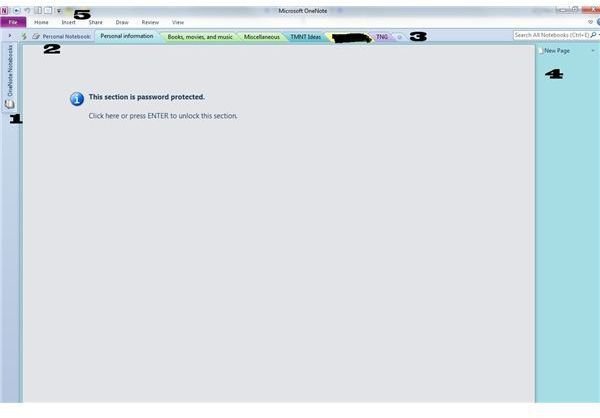 The screen shown here is an example of an owner's OneNote notebook. This is how OneNote is arranged -
Notebooks that are opened. You can have several notebooks here, but only one can be opened at a time.
This is the current opened notebook. This example shows a 'personal notebook' is opened.
These are the different tabs that one can have in a notebook. In this example, the tabs that are lined up are personal information, media, misc, and different ideas of creativity.
This is where different pages can be made for the tabs themselves.
The normal menu where you can change text, insert, draw, and view the notebook in different ways.
Benefits of OneNote
There are a lot of benefits to using Microsoft's OneNote, for the obvious fact that a user can take notes and search for information through the program. With a good majority of people being a lot more mobile, using OneNote vs. the traditional notebook not only saves paper, but it is more effective for sharing with others, as well as posting relevant information within the OneNote notebook itself.
For example, let's say that you are in a meeting working on a presentation. With a traditional notebook, you'd take notes and review them later. This of course is if you are able to read what you've written and understand it and all the pages within the notebook have survived. With OneNote, you can take the notes as the above. When you get ready to do more research, you can add links to websites that pertain to your meeting, as well as inserting pictures, tables, and even videos to help you - or your team - understand the information better.
This works very well for students, as it can help in studying and going over what what was learned earlier during the day. By using the familiar concept of a notebook, classes and topics can be separated and can have their own set of web links, photos, and video.