The Best Windows 7 Bluetooth Adapters

A Bluetooth adapter gives your PC the ability to connect and control Bluetooth enabled devices. You can play music from your PC to your Bluetooth Headphones, connect your Cell Phone and transfer files between the PC and the phone of you can even use the Internet connection from your PC on your Phone and the other way around. The most fun thing that you can do with your Windows 7 Bluetooth Adapter is to remote control your PC, change the song your computer's playing or Pause and Play the movie you're watching. All you need is a Windows 7 Bluetooth Adapter and a Bluetooth Software Bundle with support for Windows 7. Some Bluetooth Adapters are Plug and Play, they don't need drivers to be installed in order to use them. Just plug them in the USB port and you're ready to go. But some Bluetooth Adapters require drivers to be installed prior to use. Windows 7 Bluetooth Adapters can have different shapes and sizes, but here are the Top 5 Adapters.
IOGEAR 2.4GHz Bluetooth v2.0 USB Dongle Adapter
This is a classic model of a Bluetooth Adapter for your PC. It is a Bluetooth V2.0 version but it supports Bluetooth 1.x. It has a working distance up to 20 meters if there are no obstacles, Data Transfer Rate up to 3Mbps and is compatible with MacOS, Linux, Windows 7 and Windows Vista 32/XP/2000/Me/98. Price is around $15.
Sabrent Mini Bluetooth 2.0 USB Adapter

This one is smaller and more compact solution for your Windows 7 Bluetooth Adapter. It has full speed USB interface, compatible with USB 2.0 / 1.1 / 1.0. It has range of 20 m and a Data Transfer Rate up to 3.0Mbps. It is a Plug and Play device and you can use it on Windows 98 / 98SE / ME / 2000 / XP / Vista and Windows 7. Price is around $10.
Kensington K33902US Micro Wireless Bluetooth USB Adapter

The smallest Windows 7 Bluetooth Adapter on the market today. It's just a little bit bigger than your USB port. It has a 20 m range, Data Transfer Rate up to 3Mbps and it is compatible with MacOS, Linux, Windows Vista 32/XP/2000/Me/98 and Windows 7. Just plug it in your USB port and because it's so small you won't even notice that it's there. Price tag of $15.
Cisco-Linksys USBBT100 Bluetooth USB Adapter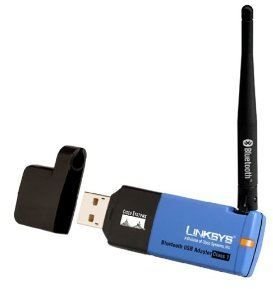 If you want a bigger range for your Windows 7 Bluetooth Adapter, then the Cisco-Linksys USBBT100 Bluetooth USB Adapter is the perfect option. The external antenna beefs up the range up to 100 m and can support simultaneous connection of 7 Bluetooth Devices. In order to keep your data safe, it uses Bluetooth technology that has 128-bit encryption and a "frequency hopping" and is almost impossible to crack. Price is around $45.
Bluetooth Heart USB Dongle - With Custom Logo

This one is the cutest. It comes in two colors and has a range of 20m, Data Transfer Speed of 3Mbps and support for Windows 7/Vista/ XP and Linux. This one is made in China and can be ordered with a custom Logo. The price depends on the size of your order and it can be as low as one dollar per unit if you order 1000 units.
So there you have it. This Windows 7 Bluetooth Adapters list can be very useful when you want to make a wireless connection between your PC and some Bluetooth enabled device. If you are having trouble making your Bluetooth device connect, be sure to check out this great article on troubleshooting Bluetooth in Windows 7.