The Answer to "Can I Get Television Service Over the Internet?" and the Reasons to Watch Online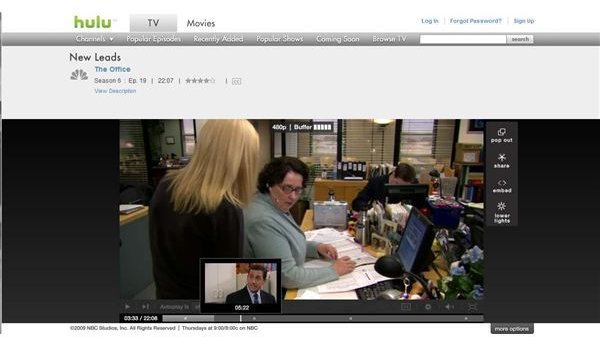 Can I Get Television Service Over the Internet?
The answer is yes, you absolutely can get television service over the Internet. Wide availability of broadband and advances in digital video formats have made this a reality. There is a lot of content available online now that you can readily access. And the best part is, much of it is free. Most of this content can be accessed by simply using a web browser. The video will typically be displayed on web pages using plugins like Flash and Silverlight, which you likely already have. Users of home theater PC front-ends, like Boxee and Windows Media Center, can also access this content by installing the right add-ons.
The Pros and Cons
There are many benefits to watching TV from the Internet. For starters, most of the programming is available on demand, so you can pick the shows that interest you and watch them whenever you choose. Many of these services also have fewer or shorter commercial breaks so you can finish your program sooner. Internet TV players usually also give you the options to fast-forward (though not through advertisements), pause, and rewind. And many content providers will usually have older episodes of a TV series available, so you can go back and catch up if you missed an episode (though they normally don't keep the shows up indefinitely). In summation, you can get the freedom to plan your entertainment around you. Another benefit is the availability of shows in higher quality, or even high-definition, which can be great if your cable company doesn't provide the network your favorite show is on in HD.
The few drawbacks of watching TV on the Internet are that network programs tend to become later than their original air time. This could be by just a matter of hours or weeks later. And those programs may only be up for a limited time. You'll also need a reliable broadband connection and something in the range of a dual-core processor to ensure smooth playback for HD video.
Where to Get Internet Television Service for Free
Many options for Internet television are already around, with more becoming available all the time. The following are just a handful of what's out there.
First up is Hulu, which has emerged as one of the most prominent and fully featured TV sites available on the Internet. Hulu provides diverse high-quality streaming of current shows from a plethora of major TV networks, as well as a catalog of movies delivered through a browser plug-in. The content on Hulu is free but ad supported, with the advertisements typically being brief and infrequent. A paid premium version called Hulu Plus is due to become available soon. A stand-alone application called Hulu Desktop is also available, which is detailed here.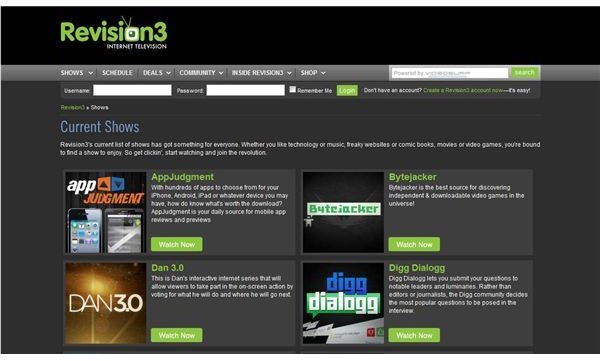 If you're looking for something outside the scope of normal network programming you might want to take a look at Revision 3. Pitching itself as TV for the Internet generation, Revision 3 touts original programming hosted by experts on a number of different topics, though much of it being technology oriented.
Major news networks from all over the world make their broadcasts and stories available. Ranging from CNN to Fox News to Al-Jazeera to BBC News, and so on. Many local, national, and international news broadcasts have content available online. A good source for watching a variety of news programs is Livestation, which has broadcasts from around the world.
The websites of major broadcast networks (such as ABC, NBC, CBS, Fox, PBS in the U.S.) are also sources of Internet TV. While many networks make a lot of their programming available through Hulu, they also put their content up on their own sites for viewing. More information on watching network TV online is available here. Cable networks also put their programming online now, such as Comedy Central, FX, and Adult Swim, to name a few.
Paid Internet TV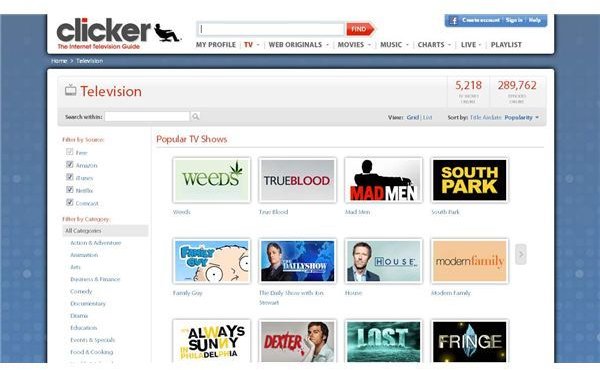 Most of what was listed so far is available for free and usually supported with commercial interruptions. Subscription services for Internet TV are also available. HBO makes much of their original programming available on their website to the subscribers of their cable channel. Cable TV providers will also make programs from the networks they provide (including many of the aforementioned) to subscribers on the Internet through services like Comcast's Xfinity. Special content providers like Major League Baseball also make their content available. Baseball fans, for example, can watch an entire season in HD on the Internet by subscribing to MLB.TV.
Netflix, a popular subscription-based online rental service that's known for mailing DVD's to customers, also offers customers the option to instantly watch many different movies and TV shows from their website with no commercials or limits to time and viewings. It works on video game consoles, too.
"Can I get television service over the Internet?" Yes, it's just a matter of where you get it from. Finding and keeping track of so many Internet television sources can be overwhelming. Fortunately there's Clicker, which organizes and aggregates programming information from many of the sources listed in this article and more. What was covered is just the tip of the iceberg. Get started looking for your favorite sources with this guide to the best ten websites to watch movies, streaming TV, and pay-per-view events.