Top 4 Mobile Anti-Virus Products for Your Smart phone

In an article titled "Mobile Security: Danger Lurks on your Mobile Web Browsing" I had listed out reasons why it is getting increasingly treacherous to surf the web on your mobile phone or PDA without adequate protection. Surprisingly, many people are unaware of the need to secure their phones. Listed here are some of the best tools for mobile security:
**
Kaspersky Mobile Security: Kaspersky is an Industry leading anti-virus provider and its suite of products also has a robust "Mobile security" product which is top grade. It boasts of an anti-theft protection that either blocks or deletes all your personal information when lost or stolen. It also prevents your phone from all kinds of malware and spyware and also protects your PC from getting infected when synchronizing. You can always remain up-to-date thanks to the very prompt upgrades from this vendor straight to your phone – the frequency of these upgrades can be set by the user.
Pros: Offers a Trial Mode, Robust Anti-virus package, Available for both Symbian and Windows Mobile, Best virus detection rates in the Industry, easy to install and activate.
Cons: Frequent Upgrade schedules eats up mobile phone's battery life.
Cost Per License/yr: 29.95 USD
Vendor Link: https://usa.kaspersky.com/store/
F-Secure Mobile Anti-Virus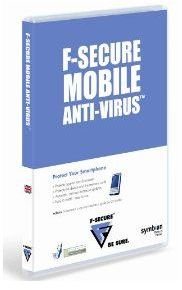 F-Secure Mobile Anti-Virus: The F-secure mobile anti-virus for windows is an easy to use and on an almost "no need to interact" basis software. It checks for suspicious and resident malware in the phone's internal memory and also the detachable memory cards for malware and spyware. It immediately quarantines suspicious code on detection and protects your phone from any possible threat. The best thing about the software is that it upgrades itself when you are doing something else with the phone like web browsing or checking email. F-Secure's latest software versions also come with a firewall for your applications and automatic scanning technology with upgrades in the background.
Pros: Automatic Scanning solutions; comes Integrated as a robust all-in-one solution.
Cons: Expensive
Cost Per License: 34.4 Euro ($52.50)
Vendor Link: https://www.f-secure.com
BullGuard Mobile Anti-Virus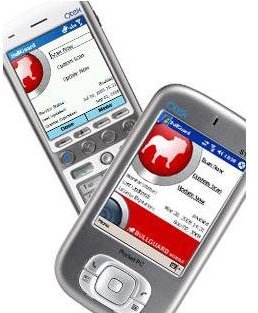 BullGuard Mobile Anti-Virus: BullGuard Antivirus is an easy to use and install anti-virus package for mobile phones. It provides on-demand scanning and On-Access scanning which filters all incoming SMS, MMS and protects your phone from different types of spyware, spam, malware and adware. The upgrades are frequent and can happen over all supported networks. A user friendly set-up and installation procedure should allow anyone to use this anti-virus package. Excellent support is provided.
Pros: Full-time support; easy and interactive interface, upgrades available, has on-demand and on-access scanning technology.
Cons: Available only for Windows Mobile 3.0, 5.0 and not for 6.0 (not yet); Symbian series 60 – 3 Edition
Cost Per License: 39.99 per user per year.
Vendor Link: https://www.bullguard.com
Airscanner Antivirus for Windows Mobile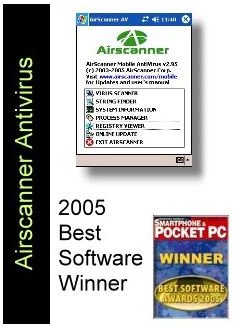 Air scanner Anti Virus for Windows Mobile: Air scanner is one of the oldest and most trusted vendors for Mobile anti-virus software. It gives you fast, optimized and real time background scanning for your mobile and deletes or eradicates most of the airborne viruses and malicious codes from your mobile phone. You can schedule your own test plans and scanning schedules using their very own granular scheduler. It consists of even more advanced tools but is still intuitive and easy to use. Both rookies and veterans drool over this software and is perhaps the most popular provider in this category.
Pros: Granular scheduler for users; Pioneers in this technology and the name Is old and trusted; Optimized background scanning; can weed out memory resident malware; easy to use and yet powerful; has been named a winner in Smart phone & Pocket PC magazine's Best of Awards in the security category.
Cons: Does not Display owner information in system information viewer while using;
Cost Per License: 29.99 USD per user per year.
Vendor Link: https://www.airscanner.com
This post is part of the series: Windows Mobile Security
This series is all about Windows Mobile Security – the reviews, tips, information and a lot more.