HP InkJet Printer Windows 7 Compatibility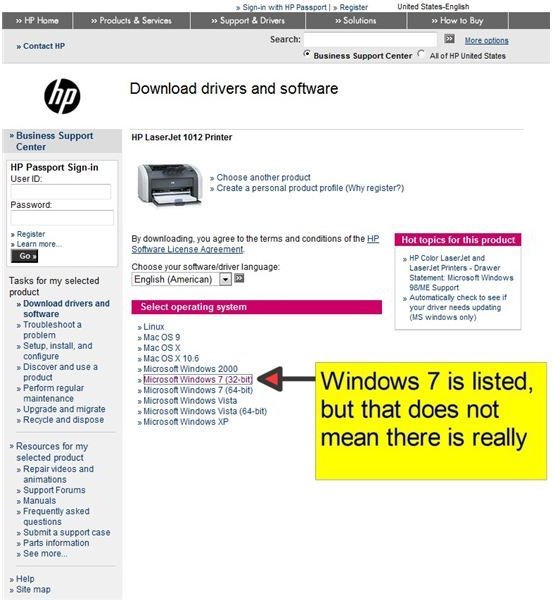 HP InkJet Windows 7 Compatible Drivers
One of the main reasons people hated Windows Vista so much was that it was not compatible with a lot of important hardware that people counted on when using their computers. Although Windows 7 has faired much better in this area, there are still some problems with incompatible hardware on Windows 7 systems. In a large part, what is or is not compatible with Windows 7 depends on the manufacturer's willingness to support their product on the new operating system from Microsoft. Unfortunately, many vendors have chosen to abandon some users rather that provide support for Windows 7 in order to save money.
No one makes more printers or sells more printers than Hewett-Packard. HP's Printer Division accounts for a very big part of HP's revenues and profits in any year. It is no surprise then, that users concerned about whether or not their printer is compatible with Windows 7 are particularly worried about HP's commitment to supporting HP printers on Windows 7.
Is your HP InkJet Printer Compatible with Windows 7? Unfortunately, the answer depends on which HP InkJet printer you have
HP Printer Support Windows 7 Drivers
In order for an HP InkJet printer, or any printer for that matter, to function properly on Windows 7, there must be a Windows 7 comaptible print driver for the printer. Without a Windows 7 HP printer driver, users must resort to various tricks and workarounds such as trying to install their printer drivers in compatibility mode, or in some cases, using a different HP driver altogether.
The first step in verifying HP InkJet Printer Compatibility for Windows 7 is to check and see if HP officially supports the printer on the Windows 7 operating system. While many users assumed that HP would stand by its whole printer line, that unfortunately is not the case. Even though HP printers are designed to last several years, and marketed as reliable over a multi-year period, some low-end HP printers will not be supported under Windows 7 regardless of how recently they were offered for sale.
To verify that your HP DeskJet or OfficeJet printer will be compatible with Windows 7, you should go to the HP website and look for the Windows 7 drivers for your particular printer. (Finding Windows 7 drivers on manufacturer websites is always a good test of compatibility.)
From the main HP website at hp.com, select Support and Drivers and enter the model of HP printer you want to verify InkJet Windows 7 compatibility for. On the webpage that appears, click to select the operating system and choose either Windows 7 32-bit or Windows 7 64-bit depending upon which version you will be using. Verifty that Windows 7 appears as a selection.
If Windows 7 does not appear as one of the choices, then that HP InkJet printer is not supported on Windows 7.
However, be aware that just because the choice Windows 7 appears in the list, does NOT mean that it is actually supported under Windows 7. Some printers list Windows 7 as an operating system choice, however following that link leads to a page with no printer drivers for download. Instead, only a list of supported InkJet printer is offered, so be sure to go one more click than to just see Windows 7 in the list.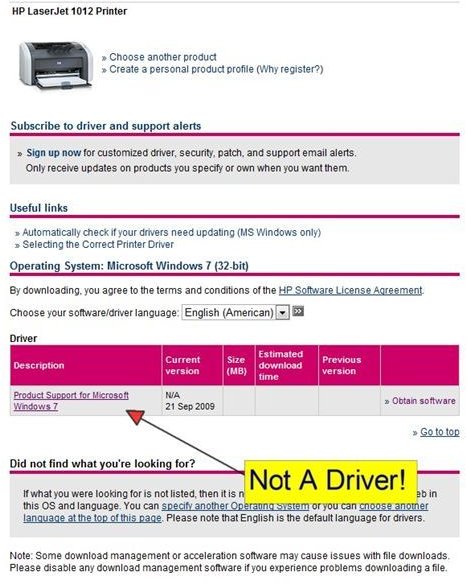 For example, this HP LaserJet 1012 printer does not have any Windows 7 drivers, however, Windows 7 is listed in the operating system choices. Upon choosing Windows 7, however, there are no drivers to be found, only a link to a list of different HP LaserJet printers that are supported under Windows 7.
Be sure to verify whether or not your HP printer will work with Windows 7 BEFORE you upgrade, or you could be in for an unpleasant surprise. Once you know for sure that your printer is supported, you can keep your Windows 7 drivers up to date with Windows update.
Image source: Screen captures on HP.com website.