Troubleshooting "Error Host Process for Windows Services Stopped" in Windows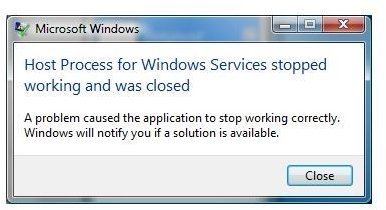 Windows Errors
There are two types of error messages in Windows, those that are simple to identify and those that are so vague they may as well be hieroglyphics. The good thing about many of the error messages in Windows is that they can be identified and resolved with a series of simple steps that assist you in identifying the cause of the problem and eliminating it. Here we are going to work through some of the most common Windows troubleshooting steps that can be used to resolve the "error host process for windows services stopped" messages.
Program Compatibility as a Cause
The host process error is usually caused by an incompatibility between a program on the computer and the operating system.
Begin troubleshooting to find out what program is causing the problem. There are a couple of methods to do this. If a program was recently installed and the error message began shortly after installation, this could be the culprit. Uninstall that program and see if the error continues. If this is not the case, continue to step 2.
View the error logs on the system. Click on Start and go to Control Panel. If you are using "classic view" then select Administrative Tools, if you are in Vista or Windows 7 view then select System and Maintenance. Now choose Event Viewer or View Event Logs. Look for the "application and system" logs. View the messages with a red X next to them that have occurred just before the error host process for windows services stopped message appeared. Depending on what you find in the error messages you may need to do one of the following:

Update or reinstall a device driver.
Remove and reinstall, or update a software program.
Stop and restart a system service.
Search Microsoft's website, or TechNet or other knowledgebase to find a resolution.
If none of the above helps to resolve the error then there are other methods of rooting out a software problem.
(Image credit: HP.com)
Windows Safe Mode
Booting into safe mode is a means of booting up Windows without starting a lot of the programs that would normally start up during boot. It also loads only a basic set of drivers. To boot into safe mode follow these steps:
Start the computer and begin tapping the F8 key repeatedly. (This does not need to be done rapidly but instead, once every second or two should suffice.)
Choose safe mode or safe mode with networking when the menu options appear.
The first thing to look for is if the error host process for windows services stopped message appears. If this error does not appear that means that the application causing the conflict starts during boot up. If the error does appear that typically means that the problem is within Windows itself.
MSConfig as a Troubleshooting Utility
While the computer is booted up in safe mode, this would be a good time to clean up some unwanted applications and stop them from starting up as soon as the computer starts up. This will not only help boost performance but may also resolve the host process error at the same time by stopping the conflicting program from opening during startup and causing the conflict with the Windows system service. Using a utility called MSconfig, there are options to disable programs from starting up when the computer boots up and other options for special startup modes. MSconfig is a good tool for helping boost performance and troubleshoot system startup issues. For more information, read this article on using MSConfig in Windows.
By following these simple steps in troubleshooting problems such as "error host process for windows services stopped" and others, you will find that many of the vague errors can be resolved relatively easy.