Sony VAIO UX Micro PC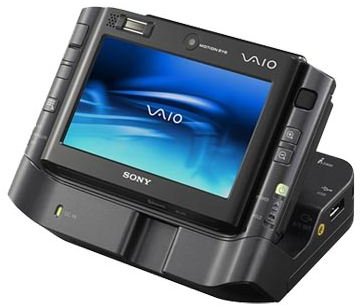 If there's one feature of this notebook that stands out immediately, it's got to be the robust form factor and sleek design. Nothing could be more handsome than the Sony VAIO UX Micro PC. If only for that, this notebook would have my two thumbs up. But of course we also have to look into its features and specs. According to Sony, the VAIO UX Micro PC is so small and lightweight that you won't believe it's a full-functioning PC. Featuring an Intel Core Solo Processor U15000, a 4.5-inch widescreen display with XBRITE LCD technology, this tablet PC is loaded with an Intel Core Solo Ultra Low Voltage processor, Windows Vista OS, an integrated camera and microphone, wireless WAN, Bluetooth and flash based drive.Price: $2349.
Fujitsu LifeBook T5010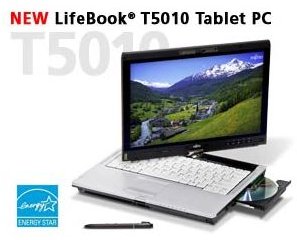 This tablet PC combines the versatility, comfort and ease of use of your regular notebooks into a tablet PC format. Featuring a 13.3-inch WXGA LED a bi-directional LCD hinger, modular bay, integrated wireless access, Centrino 2 Processor, comprehensive security features and an optional webcam, highly-mobile users would definitely consider buying this tablet PC. It's other features include; DDR3-1066 MHz SDRAM dual-channel memory module, up to 250GB hard drive, Wi-Fi, as well as your usual notebook ports. Also features Windows Vista OS. Price: starting at $1769.
ThinkPad X61 Tablet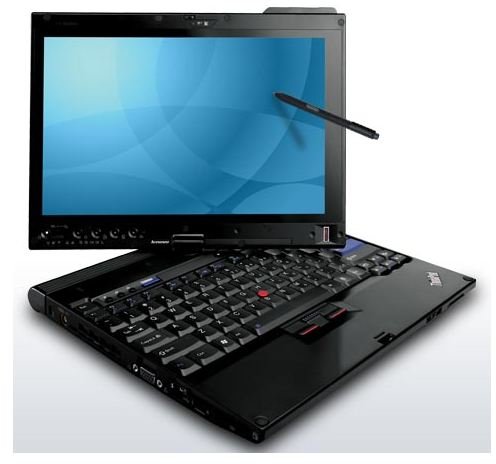 Combining form and function, this tablet notebook boasts of a 12.1-inch SuperView WVA SXGA+ TFT widescreen display with multi-touch screen options and packed with an Intel Core 2 Duo L7500. Other features of the X61 include; 3GB RAM, 100GB hard disk drive, and Wi-Fi. The X61 comes with Windows Vista OS. Price: $1346.
HP Pavilion tx2500z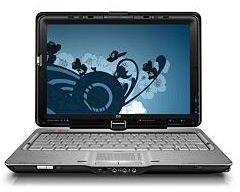 This ultraportable features a 12.1-inch diagonal high-definition touch screen which is fully optimized to recognize handwriting and a twisting screen for easy viewing of documents and movies in cramped spaces. Feature-wise, it is loaded with an AMD Turion 64 x 2 dual-core processor with HyperTransport technology that gives out a good system performance even when you are multi-tasking. It's other features include; up to 250GB hard drive, sleek-looking case, Wi-Fi 802.11 b/g, and optional webcam, two omni-directional microphones with VOIP support, Quickplay software with mobile TV module for Internet TV streaming, ExpressCard Slot, headphone jacks, 3 USB ports, and a 5-in-1 digital media card reader. This notebook runs on Windows Vista. Price: $899.99
Dell Latitude XT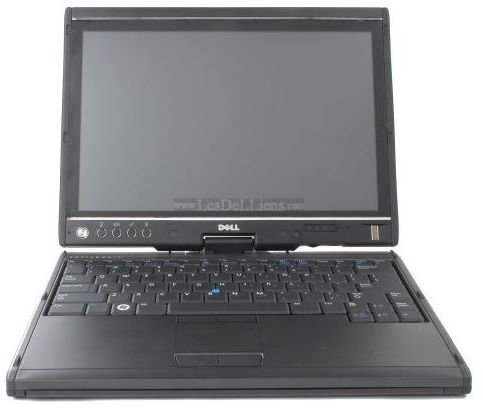 One of the most hyped tablet notebook, the Latitude XT boast of a solid design and great functionality. If not for its expensive price, this tablet PC would be very ideal to users who are always on the bo. It features an Intel Core 2 Duo processor, ATI Radeon Xpress 1250 graphics, 12.1-inch WXGA LED backlit dual input digitizer, 2GB RAM, 120GB hard drive, Wi-Fi, Bluetooth and an Integrated Verizon Wireless Broadband EV-DO Rev A and 3USB ports. Also features a Windows Vista Business OS. Price $2000+