Benefits of Using a Microsoft Word Resume Template
If you are using Microsoft Word to create a template, you can benefit from the many formatting features the application offers. However, you can save time and ensure that you are including the necessary information by downloading and using a resume template. Microsoft provides many types and styles of resume templates from which you can choose. Another benefit of making your resume from a Word template is that your resume will look stylish and have that extra bit of flair that just might catch the eye of a potential employer.
Finding and Choosing the Right Microsoft Word Resume Template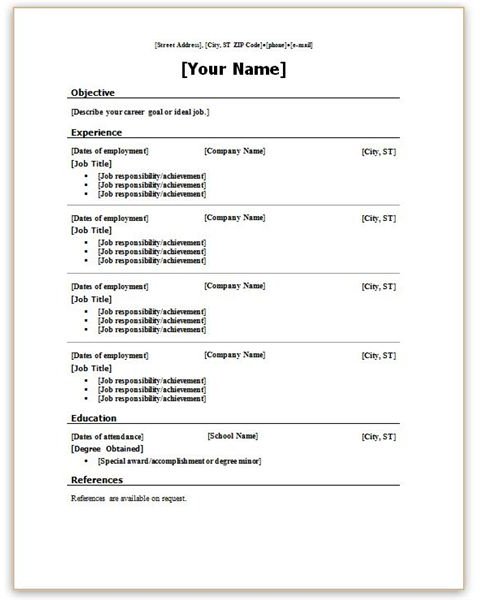 Choosing the best Microsoft Word resume template depends on several factors, such as your work history, your job field and other requirements specific to your needs. There are three basic types of resumes, which are chronological, functional and combination.
A chronological resume is the most commonly used type. These resumes are set up much like a job application, with your contact information and career objective at the top. The body of a chronological resume lists your employment history for a specific period, beginning with your most recent position first. A chronological resume is your best choice if you want to show your job stability, skills you have learned over time and increased responsibilities.
If your job history has been somewhat erratic or if you would rather not discuss the year you spent traveling with a carnival, you may want to opt for a functional resume template. This resume format includes your basic contact information followed by a brief outline of your professional background and relevant education. Your professional accomplishments are listed as bullet points.
The third type of resume format is the combination resume, which, as the name denotes, combines the chronological resume format with the functional resume format. This type of resume begins with your contact information and a summary of your qualifications and background. Bullet points list your achievements and relevant previous positions, training and education are included in chronological order, beginning with your most recent position first. This type of resume allows you to exclude those unrelated positions (such as your stint as a carnie) while featuring the positions of which you are proud.
Job-Specific Resume Templates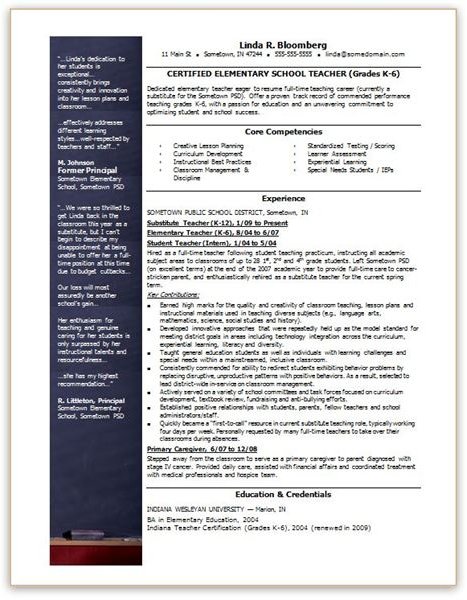 Microsoft offers numerous job-specific resume templates. While most templates in any format will work fine no matter what type of position you seek, job-specific resume templates can be quite helpful. Rather than simply providing space in which you can type your goals, objectives and work experience, job-specific resume templates actually include sample text suggestions to help you if you are not sure what you should include. Before you choose a Microsoft Word resume template, consider your current field or the type of position you are hoping to land and check out some job-specific resumes.
For example, a teacher resume template might include a sidebar into which you can paste or type quotes from letters of recommendation. It may also include a sample career objective, core competencies, work experience, education and certifications, all of which you can tailor to meet your needs.
A banker resume template is likely to contain a profile summary example with language and experiences specific to a career in banking. Likewise, it will include sample banking employment duties and responsibilities, such as "Counsel high net-worth individuals and corporate clients with regard to investment opportunities, risk analysis, and monetary returns," as well as education and certification types.
Similarly, there are many situation-specific resume templates from which you can choose. For instance, there are resume templates for recent college graduates as well as high school grads that target entry-level positions, begin with education information and end with experience and job history, thereby highlighting educational success rather than pointing out a lack of professional experience.
How to Use a Microsoft Word Resume Template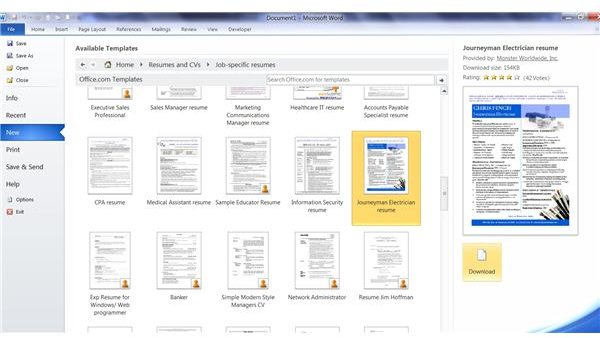 There are a couple of ways to search, browse and download Microsoft Word resume templates. You can go to the Microsoft template website and search resumes to browse all of the available resume templates. You can also search a narrower term such as sales resume to find all of the templates available that are specific to one job.
Another way to find and download a Microsoft Word resume template is directly within Word. Go to the File menu in Word 2003, the Office Button in Word 2007 or the File tab in Word 2010 and click New. Look through the resume templates on your computer. You can also type resume or a more specific term into the Search Office Online box and search for available templates. When you see the template you want to use, click the Download button. Your resume template will open as a new Word document.
All you need to do is type over the sample text with your own information. When you are done, save the resume and begin printing or emailing it right away.