Using Microsoft Money - Copy An Account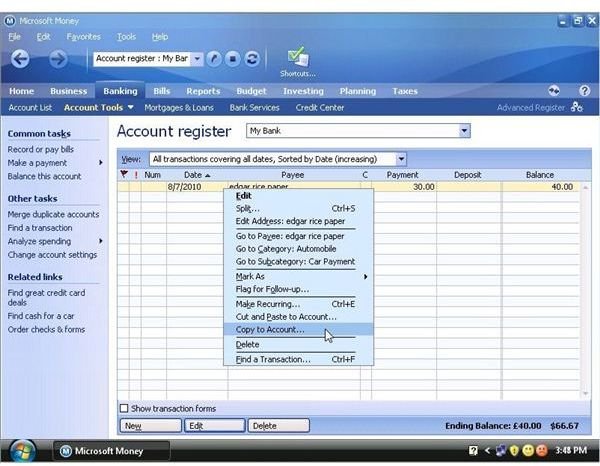 Copying an Account in Microsoft Money 2007
Microsoft's popular Money personal finance software has sadly been discontinued, but it does manage to remain popular with a large number of users across the world.
This is probably due to its flexibility as a lightweight, personal finance application with a variety of options, functions and file types available for integration with other applications like Excel and Quicken.
Copying a Microsoft Money account is a pretty straightforward task – you might opt to do this as a quick way of backing up details of your finances before making any big chances to Money, or as a way of migrating your Microsoft Money files to a new PC.
Note however that an entire account cannot be copied in Microsoft Money. There is functionality to allow transactions to be copied to a second account, but no "copy an account" feature.
Using Microsoft Money 2007 (although the procedure is the same for other versions), we'll look at how to do this.
Setting up Microsoft Money and Copying an Account
Microsoft Money doesn't let you copy a full account per se – but it will let you copy the transaction entries into an existing account.
So before you can copy an account in Microsoft Money, you must have one set up and with an active list of entries.
You will probably have an account ready that you wish to copy. To proceed, check the details of the account, such as the bank name, the currency in use and so forth. Next, go to File > New… > New Account and setup a duplicate account in Microsoft Money.
With the new account ready and suitably named, you will be ready to begin copying transactions.
Copying Account Transaction Details
Making a copy of your account transactions and sending them to your copy account is a simple task. Simply right-click a transaction and choose Copy to Account… You will be asked which account you wish to copy the transaction details, and you can do this for each of the listed transactions. There is no function to allow bulk copying of transactions.
One other thing you might want to do is copy an account in Microsoft Money from one PC to another. You can do this using the backup function – simply backup your Microsoft Money file to a location on your hard disk drive or network, and then copy this to another PC.
On the second PC, install Microsoft Money, and use the New > New File… menu command to instruct the software to use your backup file on this new installation.
You don't even have to leave this as your main file – you can change the file Microsoft money uses to record your account transactions as often as you like.