Office Live Small Business Microsoft Message E mail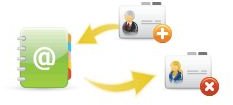 Managing Microsoft's Office Live Small Business email system is like managing any email system from an ISP. This new service by Microsoft allows for small businesses to get started with an online web presence, helping them get started on a webiste, along with managing emails from their employees. With this system, you are able to add up to 100 emails for your business, as well as syncing email to your Outlook account.
Office Live Small Business
Office Live Small Business allows for non-technical users (or those without dedicated IT support) to create, design, and host their own website. It offers free design and management tools, one hundred email accounts, tools that will assist in managing clients, projects, and documents. The majority of services are free, though there are expenses for domain registration, premium email, and additional add-ons.
To get started with Office Live Small Business message email, you must first set up an account. Setting up an account is simple, allowing current Windows Live accounts (or Hotmail and MSN accounts) to be used to sign up for the free service. If you don't have one of the three Microsoft POP emails, signing up for one is again easy, with the Live website allowing you to sign if you don't currently have an email address.
Once you have either signed up for an account or signed in to OLSB, you'll be taken to your home screen. In order to start adding and using email with Office Live Small Business message email, you must sign up for a domain name. A domain name is the unique name of your website, usually the name of your company. As an example, brighthub.com is a domain name. OLSB charges a $14.95 yearly fee for creating a domain name.
You can also redirect a current domain name to OLSB. If you already have a domain name, like FreeEnterprise.com, you can redirect that site to your OLSB account. This will then allow you to utilize the email system. Under the Account Management area, choose the email accounts option. This will take you to email tasks. From here, you can view email (from either your domain or a Live email account) and manage your domain. It is also here that you can add, delete, and change email addresses.
Email Management
To create a new email address, click the 'new email account' option. Here you'll be able to create a custom email (like [email protected] or [email protected]). Again, you must either buy a new domain name or redirect a current domain in order to utilize the email system. According to OLSB, it takes approxamently 24-72 hours for changes to go into effect.
If you don't have a domain or you are debating about choosing a custom name, you are still able to utilize OLSB. You can still receive and check email from your Live, Hotmail, or MSN email from the email screen. However, this option means that you can not add emails for your other employees. If you are an employee of one, however, using your Microsoft email still allows you to use Office Live Small Business.
References
Office Live Small Business official site, https://smallbusiness.officelive.com/en-us/
Image via Office Live Small Business