Troubleshooting Windows Mail, Windows 7 - Installing Windows Mail For Windows 7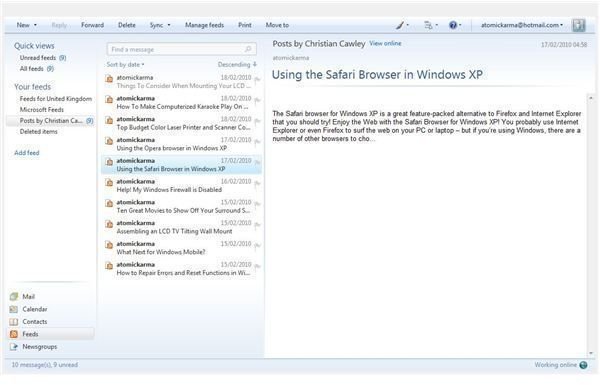 No Email in Windows 7?
Depending on how you have received your copy of Windows 7, you'll probably be baffled to find that there is no built in email client with the operating system.
Traditionally, Windows comes with an email client – in Windows 98 and XP it was Outlook Express; in Windows Vista it was Windows Mail. Windows 7 features Windows Live Mail, a new version of Windows Mail that in many cases is bundled by the supplier of your PC, laptop or netbook, or even the version of Windows 7 that you have chosen to buy on DVD.
However, not everyone gets a copy – for some reason, there are versions of Windows 7 available that don't feature an email client ast all.
So How Do You Get Windows Mail for Windows 7?
Downloading and installing is the only way to get the application onto your new Windows 7 computer if you've previously been unable to find it.
Point your browser to download.live.com/wlmail and download the Windows Live installer. Once completed, run the wlsetup-web.exe file to begin installation. The install wizard will prompt you to select which components of Windows Live you wish to download.
Make sure you select Windows Live Mail along with whichever other options you're interested in, then click on Next to continue. The install wizard will download and install the Windows Live components you have chosen, and Windows Live Mail will be ready for you to use!
(Note that it is available only for Windows Vista and 7)
How Do I Use Windows Live Mail?
Windows Live Mail, like Windows Mail, is optimised as a desktop client for MSN, Hotmail or Windows Live email accounts. However, it is a simple task for you to configure access to an email account of your choice using the applications account creation wizard.
A new account can be setup via the Options menu, in the upper right of the window, and the program is suitable for POP, IMAP and Exchange email accounts. Once an email account is setup, you should find that the application is simple and straightforward to use. See the Windows Live Mail Tutorial for full details on using this application.
More Windows Live
As you will have seen during the installation stages, Windows Live is more than just an email client – it is a suite of applications that help make using your PC or laptop a fun experience.
The Windows Live installer lets you install full suite or a selection from:
Messenger – the popular instant messaging tool
Mail – see above
Writer – for writing blog entries
Photo Gallery – an online photo gallery tool that you can upload images to
Movie Maker – the latest version of Windows Movie Maker
Family Safety – a content control tool
Toolbar – an all-access toolbar to whichever Windows Live components you have installed
Along with Windows Mail for Windows 7, Windows Live offers a great selection of apps – if you haven't tried them yet, what are you waiting for?