PDF Files: How to Use your PDF Files to the Utmost
Reading PDFs- is it as simple as it sounds?
Most of us are familiar with PDFs. Adobe's Portable Document Format is ubiquitous. The updated version of the health insurance manual from my husbands's Human Resource department at work was a PDF we downloaded to read. One of the documents we sent back was a PDF form which we could fill in and return electronically.
Many sites provide you with PDF documents, whether a manual for your washing machine or the datasheet for the new monitor you are checking out before making a decision to purchase. And almost all of these sites give you a link to Adobe, to download the free Adobe reader. (More on that reader later.)
Recently, most new office suites, whether from Microsoft or other sources, are building in the capacity to save your document as a PDF. Sounds like a virtually perfect universe, doesn't it?
Printing PDFs
Not every PDF is conveniently sized 8.5 x 11 inches a page. If you have ever downloaded a rail or bus schedule, they generally do not fit your 8.5 x 11 inch paper.
So what do you do? One method is to print page by page, and the article Printing PDFs as Fit to Page: How to Turn the Feature On and
Off talks about fitting your PDF to the page, and how to use the feature or not, for your convenience.
While this gives you some limited control over printing only a section of a large PDF, most free PDF readers, including Adobe, do not allow other options in their free versions. There are workarounds for this, and a couple are discussed in the article.
But, what do you do when you are trying to print a copy of the CIA Factbook world map, which is nearly 40 inches on a side?
Adobe reader icon - Adobe product image
Oversize PDFs
Best Options for Large Poster Printing Freeware: Applications . Have you designed an oversize PDF? A poster or map? You can print it out in pieces- and then you need to assemble them correctly - or your map may take you places you never expected to go. With the programs reviewed in this article, you have several options to mark the sections of your pages and easily reassemble them. You can make maps or posters or displays for your next meeting.
Editing PDFs
FormulatePro Review: Edit PDF Documents This review is for an alternative product to Adobe, for Mac users. It allows easy editing of text inside PDFs, as well as exporting the edited version as a PDF again. You can change fonts, colors, images, and fill in forms: functions which are not available in Adobe's Free reader.
Inserting a PDF form into a webpage
Want to know ways to Insert a PDF Form Into a Web Page? In this descriptive article, you will learn to set up the PDF you need, and then ways to embed it into your webpage with HTML instructions to insert into your webpage..
PDF in your Word document? Easy !
You may also need to learn how to Insert a PDF Document into Microsoft Word. Christian explains in this article different ways to insert a PDF in the document. Documents can be either inserted or embedded into your documents. You can copy and paste- something which is becoming more difficult. You can create a PDF which contains both your text and the PDF document, through a free web service. You can link to the location of the PDF within your Word document, if it is somewhere the recipient can access on a net. And finally, you could embed the entire PDF into your Word document as a 'content package'.One of these options should allow you to 'marry' your document and your PDF to your satisfaction.
Document to PDFs and PDFs to documents
Solid PDF to Word Review allows you to change a PDF file back into an MS Word file for editing. This program is designed to help you convert your PDF files back to Microsoft documents, using Word for Mac. The program is well integrated into the Mac OS.
Office 2010 Save as PDF Features - Creating PDF Documents with MS Word 2010. if you already own MS Office, you don't need to invest in Adobe Acrobat to have the ability to create PDF files. Microsoft first introduced this option in Office 2007, and it remains in Office 2010. The linked article has step by step directions.
AutoCAD to PDF files
How to Convert AutoCAD Drawings into PDF Files - AutoCAD Tutorial. Article writer Suvo discusses how to convert an AutoCAD drawing into a PDF for a client who does not have AutoCAD installed. His example uses Adobe Acrobat Professional, but discusses how the process can also be used in other PDF programs. You can both impress and facilitate communication about the work you are doing for your client.
Fun uses for PDFs
Generate PDF files of your iTunes library information.
Using features built in iTunes, you can make a PDF file of your whole library or a playlist - whichever way you decide to search your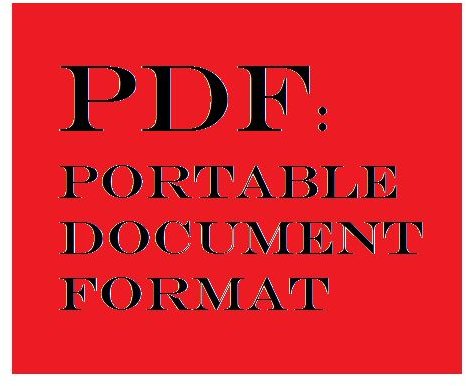 iTunes library. All the information I had in my iTunes library, ready to print as a PDF? I did't know you could do that!
..
How to Download PDF docs from Google Books in the Public Domain? A lot of controversy has risen over Google's decision to digitize all the books they could find in the public domain - and some that were not. However, this resource now exists, and the wealth of public domain books available is absolutely stunning. In this article, you will learn how to tell if a book in the Goggle listing is in the public domain, and if it is, ways you can get a copy. Here are the directions for downloading a PDF copy of a book in the Google Public Domain library.
PDFs in non Windows operating systems
Linux Tutorial PDF: Easily Create PDF Documents in Linux
If you have a need for PDF documents, and your usual OS is Linux, writer jlwallen discusses several methods to create and read PDF files in Linux. Among the choices he mentions are CUPS, OpenOffice, and Scribus.
How to Save Files as PDF in Mac OS X explains the built in feature in Mac OS X which allows you to create, read and save PDF files in MAC OS X. It also has the ability to add metadata to your PDF.
Along with popularity comes problems
PDFs can not now be considered a virus free method of sending information. In PDF Virus Threats: Tips on How to Avoid PDF Viruses and Protect , Donna's article discusses the new issues with PDF viruses. While you should not open every PDF sent to you, there are simple precautions discussed in the article to allow you to make sure the PDF you want to open is safe. She tells you how the PDF virus problem began to evolve, and a number of tips to keep your computer safe from any unexpected dangers hiding in the PDF attachment to the email you just received.
In Beware of PDF Exploits - The Latest Malware Threat, Bill talks about a new toolkit available for malicious users, which allows them to enable a PDF to open an executable file you did not know was there. He also offers pointers on how to avoid the problem, including never opening any PDF attached to an email that just doesn't seem quite right.