Windows 7 Themes Tips Tricks and Tutorials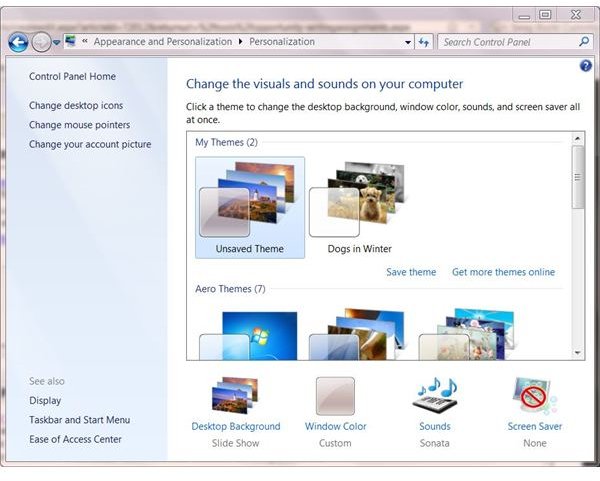 Overview
Windows 7 offers many features that allow you to customize the way your computer looks and behaves. One of these features is themes, which are "packages" containing multiple Windows elements, such as wallpaper, screen savers and sounds. Earlier Windows versions have themes as well, but Windows 7 divides them into categories, allows you to share them and more. Learn tips and tricks to maximize the features and benefits of Windows 7 themes.
Applying Windows 7 Themes
The best way to customize your Windows 7 desktop is to apply a different theme. Windows 7 makes it easy to change your theme. In fact, there are a few different ways to access them. You can go to the Control Panel and select Change the Theme under Appearance and Personalization. You can click Start, type theme into the Search box and click Change the Theme in the results list. You can also right-click any unused area of the desktop and select Personalize. Each of these methods will bring you to the Personalization window from which you can apply a new theme.
Once there, you can select a theme from the gallery. All you have to do in order to apply a new theme is simply click on it. When you close or minimize the Personalization window, you will immediately see a new desktop background.
If you do not see a theme that you enjoy in the gallery, there are ways to get more Windows 7 themes. For instance, you can click the Get More Themes Online link in the Personalization window. As long as you are connected to the Internet, this will take you to the Microsoft Windows 7 themes website, where you can download dozens of different themes.
Creating Windows 7 Themes
Even though there are many different Windows 7 themes available, you might not find one that is exactly what you want. For example, you might find one that has wallpaper that you really like, but you just are not crazy about the sound scheme, or maybe the border color simply doesn't suit you. You could keep looking and hope that you find another theme you really like, or you could just settle for a screen saver that sort of annoys you. On the other hand, you could create a custom Windows 7 theme. This allows you to select precisely the settings and features you want to use.
To customize a theme, select the one with which you want to start. Then all you need to do is change each factor of the theme, such as the wallpaper, sounds and other aspects. When you have created a custom theme as you want it, you can finalize and save it.
Sharing Windows 7 Themes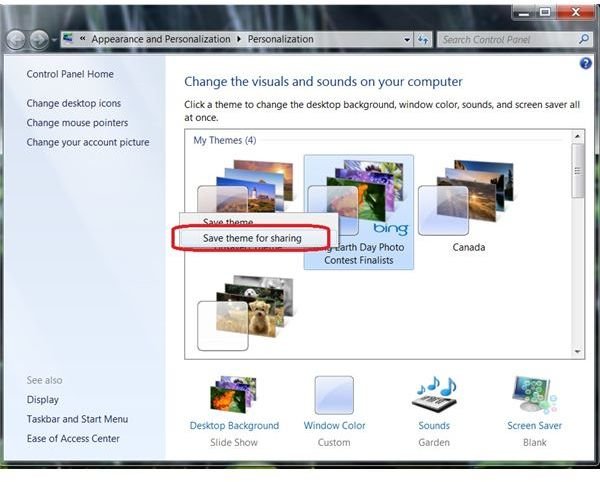 One of the benefits of creating a custom theme in Windows 7 is that you can share it with other users. The key is saving it correctly. After you have created a theme and saved it, right-click the theme and select Save Theme for Sharing. Once you have saved it in this manner, you can share it in a number of different ways.
For instance, you can share it using Windows Sky Drive, posting a link to your Windows Live Blog. You can create a new Windows 7 library in which to save your themes. Right-click the Start button and select Open Windows Explorer. Click the New Library button and name the new library Themes. Save all of your custom themes here and share them with your Homegroup.
More Help With Themes
There are many other tips and tricks to working with Windows 7 themes. For instance, if you are trying to optimize Windows 7 on a netbook or computer with low resources, you should choose a basic theme.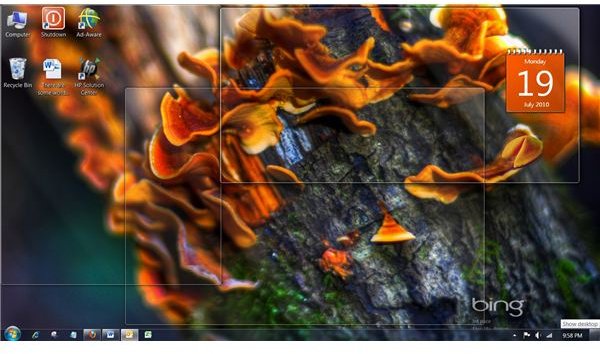 Another feature available in Windows 7 is called Aero Peek, which is sort of like having special X-ray vision that gives you the ability to peek through your open windows and view your desktop. To use it, all you have to do is point to the opaque sqare in the bottom right corner of your taskbar. Your windows will all become transparent so that you can view your desktop, icons and gadgets. However, you can only use this feature if you have applied an Aero theme.
If you have created or downloaded a bunch of Windows 7 themes and feel as though you simply have too many, or perhaps you downloaded a theme that you really do not care for, you can delete unwanted themes from your computer. First, you will need to apply a different theme if you are currently using the one you wish to delete as you cannot delete a theme while it is in use. Then all you need to do is right-click the theme in the Personalization window and select Delete Theme. Click Yes at the prompt that asks if you are sure you want to delete the theme.
While these tips are for Windows 7, you can have a custom theme that you love in earlier Windows versions as well. For example, How to Apply a Windows 7 Style XP Theme will help you have a Windows 7-like theme in XP!