How to Use Windows Live Mesh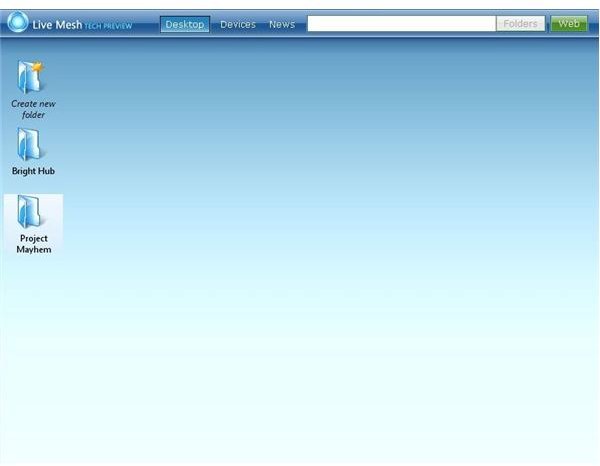 Microsoft's Live Mesh
At first blush, Live Mesh is a cloud based computing system that allows for universal access to devices and their files. Upon deeper examination, while that may be what Live Mesh eventually becomes, it is currently just a pretty graphic interface on a synchronization utility coupled with an online storage account.
Live Mesh Desktop
In order to use Live Mesh, you need a Live account, no surprise there. When you sign up for Live Mesh and login you get a Live Mesh Desktop. The desktop is your online storage account. It works much like your Windows desktop would if you kept all of your folders there. You put files in these folders and then they are available with your Live Mesh account from any computer with Internet access, sort of like Dropbox or other online file sharing services.
Drag and drop functionality is coming soon, for now, you just have to use the upload button, kind of like Dropbox or other online file sharing services. (Wait, didn't I just say that?)
Live Mesh Synchronize
The Live Mesh site says that soon you will be able to synchronize with mobile devices and Macs, but for now, just Windows computers are supported. With Live Mesh, you add a device which you can then set to synchronize with other devices, or with the Live Mesh desktop. Once setup, Live Mesh will update the files and folders on the other systems whenever a file is changed, added, or deleted on one system, kind of like Foldershare or other synchronization services.
The main difference for synchronization purposes between Microsoft's Foldershare offering and Live Mesh is that with Foldershare, no files are stored online on servers. In order to synchronize, both computers must be online at the same time so that files can be copied directly to the new system over an Internet connection. With Live Mesh, files can be stored on the Live servers, so a file can be synchronized without both systems being online.
Recommendation (3 out of 5)
While it is nice to have both online file storage and file synchronization in the same place, it isn't a compelling reason to move for someone who already has such systems in place. However, if you don't have these kinds of systems in place already, Live Mesh is just as good as any of the other options, though I can't say it is really any better either.
Live Mesh runs as a system tray icon and it comes on at startup. Live Mesh runs two processes constantly in order to function. The Mesh Operating Environment (Moe.exe) takes nearly 44MB of RAM on my PC and the MOE Monitor (MoeMonitor.exe) chews up another 16.5MB, so all in, Live Mesh costs you 60MB of RAM. That seems pretty hefty for what it does, especially if you won't be heavily using the synchronization functionality.
For now, I'd have to say that Live Mesh is a novelty item and not a necessary addition to the user's toolkit. If mobile device support comes online, that might change things.