AV Security Suite Ransom-ware Removal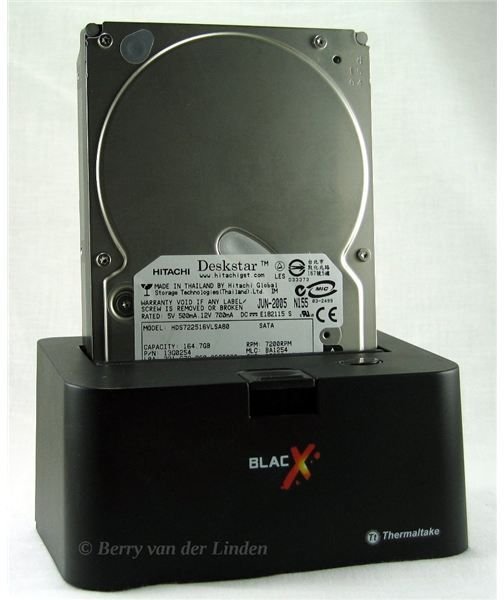 What Is AV Security Suite
AV Security Suite is in no way a legit piece of software. It blocks access to, and in most cases prevents from running real Anti-virus and Anti-spy-ware software. It blocks Task Manager, MSConfig and many more software that could help you stop or get rid of AV Security Suite. Software like this is known as rogue spy-ware or ransom-ware. According to AV Security Suite you have an infection you can not get rid of. It usually uses some fake virus or spy-ware name. The only way to solve this infection is to buy Av Security Suite. DO NOT BUY AV Security Suite!! This piece of software is the infection and we need to remove it.
The infection I encountered was on a computer of one of my customers. It was the most severe version I have seen to date. This version blocks access to everything. You can't even get to the Proxy setting to change them, which is how access to the Internet is blocked by AV Security Suite.
After searching the web for a while using my friend Google, I could not find any up-to-date instruction on how to remove this ransom-ware.
The Removal Instructions
Note: Removal of this virus requires you to open the infected computer or laptop. If you are not comfortable with doing this then please take your computer to a professional.
Feel free to send him or her these instructions.
Remove the Hard Drive From The Computer
Because we can not get anything done on the computer that is infected. We have to remove the hard drive. Open the case of the computer, or take the panel of the laptop that hides the hard drive and remove the hard drive. If the computer has more than one hard drive then you will need to take all of them out. Infections like this are often located on multiple drives.
You will need a way to attach your infected drive(s) to a clean computer or laptop. There are two ways to do this easily. For SATA drives you can use Thermal Take's Blacx(Picture on the left below). Or you can use a USB 2.0 to SATA IDE cable (Picture on the right below). These cables can be found in any Frys or on Ebay for almost next to nothing.
External USB 2.0 Devices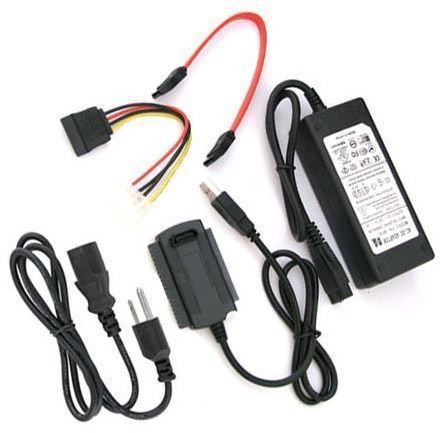 Software That Will Remove AV Security Suite
MalwareBytes' Anti-Malware is one of the few pieces of software I know of that has drive selection. There are others out there I just grabbed this one first and it worked. Why change something that works right? Plug the external hard drive into the other computer. Start up MalwareBytes and follow the steps below. The screen shots below are from a different trojan removal. But the steps are the same. Image 7 is the quarantine and the circled infections are the AV Security Suite infections. The names will differ because it uses a random name for its executable names.
You can find the screen shots below this paragraph.
Step One
Select "Perform Full Scan" and hit the scan button.(Image 1)
Step Two
Select the right drive. Click the Scan Button.(Image 2)
Step Three
The progress window will pop-up and you can follow the scan real-time.(Image 3)
Step Four
The scan is complete. However nothing was removed yet. Click "OK" and hit "Show Results".(Image 4)
Step Five
The Results are shown. Make sure all infections are selected and click "Remove Selected".(image 5)
Step Six
MalwareBytes moves the files to the quarantine and deletes files. The Log window will pop-up make sure the infections are in the log and it says: "Quarantined and Deleted Successfully".(Image 6)
Step Seven
Check the quarantine and make sure the infections are in there.(Image 7)
Step Eight
Click Exit. The Infections are now removed. Move on to the next drive if you have more then one drive to scan.(Image 8)
Now you are ready too put the hard drive(s) back in the computer or laptop.
Screen Shots Of The Removal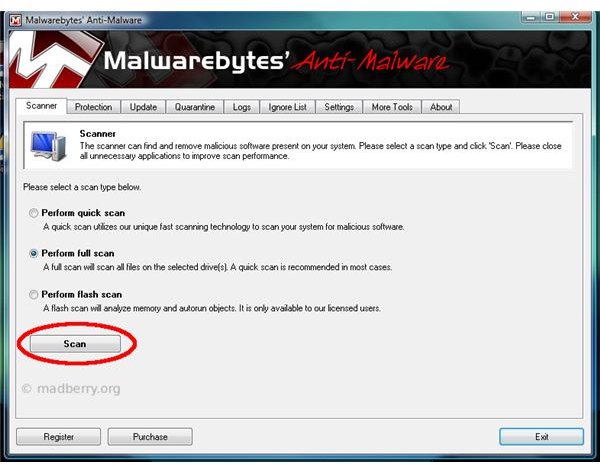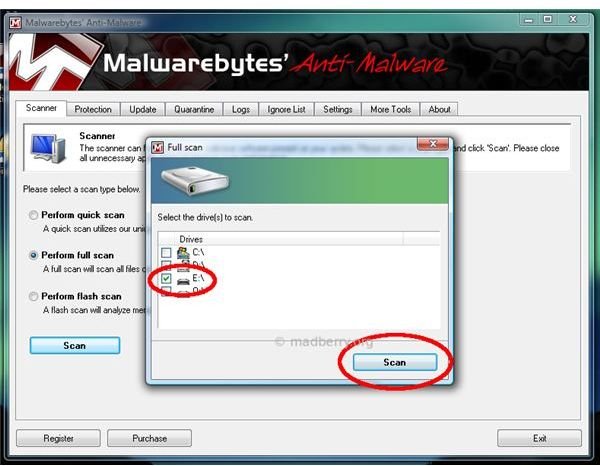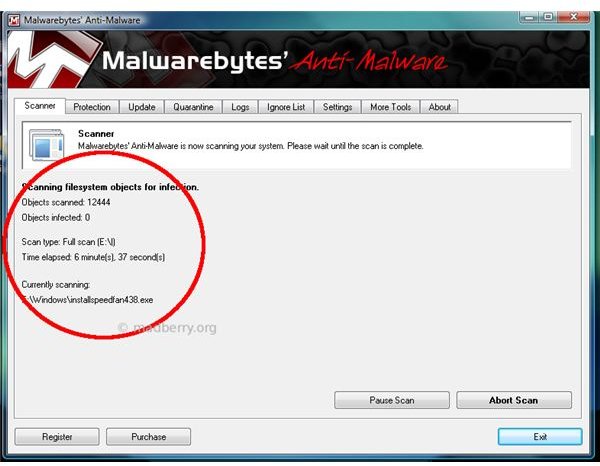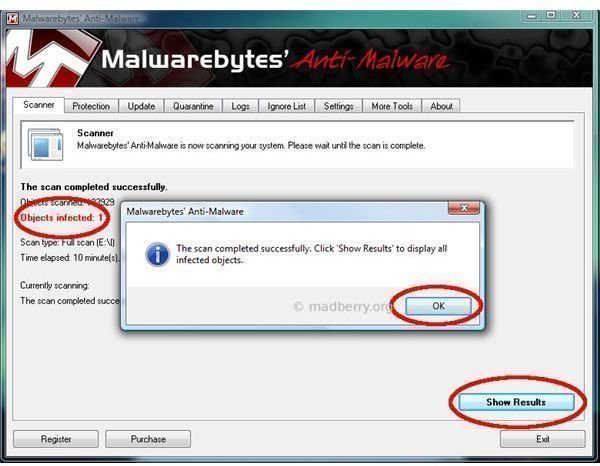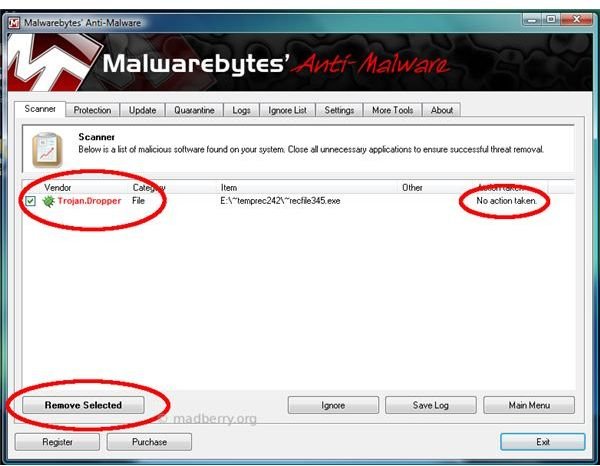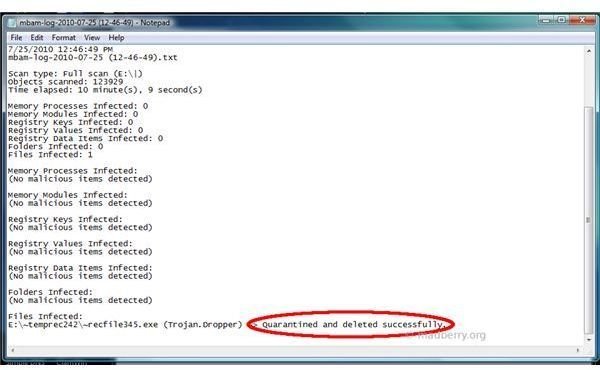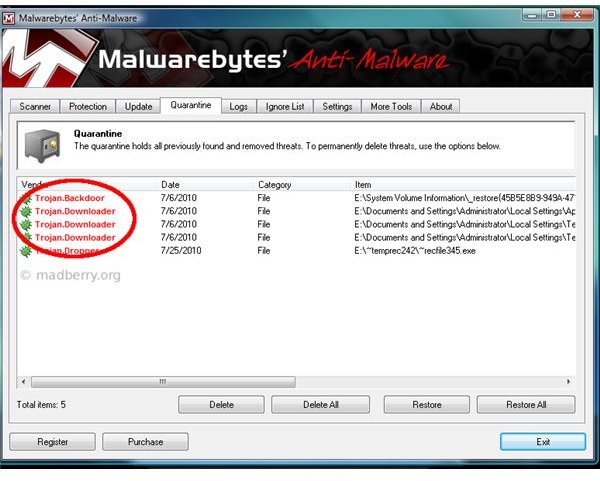 Please let us know if these instructions worked(or not) in the comments below. If this did work for you please consider buying a full version of MalwareBytes. Please note I did not receive any money from MalwareBytes to write this article. I also didn't receive a free license key from MalwareBytes.