How to Update Linksys Router Firmware for Win 7 (Windows 7)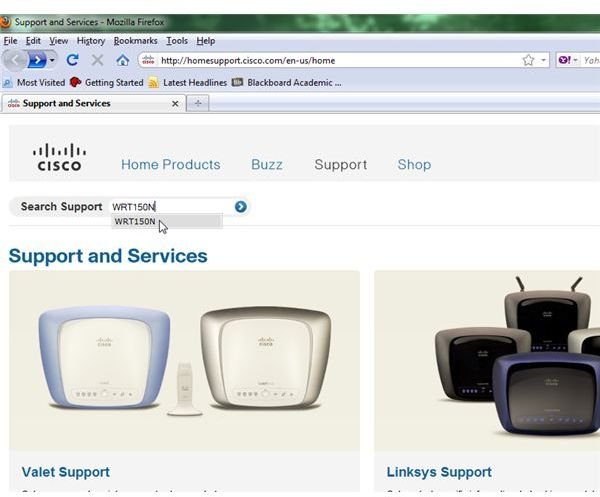 Updating Linksys Router Firmware
This tutorial will teach you how to update the firmware on your Linksys router. While the steps are the basically the same for most Linksys Routers, these instructions are specifically for a WTR150N Linksys router.
How to Update your Linksys Router Firmware
Routers, as with any piece of hardware, need to be frequently updated to remain secure and operate properly. It is a pretty simple task to update a router, but it usually isn't an automatic process. Here is a step-by-step guide on how to keep your router up to date.
1. Head over to https://www.linksys.com/download (you'll be redirected to cisco.com) and type your router model number (found on the bottom of your router) into the search box.
There may be another number beside your model number. This is the router's version number. Make note of it, but you don't need it yet.
2. Once you're on your router's page, click on the download tab to the right. Then select your version. The router version is found beside the model number on the bottom of your router. If no version number is present, your router is version 1.0.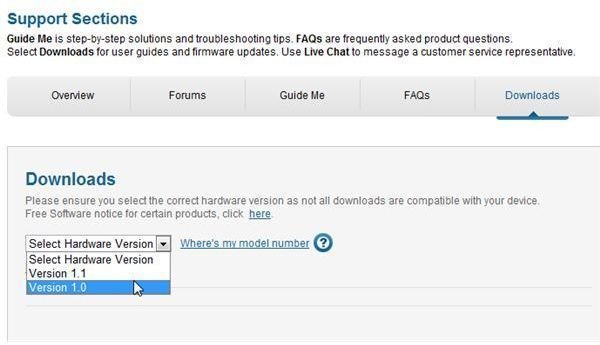 3. Once you've selected a version, the available downloads will appear below. Click on download under the the firmware section. Generally there's only one firmware download, so you won't need to worry about it getting the most recent.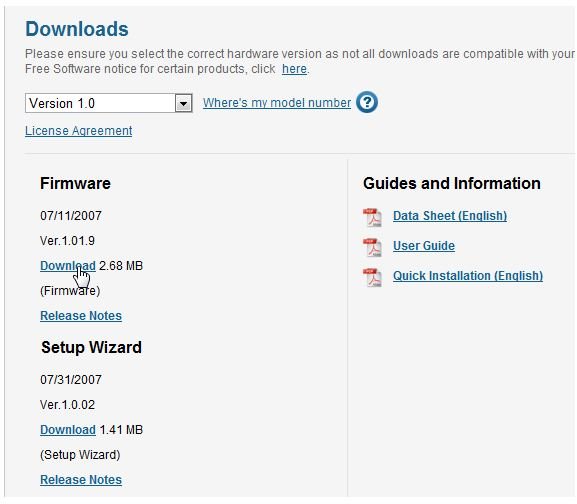 4. If prompted to save or run the file, just choose to save the file. Remember where you save it. You'll need to know where the file is to actually install it.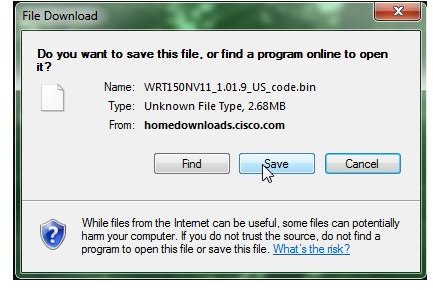 The Linksys Router Menu
5. Open up your browser and go to 192.168.1.1 for a url. A popup will probably ask for a username and password. If you've never set the password before, it will generally be "admin". You can use anything as a username.
If "admin" doesn't work and you don't know the password, first try resetting the router. There will be a small reset button on the router than can be pressed with a paperclip or a pen. If it still doesn't work, consult your user manual. You can find a pdf version in the same place that you downloaded your firmware.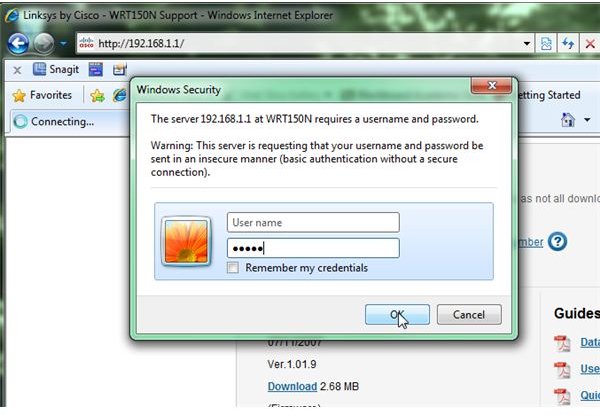 6. Once the router's menu comes up, go the "Administration" tab. Click on the "Firmware Upgrade" link below the "Administration" tab.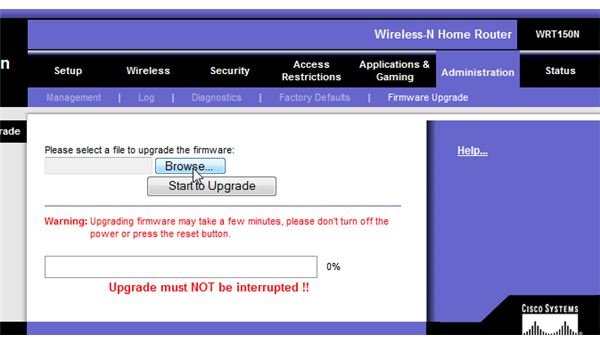 7. Click on browse and find and select the firmware file you saved. Once you've selected the firmware file, click on the "Start to Upgrade" button below.
If you are greeted with an unpleasant "Upgrade Failed" message, try disconnecting all internet access, computers, and other devices from your router besides the computer you are upgrading from. Sometimes other connections can interfere with the upgrading process.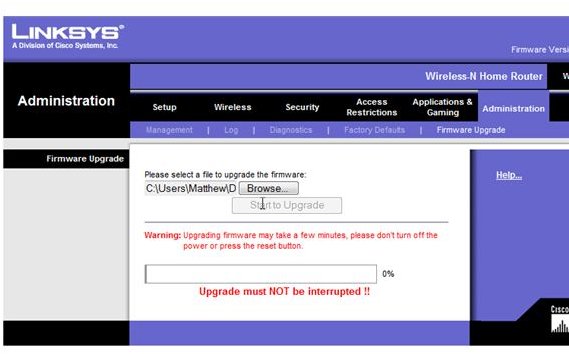 Congratulations! Your router has been upgraded. But don't just leave it at that. Remember to frequently check on Linksys' (again, really Cisco's) web site for new firmware and upgrade your router often. You can always check on your router's firmware version and other information by going to 192.168.1.1 in your browser.