Microsoft Internet Explorer History and New Features in IE 8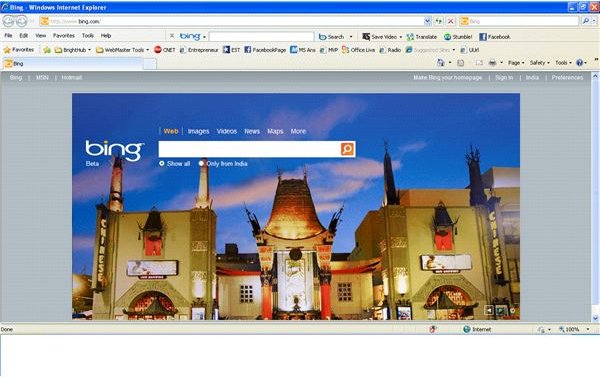 Microsoft Internet Explorer – An Introduction
Microsoft Internet Explorer was built upon the source code acquired from Spyglass Mosaic. Looking at the history of Microsoft, the company acquired Spyglass around 1994. Though there was a revenue sharing agreement between Microsoft and Spyglass for distribution of the browser, Microsoft never paid anything to Spyglass as they altered the code to name it Microsoft Internet Explorer and started offering it as an add-on to Windows in 1995. This later resulted in lawsuit carrying a multi-million dollar settlement.
After the settlement, Microsoft started offering the browser as bundled software to Microsoft Plus! for Windows 95. The Microsoft Internet Explorer was renamed Internet Explorer and is now famous as IE for short. The second version of Internet Explorer supported SSL, cookies, and newsgroups. It was also released for Windows 95. At this time, it had a major browser market share of more than 80 percent which is now reduced to around 60 percent owing to lawsuits and competition from likes of Mozilla and Google.
The latest version of Microsoft Internet Explorer is IE8, which contains several features such as emailing, blogging, citing without actually navigating away from the website. The next effort of Microsoft is IE9, which is still under construction as of now. IE9 is supposed to use advanced hardware acceleration for faster surfing experience. This means that IE9 will not support Windows XP. Only users of Windows Vista and later versions can use the next versions of IE.
In this article, we will talk about the IE8, which is by far, the most stable and feature-enriched browser. Even with several features, there are several problems in IE8 that lead people to believe that IE8 is not worth using. This mindset of people, open criticism, and some lawsuits has lead to a sharp decline of IE in the browser market share, especially in European countries where IE8 is no longer a Windows-bundled software but an optional one. Windows 7 contains a browser ballot screen that allows user to choose whether or not they want IE8 on their computer. For details, please refer to MS Windows may have to include other Browsers in the OS. All Windows OS prior to Windows 7 carried IE as an essential component.
Microsoft Internet Explorer 8 – Features and Advantages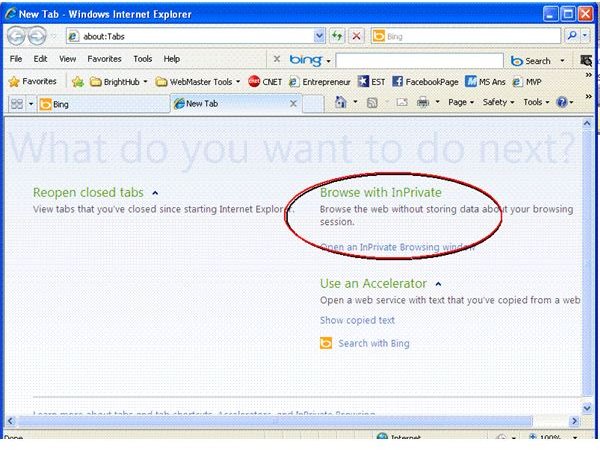 Microsoft Internet Explorer 8 was released in March of 2009 – after an intensive testing of the browser through betas and RCs for more than an year. Microsoft has two editions of IE8 for users. The 32 bit IE8 is intended for normal computers while the other (64 bit IE8) is supposed to run only on 64 bit operating systems. Note that the 32 bit version is more stable and can run on both 32 bit and 64 bit operating systems. I would recommend that you use IE8 32 bit for any operating system irrespective of it being 32 or 64 bit. The reason is that the 64 bit edition is new from Microsoft and can present several problems for which, the users are not yet ready. The only 64 bit operating systems from Microsoft are Vista and Windows 7. Installing the feature enriched, secure 32 bit IE8 will leave out several problems that may be created out of clash among the elements between those of the browser and the operating system. It is not that the IE8 32 bit won't give you problems. We will cover troubleshooting IE8 problems on the next page.
The main features of IE8 are security, easy navigation, and improvements in RSS, Cascading style sheets based interactive websites, and extended support to AJAX based websites. With these features, IE8 has passed the standard ACID2 test and hence is suitable for the latest websites that make use of these components. It includes a number of add-ons that help users to save time while emailing, blogging, researching, discussing, and more. Among other widely used feature is the InPrivate mode (also called porn mode). When you work on IE8 in this mode (available under Tools menu), your browser does not collect any information that may be left on the machine for others to track your usage. Microsoft Internet Explorer 8 also introduces tabbed browsing and SmartScreen phishing filter!
Please turn to second page for IE8 tips.
Dealing with IE8 Problems
Working on Microsoft Internet Explorer, you might face several IE8 problems. Most of them are related to conflicting add-ons, incompatible programs, usage of tabs, and incorrect installation. This section looks at how to proceed when you face any Internet Explorer problems. We also present a common fix for different problems faced by users of IE8 on Windows 7.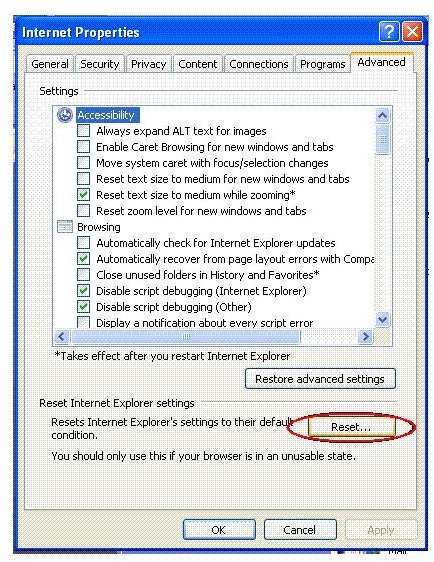 First of all, let us talk about installation. If the installation is fine, you should not get any problems. You can also increase the speed of Internet Explorer by turning off unwanted accelerators (add-ons). If interested, please read my article on How to Speed up Internet Explorer. It also contains links to a set of problems that you might encounter while using IE8.
Coming back to installation, while Windows XP comes preinstalled with IE6, Windows 7 comes with (optional) IE8. For Windows XP and Vista, you need to upgrade to IE8 using either Windows Updates or by downloading one of the tweaked versions of the IE8. Different search engines have tweaked IE8 for better performance. You can download IE8 Optimized for Google, IE8 Optimized for Yahoo, and IE8 Optimized for Bing and MSN. Depending upon your search engine preference, you may download one of the above installer. Before installing IE8, from Windows Updates or using any of the above mentioned installers, please turn off your antivirus and firewall. When asked for Windows updates, click YES so that your operating system is current will all updates for IE8 to run properly. After the installation, turn on the antivirus and firewall.
Compatibility Problems in Microsoft Internet Explorer
If you see that IE8 is not able to open a website properly, click the Compatibility View button just next to the Address Bar. The button looks like a torn paper. This should fix the problem of broken or unaligned pages.
If you are facing problems browsing any site, right click on the IE8 icon and select "Start without Add-ons". If the problem is gone (as it does in most cases), you need to reset the Microsoft Internet Explorer settings. What happens is that as you continue using your computer on the Internet, several add-ons are added to the browser that may be incompatible. Even as you install programs, most of them add their own components to the IE8. Resetting the IE8 clears the clutter and helps you use it normally. To reset Internet Explorer, open Internet Options in Control Panel, go to the Advanced Tab, and click on the RESET button (ref Image). This should fix any add-on incompatibilities.
More Internet Explorer Troubleshooting
For more troubleshooting options such as reinstallation etc, please refer to my article on "What to do When IE8 Freezes". The article contains common troubleshooting to several IE8 problems. You may also ask for assistance using the comments section in case the article does not help you.
Coming to IE8 problems on Windows 7, several users face problems browsing even with new machines. I have created a common fix for these problems. Please check out the ready to use fix for IE8 on Windows 7.
Please note that the above information on Microsoft Internet Explorer is not comprehensive. You may face odd situations sometimes. If so, please feel free to use our comments section to ask for assistance.