Windows 7 and Itunes Home Sharing Setup Explained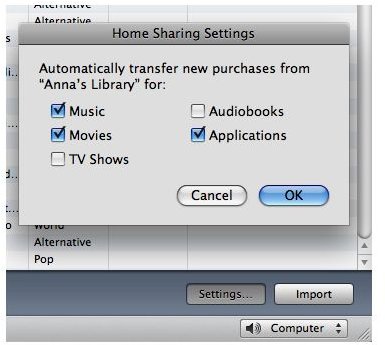 Authorized Computers
Each computer will have to be an authorized computer before you can use home sharing. You are restricted to only five computers. To authorize each computer, you need to have an iTunes store account. Once you have an account, you can use the home sharing feature. If you don't have an account, open iTunes and click on Store at the top and Create Account. Follow the steps to create your iTunes ID. Next click on Store at the menu on the top and click on Authorize Computer. You will be asked to enter your ID and Password that you just set up.
You will need to repeat the steps above on each computer that you are sharing with. The ID and Password used above to authorize Home Sharing has to be the same on all computers.
Using Home Sharing
You purchase some great music from iTunes on your computer. Your wife or kids also purchases music through iTunes. Want to have that same music the others have purchased? Now that iTunes has added Home Sharing it is possible to do this.
First you need to make sure Home Sharing is enabled on your computer. Open iTunes and click on Home Sharing. Enter your iTunes user name and password. Click on Create Home Share. You need to do these same steps on each computer in your home that you want to share iTunes with.
Look on the left side of iTunes. The other computer's iTunes library will now show up in your iTunes under Library. You will be able to see not only the music but also movies, podcasts, applications, playlists, etc. they have set up in their iTunes. Now you have the ability to play their music, etc. directly from your iTunes or you can import the music into your iTunes.
TIP: If you do not see the home sharing tab in iTunes on the left side then open iTunes and click on Edit at the top, choose Preferences and then Sharing. Check Share my Library on My Local Network. You will need to do this on all computers
To Copy or Import Music in iTunes
Select the files in the Home Share under Library that you want to move to your iTunes library. Select these files by clicking on them one time (if you want to move more than one hold down the CTRL key while you are clicking each song.) Once you have selected the songs drag the content to your iTunes library. You also have the option to import by selecting the songs you want to move then clicking the Import button in the bottom right corner.
Automatically Transfer
You can also automatically transfer the media you purchase from the iTunes store. Click Home Share from for the computer you want to transfer FROM. Click Settings in the bottom right in iTunes. Specify the type of iTunes Store you want the content to transfer from.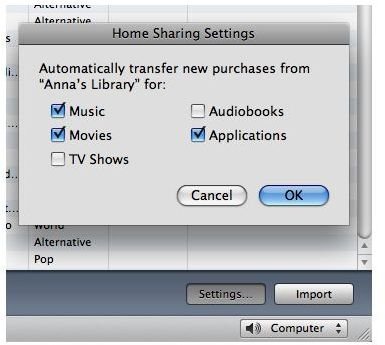 Now the next time you download media from the iTunes store on that Home Share PC it will automatically be transferred to your iTunes library.
Note: Home Sharing only works for new content. It will not transfer content from the iTunes store that was purchased before you started using Home Sharing. You will have to do this manually if you want this content transferred.