Help! I Cannot Open Microsoft Works With Word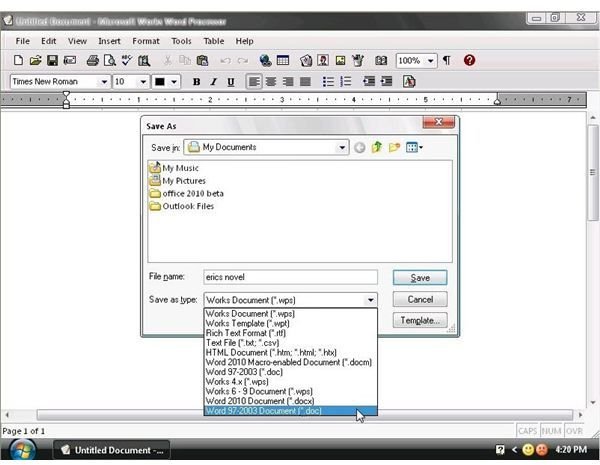 What To Do if You Cannot Open Microsoft Works with Word
The Microsoft Works word processor is a great low budget alternative to Microsoft Word – but there might come a time when you wish to upgrade to the superior application. Similarly, you might have a friend or colleague emailing you documents in .wps format and find that you cannot open Microsoft works with Word.
The article Choosing Between Microsoft Works and Microsoft Word provides more information on the similarities and differences between the two applications.
While Microsoft Word 2007 has the facility to open files created in Microsoft Works word processor, other versions do not. As such, there are two ways around the problem:
• Save the file in Works as .doc format
• If you don't have Works installed, convert the Works document
Let's take a look at each of these potential fixes.
Saving as Word Document
By saving the Microsoft Works document as .doc format, you are then able to open the file in Word. If you're using Works 6.0 or later, follow these instructions.
In Works, open the document. Go to File > Save As and select the location you wish to save the file to in Save in box, and in the File name box give the document a new name if required.
In the Save as type box, select the option Word 97-2000 & 6.0/95 - RTF (*.doc) (or Word 97-2003 (*.doc) in Works 8.0). Check the information you have entered and click Save.
Next, close the document, either by exiting Works entirely, or via File > Close.
Finally, launch Word and File > Open the new document. It is now ready for editing.
Convert the Works Document
If you cannot open Microsoft Works documents with Word – because you don't have Works - then the file will need converting. This converter tool works with Works word processor documents from versions 6.0 and later.
To proceed, ensure Microsoft Word is closed. Next, download the Microsoft Works 6-9 Converter. Once complete, install this tool, following each of the steps of installation wizard through to completion.
The completed install will then allow you to open Works documents in Word. It does this by adding the functionality to view these files to Microsoft Word – this is why you had to exit the application before downloading and installing the converter.
You can now open Works word processor .wps documents in Word by using the Open function (File > Open in Word 2000, 2002/XP, 2003 or Office Button > Open in Word 2007 and 2010 – or simply CTRL + O).
Select the correct location in the Look in box, and in Files of type select All Files (*.*). The list of available files should now display the document you are looking for, so Open this to edit.
Once open, go to File > Save as and change the Files of type to .doc or .docx format, as per your preference and version of Microsoft Word – your file is now converted and ready for editing in Word!