Where To Find Microsoft Clipart Online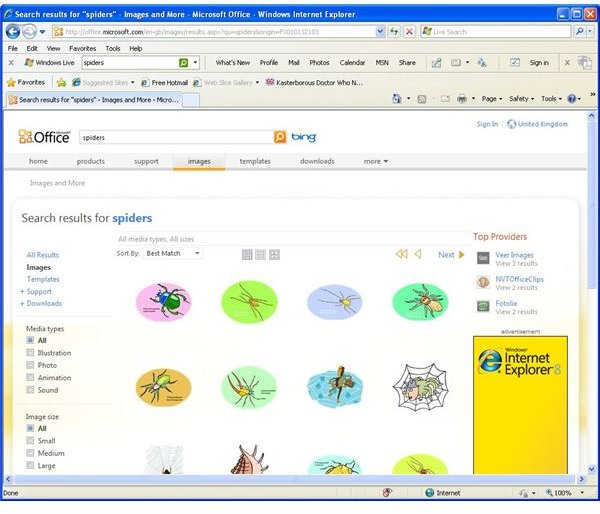 Finding Clipart for PowerPoint
Few people realise just how flexible Microsoft PowerPoint is – as well as providing unrivalled presentation documents suitable for use on overhead projector or plasma presentation screens, it can also be used to compile short animations and basic eBooks.
As a result, the use of PowerPoint is quite widespread – and with new presentations, new images are required!
There are several suitable sources of Microsoft clip art online for PowerPoint, from the Office Online website provided by Microsoft to more specialized libraries of images.
Microsoft Office Online
Accessible from either within PowerPoint or via your browser, Microsoft's online library of clipart is unrivalled in its depth, and can be used across the Microsoft Office applications.
In PowerPoint, Microsoft clipart can be accessed via the Clip Art button on the Insert menu. This opens the Clip Art menu on the right-side of the screen, from where you can search your local PC for clipart bundled with office, your own pre-determined collections of images and of course Microsoft's online library of images.
You can also select different media types, from standard clipart to movie clips, as well as specify file types. By searching for a keyword that might describe the image you're looking for – such as spider – you will see that some results are displayed with a small green and blue globe. This indicates that these images are found in Microsoft's online collection.
Clipart can be included in your PowerPoint presentation via the Insert command on the menu that is attached to each of the clipart results.
Microsoft Office Online in your Browser
Alternatively, you might wish to view Office Online in your browser. This is not as pointless as it may seem – certainly there are several Microsoft Word templates and images that are not available via the integrated clipart search tool that can nevertheless be found by visiting office.microsoft.com.
The website features a superb search function, as well as a tool for downloading the images into your own local collection of clipart.
You'll probably find it preferable to use Internet Explorer as your browser for searching office.microsoft.com, as this makes downloading the various clips and resources much easier.
Non-Microsoft Clipart Online
Of course, clipart isn't purely the domain of Microsoft. Clipart online can also be open source, as demonstrated by the Open Clip Art Library at www.openclipart.org.
Using the SVG (scalable vector graphics) format - an open source version of the scalable images found in Microsoft Office clipart – these images are suitable for inserting into applications such as PowerPoint and Word with the minimum of fuss.
Simply search for an image (again based on a descriptive keyword), select your choice from the results and save the image. (Note that in Firefox, the image opens in your browser – instead you will need to right-click the link from the results screen and select Save Link As, and save the image into an easy-to-find location somewhere on your PC.)
How to Find Clipart Images for PowerPoint lists more ways to find clipart online for use in PowerPoint; meanwhile see Finding and Using Microsoft Clipart Online for help with inserting clipart into documents and presentations.