Nero 9 and windows 7 compatibility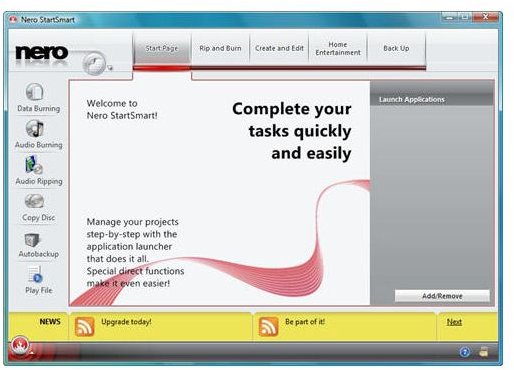 Nero 9 Lite and Nero 9 Full Version
Everyone likes free stuff don't they? Nero 9 Lite is available free for an unlimited amount of time. The free version lets you burn data and copy discs for CDs and DVDs. Unfortunately, if you want the additional features you will have to upgrade to Nero 9 full version (which is not free.)
With Nero 9 full version you can also record TV shows, rip video clips, play, import and manipulate video and audio, including HD.
There are other applications out there that can burn CDs and DVDs, etc. but Nero 9 is one of the most popular ones and it is great for those that are new to burning discs.
Nero 9 Compatibility with Windows 7
I know there have been some questions over Nero 9 and Windows 7 compatibility. You can put those fears to rest. Windows 7 users can use Nero 9 for all their CD burning needs. Nero 9 has done a great job making sure their software has compatibility with Windows 7, and the software is working great on those PCs.
Nero 9 Back It Up & Burn
Nero 9 Back It Up & Burn is available as a standalone product for $39.00. If you purchased the full version of Nero 9, it is included with it. It can do full disk imaging, partition imaging and back up. It is capable of backing up to local disc (your hard drive), DVD or CD. You can run backups on a schedule and have the option to do full backups, differential or incremental.
System Requirements
The system requirements for Nero 9 on Windows 7 are:
Windows 7 SP2
At least 512 MB RAM
DVD-ROM drive is required for installation
Windows Internet Explorer 6.0 or higher
2 GHz Intel Pentium 4 or equivalent AMD and Intel processor
1.8 GB hard drive space
CD, DVD, or Blu-ray Disc recordable or rewritable drive for burning
DirectX 9.0c or higher
Up to 9 GB available hard drive space for DVD images and temporary DVD files
Graphics card with at least 32 MB video memory and minimum resolution of 800 x 600 pixels and 16-bit color settings (24-bit or 32-bit true color is recommended)
Install Nero 9
Now that you've learned that Nero 9 has compatibility with Windows 7 you are probably ready to install it. Go to the Nero website and download Nero 9 for Windows 7. Enter your email address and click on Download. Choose to save the file. The download can take a few minutes.
When it is finished downloading, click on the executable file to start the installation. You may be asked for an administrator password. If so, enter the password and click OK. Click Install. This installation can take up to 10 minutes depending on your system. Go through the onscreen instructions. When it is finished installing reboot your computer. When your computer comes back up, open Nero 9 through Start>Programs. If you downloaded the paid version of Nero 9 it will ask you to enter your serial number. If you downloaded the Lite version you will not be asked to enter a serial number.
Note that it will ask you to install the Ask toolbar during the installation. If you don't want this toolbar deselect it during the installation