Choosing Office Software - Does MS Works 8 Include Microsoft Word?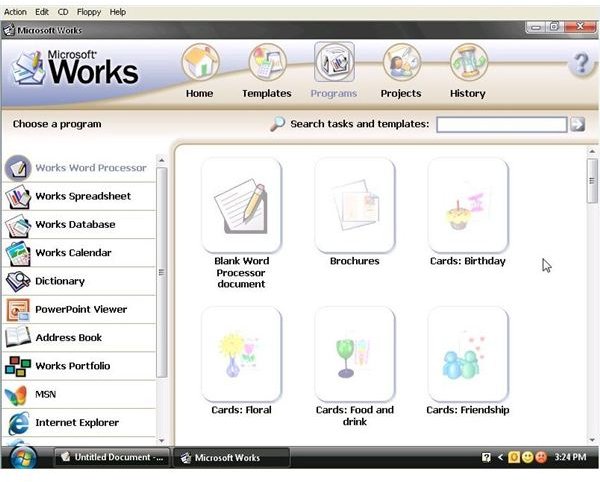 Should I buy Microsoft Works or Microsoft Office?
It's a common question – should I buy Microsoft Works or Microsoft Office? For a long time, the most useful app in Microsoft Office has been the superb word processor, with its built in dictionary, formatting options and integration with other Office apps.
However, the decisive factor when purchasing software should always be based on how much "bang for your buck" you can get. Microsoft Word is a more complex application than all of Microsoft Works combined – so if you are looking for an answer to the question of whether Works 8 includes Microsoft Word, then the answer is "no".
However, Microsoft Works does feature its own word processor application – a competent piece of software that can suitably stand-in for Word, and it even comes with its own clip-art and templates!
Why Doesn't Microsoft Works Include Microsoft Word?
The answer is simple – Works is a small productivity suite, intended for home use more than anything, and as such, it is appropriately scaled back. While many people use Microsoft Office at home, the vast majority of these users don't go anywhere near utilising the application to its full potential.
Microsoft Works, meanwhile, is a stripped down productivity suite equipped with everything he home user might need. Microsoft intends it for home use, and wherever the user deems the particular application unsuitable, Microsoft is happy for that user to upgrade to one of the standalone Office applications. This is one of the reasons why Microsoft Office applications can read files from the counterpart apps in Microsoft Works. Word can read documents written in Works' word processor, for instance.
Strengths of Works 8 Word Processor
Do you regularly write documents that require advanced multi-column formatting, linking to databases or spreadsheets or incorporating into presentations? Do you require additional templates to those already included?
Or do you just want to write letters, recipes, assignments, perhaps lyrics or the first vital pages of your novel?
Microsoft Works' word processor comes complete with all of the basic word processing tools including a dictionary – in fact, it is suitable for the vast majority of word processing requirements, including writing this very article. Along with the other basic spreadsheet, calendar and flat-file database applications included in Works, it is a great alternative to Word for anyone with a low budget and modest requirements from their word processor.
Microsoft Works vs. Microsoft Word – Price Comparison
A new copy of Microsoft Word 2010 will set you back around £119/$139 for the current "standard" version; you might also try Microsoft Word 2007 for around £70/$70. Similarly, Microsoft Office 2010 is available for £239.99/$279.99.
Microsoft Works 8, meanwhile, can be picked up online for under £10/$10, with Works 9 available for less than £20/$40.
(Prices via Amazon, July 2010)
The budget advantages of purchasing Microsoft Works and taking advanced of its stripped back word processor are obvious – you can effective purchase it for 10% of the cost of Microsoft Word, and 5% of the price of the much more expensive Microsoft Office.