Download Pocket Calendar Template - Microsoft Word Tips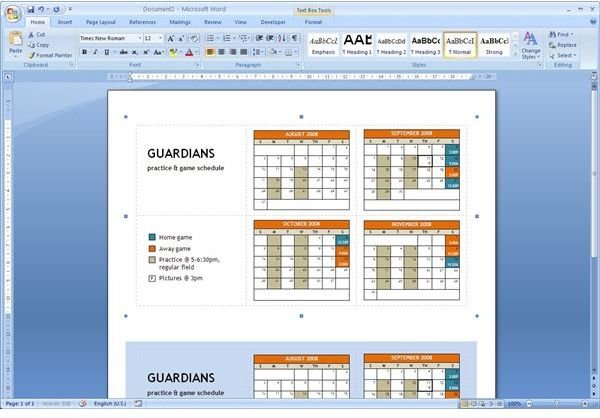 Handy Low-Tech Calendars!
Pocket calendars are the low-tech way to stay organised at all times. Small enough to fit in a pocket or bag or purse, these streamlined diaries can be quickly and simply annotated with details of vital dates and appointments and don't require batteries or recharging like personal organisers, smartphones and other gadgets.
All you need is a pen and paper – and if you're planning on creating your own pocket calendar, a PC and a printer!
Microsoft Word is a great place to find pocket calendar templates – these can then either be directly printed as they are, or customized slightly to add your own personal touch.
Finding Pocket Calendar Templates in Microsoft Word
Although Word features a variety of built in extra templates, there is nothing matching the description of a pocket calendar template. As such, you will need to access the vast online library of templates and clip-art known as Office Online.
This can be done via Word – simply go to New > Blank Document (or equivalent if you're using Word 2007) and search Office Online for "pocket."
You will be rewarded with at least two results – each of these can be downloaded and used as a pocket calendar. Customization of these documents is simple, and given that they are both sports-themed calendars, this might prove to be a popular decision.
Customizing Templates
Once you have downloaded your template (by selecting the appropriate document and clicking Download), you will be able to edit it in Word – after all, these versatile pocket calendars can be used for a variety of purposes
For instance, you might wish to get rid of the background image or add your own – this can be done by right-clicking the image or background colour and accessing the Format properties, depending on what part of the document you have clicked on.
Alternatively, you might also like to change the displayed calendars. This will require checking with a diary or similar as these pocket templates only include eight of the usual 12 months – a result of them being sports related.
Preparing the Pocket Calendar Template for Use
Once you are happy with the look of your pocket calendar, save the document (File > Save as…) onto your PC so that you can use it again later, and prepare your printer.
You should be aware that these templates include the calendar twice, and will be printed to a standard sheet of paper. The templates also include a dashed line to indicate where you should fold once printed – the outer dashed line can also be used as a guide when cutting the calendars out.
Finally, remember that the templates appear twice on each sheet. You might like to ensure that your changes are applied to both calendars – and then print out copies for anyone else who might need to be at the same event!