Favorite Picks: Microsoft Word Meeting Minute Templates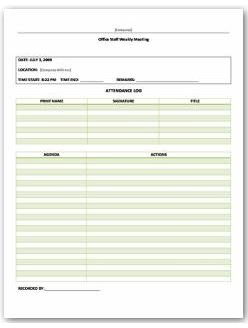 Introduction
The following are my favorite picks for meeting minute templates in Microsoft Word. As with previous lists, we are going into the selection of templates available through Microsoft Office Online. Please keep that in mind as we proceed to list Microsoft Word meeting minutes templates. With that said, we may as well get started, right?
For a Focus on Agenda and Actions
For weekly office staff meetings, this short-form template keeps it simple and quick. Attendees can jot down their names, office position and signature. The date of the meeting is automatically filled in when printed out for use. The company name has a clearly defined input space at the top of the page, and agenda items and relevant actions can be entered in the large space encompassing lower and middle portions of the minutes form. The person recording the minutes can jot down his/her name in the specified space, and any remarks can be filled in in the space provided along with the ending time and meeting location.
Oh yeah, there's just one more thing to consider here. As this particular template is built in Open XML format, you are going to want to use this with Office 2007 or later to get the maximum benefit available.
For Educational Community Outreach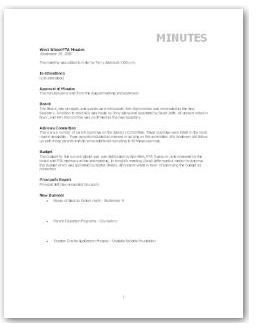 If you need a minutes form to compile information pertaining to meetings within the classic parent and teacher association structure, this one is for you. The spaces for the time, date, etc. are not as well defined as in other templates in this roundup. However, they can be edited in classic word-processing fashion by removing the default information and entering what is actually relevant to the meeting in question. Sections for school board officiating business, parent/teacher advisory committee, and in-attendance members are present and accounted for, in addition to space for the principal's report, budget and any new business that is discussed within the course of the proceedings.
For Your Community or Other Organization Use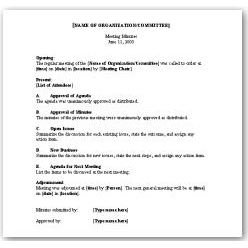 Finally, if you are part of a large or small community organization or action committee you are really going to be able to use this one. This organization meeting minutes template has dedicated inputs for the name of your organization or committee, as well as the times and date of order call, adjournment and next gathering. It also features spaces to list the chairperson of the meeting session, a roster to record attendees and names of the individuals responsible for the submission and approval thereof. You can even include the location where the meeting session was conducted in its own specified space. If you require a short form version of this template, one is also available.
As before, if you have any suggestions as to other useful templates for meeting minutes feel free to sound off in the comments. Until next time…